New kids on the blockchain: TD gets the lowdown on Keyocoin with CEO, Matt Baer
For this week's podcast I spoke to the CEO and founder of Keyocoin Matt Baer, about making a real-world application for blockchain, solving the difficulties of the fragmented nature of the global points and rewards programme. 
This is a redacted version of that conversation. Baer speaks:
At Keyocoin, we are building universal travel rewards on the blockchain but our platform started as a platform to share trusted recommendations. I'm a big foodie and I love to travel – our team is full of foodies and travellers – and we set out to solve a few problems that a lot of successful startups wanted to solve: if you look at a Yelp or TripAdvisor you're reading reviews from people you don't know and can't trust.
We want be able to open it up anywhere in the world and see only trusted recommendations from local experts. There was also no way to thank them, to tip them or have them monetise the recommendations.
Fast-forward in the story: we had hundreds of thousands of curated recommendations from all over the world. We heard about an accelerator program called Startup Chile – run by the economic arm of the Chilean government. What was interesting about their program is that they give equity-free grants away.
We ended up beating out around 1,200 teams from all over the world to win their first equity-free grant and that that took my journey from Argentina to Chile where we started building the team.
Chile is unlike Silicon Valley, where usually it's all about getting millions of users and monetising later – Chile is really focused on early monetisation.
We ended up selling a 'recommendations as a service' – a RAAS product not a SAAS product – in the hotels; we told them 'You know people are coming to your hotel but they don't know where to go, or what to do and they don't want to spend the time figuring it out.'
So we created this product where, essentially, they can text our service at any time and  find curated recommendations from our database of local experts from all over the world, who have spent all their time trying to find the best places.
Once we were in the hospitality space we found out a few things: hotels want branded mobile apps – this has become very trendy.
Why do they want this? Because they want to figure out how to not only provide better customer service for their clients but to  figure out how they can monetize their services and amenities and put them on demand.
You can increase exposure but the most important thing for the hotels is that they wanted more direct bookings – that's the number one thing.
Blockchain
That took us on the path of where we are today in launching Keyocoin 'universal travel rewards cryptocurrency built on the blockchain' to solve lots of the problems that we found in the hospitality space, such as with loyalty rewards.
Every time a change occurs on the blockchain – say I send you some cryptocurrency perhaps the Keyocoin token to reward you for staying in my hotel – is written into the database of encrypted data.
The big revelation about blockchain is the fact it is extremely difficult to run a truly universal rewards programme [with a traditional system]; it would mean trusting hundreds of thousands of independent travel businesses to all keep their own record of how many points have been given out how many have been received. It would be virtually impossible to prevent some merchants from simply printing points.
"What good is giving away loyalty points to a customer that will never come back?"
This begs the question of why do we need universal travel rewards, when businesses can have their own programme? If you're a hotel or an airline with a global footprint this makes sense, but for a small mom-and-pop tour company in Florence what good is giving away loyalty points to a customer that will never come back?
Rewards that can be used all over the world allow users to be part of a huge ecosystem where customers want tokens and are incentivised to earn them because they can spend them on their next trip. There's no value to a customer that doesn't come back.
Current rewards that you get on one airline are isolated to their specific products a lot of time. It's the same with hotels, so you get expiration issues and you cannot share points… If I stay at a hotel here in Chile and then I go to LA and I want to use those points at an independent hotel I usually can't.
We're working on something that we can solve right now. We are awarding people with something they can use globally – what we're also doing with Keyocoin is powering independent travel businesses offering a platform where they can promote their business by setting up fun challenges for potential customers.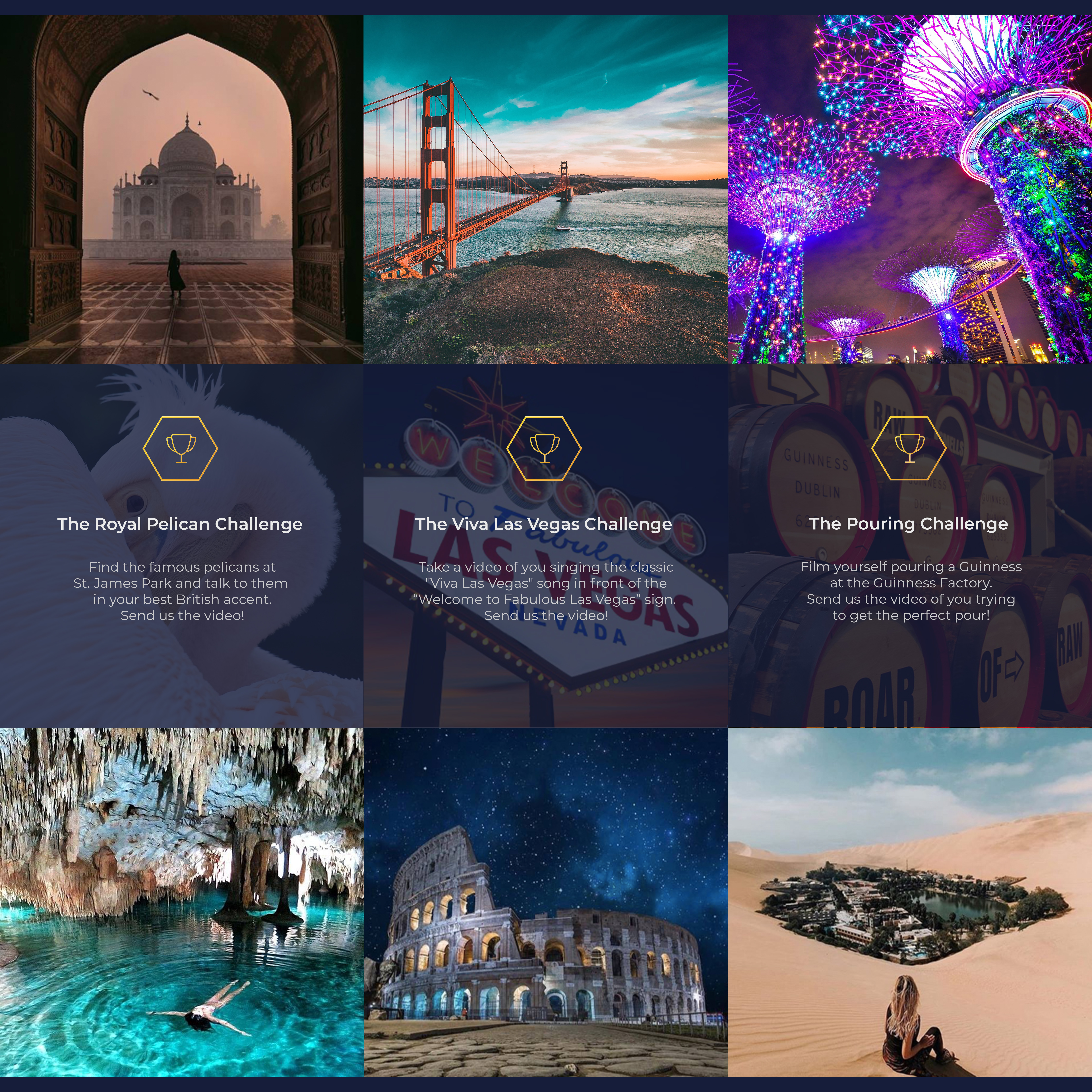 So let's say that you're an independent tour provider down in Los Angeles and you're running a Hollywood tour. You would set up a travel challenge to go down to the Hollywood Walk of Fame and take a photo on your phone with Jackie Chan's star on the Hollywood Walk of Fame, hashtagging their business to promote their business and they would reward you with points
It gives folks a real-world way to get folks into cryptocurrency and the whole blockchain movement without actually buying anything; you're doing free challenges set up by our merchants and and winning Keyocoin which can be used all over the world.
Travel merchants like it because unlike a cash-back system or a points system that a lot of people don't even see – it's a mystery; it just ends up on your card – it allows people to promote their business to their networks right so you're winning on both sides.
"You can actually use it in the real world"
There's a lot of people in crypto but the question is how do you get people into it and really using it in real life? We are looking to launch Keyocoin publicly; we already have a marketplace built out so you can actually use it in the real world. In the crypto space people are launching tokens and they haven't built anything; they just have a white paper.
The marketplace
Keyocoin is going to be a platform – think of a Facebook where other developers are going to be able to take the protocols that we build and integrate that into their products.
The first app is called Keyopass and it houses the challenges and local experiences that span over 12,000 products across seven countries. You can go into the app and and purchase a lot of these products with Fiat – regular currency Euro USD or Euro right now. We want to launch the full product in the first quarter of next year.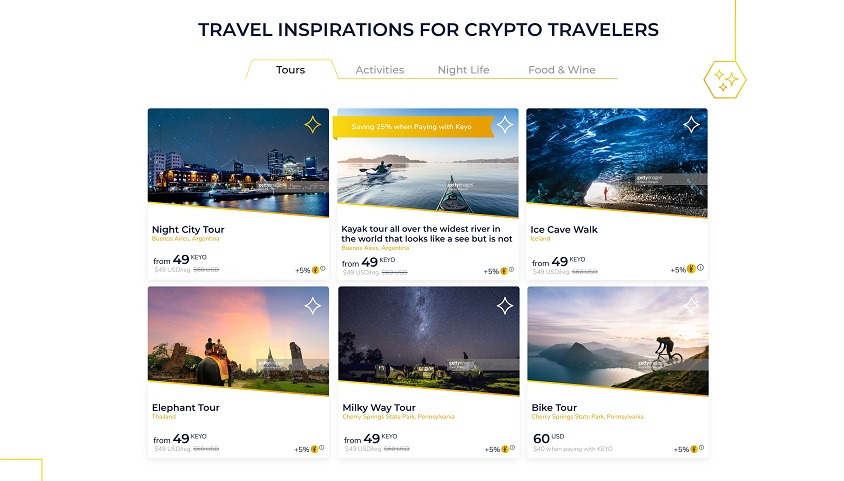 We have tons of tour activity and local experience providers already on board we have different people in the travel ecosystem that want to sponsor these travel challenges. If you go to Keyocoin.com the travel challenge is up. We're continuing to build product and our community and we're working on an upcoming initial coin offering (ICO) and its tokenomics and token architecture.
There's a real space to be one of the first coins that is actually being used – there are 1200-1500 cryptocurrencies but it's frankly hard to name one on the consumer side. We put together a team and advisors that cross over from not just blockchain and cryptocurrency but into the world of consumer adoption:
We brought on Federico Pistono, head of blockchain at Hyperloop and early Ethereum investor – he was featured in the Banking on Bitcoin famous documentary on Netflix. But we also have people from the consumer side to make sure that we're building something that people use, for example Rick Savage who's the head of social media at Apple.
Adoption
We see our token as a catalyst to try to get rid of some of the intermediaries in travel that are taking high commissions. Independent hotels all around the world are getting killed by OTA commissions but our stance is that where blockchain technology stands right now, you don't need to have a decentralised solution to get rid of commission – you could do that on a centralised website.
Having that alone to us isn't the big blockchain win. What we say is that in order to get rid of the middleman you have a business model around doing that; a model that revolves around travel rewards again being a catalyst.
Leading with just 'blockchain getting rid of the middleman' is not a really strong stance, as of now it doesn't have a model based around it – with our you know token we do.