Visit Wales has announced the launch of The Wales Way, three national scenic touring routes that cross the country's landscapes, showcasing its history, coastlines and attractions.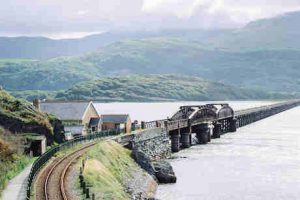 Including more than 6000 years of history, the three routes lead travellers across ancient paths, drovers' ways, and along roads built by the Romans and unearth authentically-Welsh experiences.
The Wales Way has been designed to provide 'stepping stones of discovery', with sights and attractions which appeal to those not looking to the final destination as an event in itself.
The three routes have been designed to intersect, so can be enjoyed alone for shorter breaks, or linked together for longer adventures. They are not confined just to driving and offer rail connections, walking paths, cycling routes and horse riding trails.
The Coastal Way celebrates Wales' coastline and travels the west coast around Cardigan Bay from Aberdaron to St Davids. This 180-mile (290km) road trip, with the sea on one side and mountains on the other, tours a series of picturesque harbour towns and resorts such as Barmouth, the historic city of St Davids, tiny fishing villages such as the brightly painted Aberaeron and beaches, cliffs and hidden coves.
The Cambrian Way focuses on the countryside and runs for 185 miles (300km) between Llandudno and Cardiff,  through the Snowdonia and Brecon Beacons National Parks. Pass through the quaint village of Betws y Coed in the foothills of the Snowdonia, before embarking on epic zip-lining and underground adventures at ZipWorld and Bounce Below.
The North Wales Way is seventy five miles in length and has thousands of years of history and includes two UNESCO World Heritage sites. It offers a gateway to Snowdonia's mountain adventures and the ancient history of Anglesey. Experience the bridges of the Menai Straits and discover the area's industrial heritage at Parys Mountain, once the world's largest copper mine.
Aston Martin, which is in the process of opening its second UK plant in St Athan Nr Cardiff, has partnered with Visit Wales on the launch of The Wales Way. Dr Andy Palmer CMG, President and CEO of Aston Martin, said: "We're incredibly impressed by everything Wales has to offer. During World Travel Market we are proud to promote our partnership with Wales at a bespoke Wales Way activity zone. The promotional area will feature a red Aston Martin DB11 to showcase the new Wales Way film."
Welsh Government, Cabinet Secretary for Economy and Infrastructure, Ken Skates, said: "We know that the concept of national routes which is used worldwide can really inspire visitors and give them the confidence to explore more of a country – and stay longer. The idea for The Wales Way was founded on the basis of a Labour manifesto commitment to develop a Cultural Corridor along the A55 in North Wales. We now have three routes celebrating Wales' culture, countryside and coast, and mirroring our tourism themed years including Year of Adventure 2016, Year of Legends 2017 and Year of the Sea 2018. The Wales Way is also about encouraging visitors to immerse themselves in their own journeys of discovery, and this will be reinforced through our Year of Discovery 2019.
"This initiative emphasises the epic experiences that Wales has to offer – rather than simply the journey from A to B. The routes will encourage visitors to stop and visit different places, areas, attractions and products which will enable our visitors to get a deeper understanding of Wales and will benefit the local tourism industry too."
The Wales Way route maps are available at visitwales.com