Back to nature in Bali: Sustainable retreat Nirjhara to open in January 2021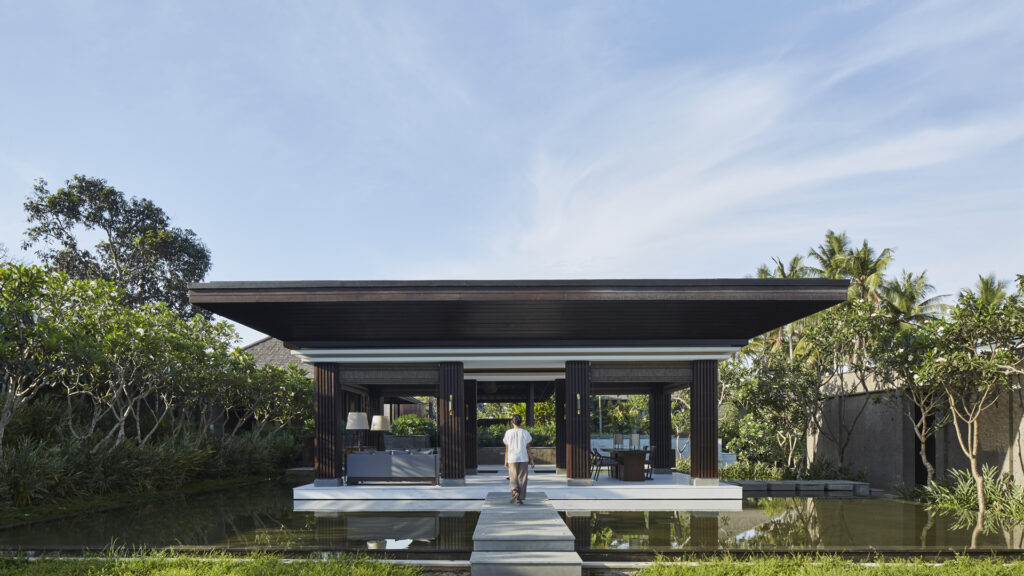 In 1996, the Tran Tien family visited Tabanan, on Bali's southwest coast, from France and felt deeply moved by the beauty of the landscape. From this moment, the idea to create a truly sustainable hotel that nurtured its surrounds both environmentally and socially began to take shape.
Almost 25 years later, Nirjhara was born with 25 suites and villas – including seven playful treehouse Canopy Suites – that offer unrivalled waterfall, river, jungle or rice paddy views. Each has been constructed to make as little impact on the environment as possible, with exteriors using reclaimed hevea wood, natural stone and traditional sirap roofing. Interiors feature an earthy colour palette and celebrate Indonesian design, from traditional woven furniture handcrafted by local artisans, coconut panelling and wood carving, to contemporary art from up-and-coming local artists. The Residence, a two-storey, two-bedroom villa with floor-to-ceiling windows offers guests the ultimate private haven amidst lush jungle.
This family-owned sustainable hideaway will be launched in January 2021. Artfully designed around the spectacular cascading waterfall after which it is named, and surrounded by lush forest and boundless rice fields, Nirjhara blends seamlessly into nature. The new property promises to offer guests a secluded and environmentally conscious haven, just a stone's throw from the island's volcanic sand beaches, must-see Tanah Lot Temple and popular towns of Canggu and Ubud.
Guests are treated to a modern take on Bali's rich and eclectic gastronomic heritage at Ambu, Nirjhara's casual yet chic restaurant sporting unsurpassed views of the surrounding landscape. As part of its 'slow food' approach to dining, 95% of ingredients are sourced from the hotel's own vegetable garden, neighbouring farms and trusted local suppliers.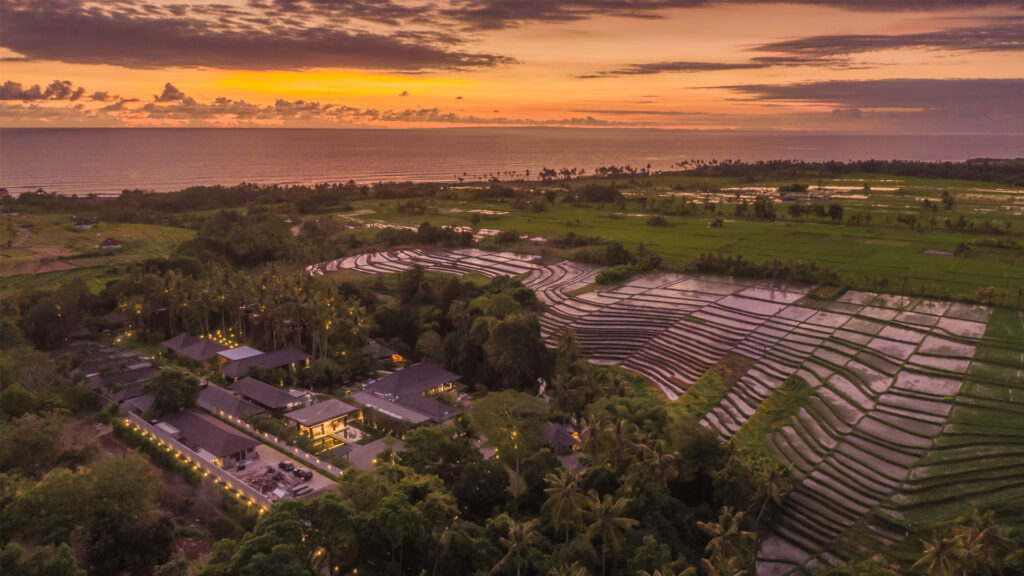 The Retreat at Nirjhara celebrates age-old healing practices and rituals, with a diverse spa menu offering everything from sound healing and reiki, to massages, body scrubs and reflexology, incorporating natural products sourced throughout the island. Four treatment rooms centred around a tranquil reflection pool are complemented by two Finnish saunas, a fully-equipped fitness centre and The Shala, a riverside bamboo-clad yoga pavilion overlooking the magnificent waterfall, designed by award-winning eco-architects Ibuku. The Shala's sustainable bamboo structure sports organic curves which complement the surroundings and provides the ultimate tranquillity to enjoy complimentary yoga and meditation sessions led by local experts.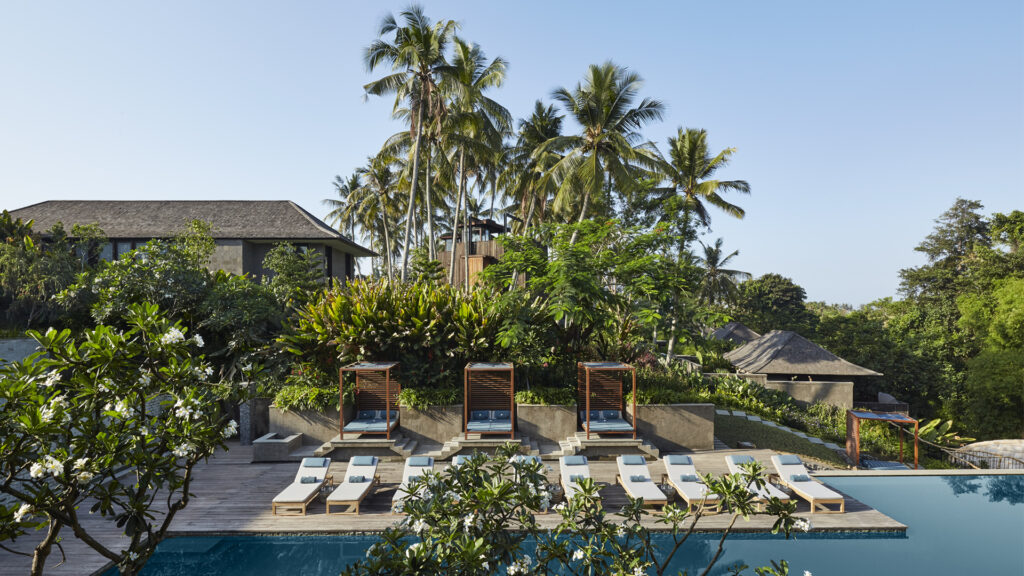 The Tran Tien family's dedication to sustainability is evident in all areas of the resort, from the upcycled materials used in construction to the on-site water purification facility, providing guests with drinking water in recycled glass bottles. Extensive research was undertaken to make energy use at Nirjhara as efficient as possible; expert insulation in each suite minimizes the use of air conditioning, whilst hot water is heated by solar panels.
Nirjhara offers an array of bespoke experiences for guests to immerse themselves in the local culture and natural surroundings, from cycles through the rice fields to traditional cleansing rituals at a secluded holy spring. Guests can head to the nearby beach for early morning surf lessons or saddle up for sunset horse rides, peacefully exploring the picturesque paddies and black-sand beaches.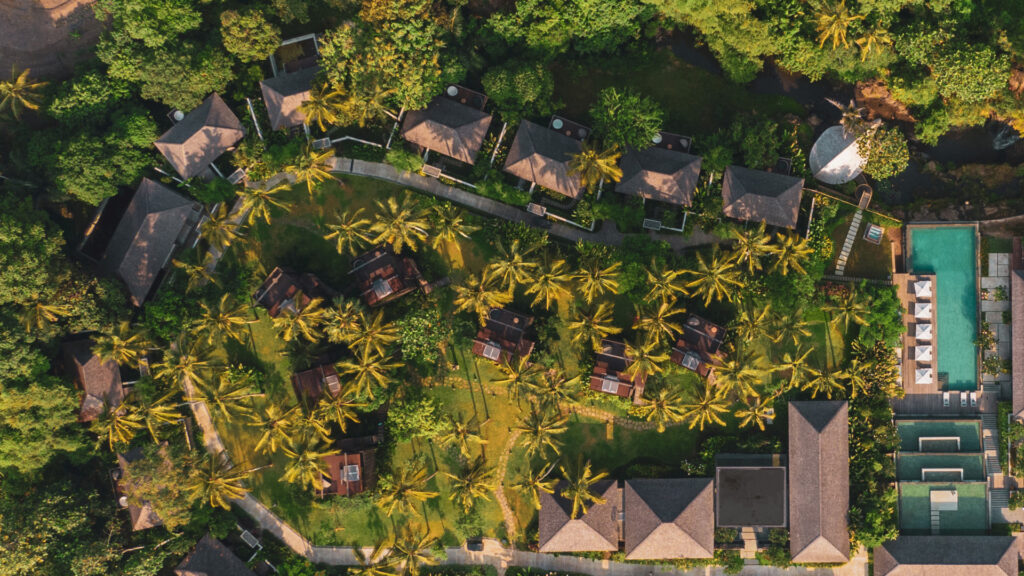 Expert local guides will take guests on off-the-beaten-track explorations through the hills of Tabanan and Badung, starting at the sacred Sangeh Monkey Forest and ending at the majestic Nungnung Waterfall. The more artistically inclined can get involved in the spiritual practice of creating your own 'canang sari', collecting fresh flowers at local markets before returning to the hotel to create the colourful floral offering native to Bali and placing it in Nirjhara's temple.
From Spring 2021, Nirjhara will introduce Vela, a luxurious six-cabin traditional sailing yacht available for private charter, that promises to take guests to some of the most remote corners of the Indonesian archipelago. Each charter can be personalised to guests' desires, from scuba diving with manta rays and hiking amongst Komodo dragons, to simply sipping cocktails on the deck and taking in the spectacular scenery.