We talk to Ocean Group about Super Falcon "underwater private jet"
There are few greater pleasures in life than "simply messing about in boats" as Ratty said to Mole in Kenneth Grahame's children's classic The Wind in the Willows.
Ocean Group, the Singapore-based water sports specialists, has taken this concept and run with it by taking guests from Four Seasons Resort Maldives at Landaa Giraavaru under the waves in their James Bond-esque minisubmarines.
Excited by the prospect of living out my childhood dreams and plunging into the azure depths of the Indian Ocean inside the amazing Deepflight Super Falcon 3S, I hit up Hussain and Yasmin Zahid founders of Ocean Group to discover more about their business, the increasing popularity of underwater excursions and the future of the company.
How did Ocean Group start out and how has it evolved?
We're celebrating our 20th year this year and it has been a very fulfilling journey. We started out in 1998 with our first water sports centre at Four Seasons Resort Maldives at Kuda Huraa. Established in the Maldives and having a presence here in Singapore, we are really fortunate to have access to Asia's best luxury resorts, tropical islands and fascinating marine biology in regions like the Maldives.
With the growing luxury travel industry, we've expanded over the years and have branched out to four main business units:  Ocean Sports Maldives, which manages and operates eight water sports centres in luxury resorts in the Maldives, Langkawi and Vietnam – plus four dive centres in the Maldives.
Ocean Gear Maldives is the sole distributor of many established boating and water sports brands including Mastercraft, Crownline, Red Paddle Co, X-Jets Jetblade, X-Jets Jetpack, Core kites and Paritetboat.
Ocean Wings Maldives is the exclusive operator and distributor of Deepflight Super Falcon 3S submarine in the Maldives.
"When we saw the first two-dome Super Falcon, which looked like an underwater private jet, we were hooked"
Ocean TravelAsia curates one-of-a-kind water sports and dive travel packages across all 10 luxury resorts in Asia – Conrad Maldives Rangali Island, Dusit Thani Maldives, Four Seasons Private Island Maldives at Voavah, Four Seasons Resort Langkawi, Four Seasons Resort Maldives at Kuda Huraa, Four Seasons Resort Maldives at Landaa Giraavaru, Four Seasons Resort The Nam Hai, Six Senses Laamu, Taj Exotica Resort and Spa Maldives, Veligandu Island Resort & Spa Maldives.
How did the partnership with DeepFlight come to fruition?
It was a partnership four years in the making. As we are constantly seeking new innovative products, Ocean Group began to look into submersibles in early 2014. DeepFlight presents one of the most exciting innovations in submersibles – when we saw the first two-dome Super Falcon which looked like an underwater private jet, we were hooked.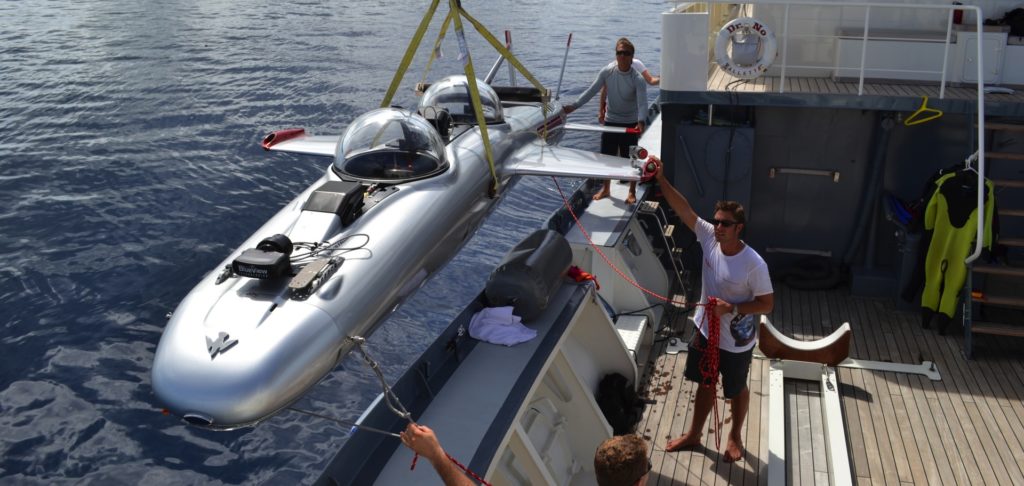 So, in order to cater to honeymoon couples and family units who are keen to experience new and incredible underwater experiences with their loved ones, we made a strategic decision to launch the first three-dome DeepFlight Super Falcon 3S in the Maldives – which can take up to two guests and a professional pilot at the controls.
"The SuperFalcon is silent and uninvasive, as it has been designed with the environment in mind"
How is the SuperFalcon 3S different from other leisure submarines?
By using high composite material commonly used by Boeing 787 and NASA, the sub is positively buoyant which means it will never touch the seabed or reefs. It adopts a thrust and dive mechanism allowing it to dive down to 37 metres and does not use a ballast system as commonly used in other submarines.
The DeepFlight SuperFalcon 3S is also designed to "fly" underwater up to 4 knots allowing a complete different cruising experience even for most seasoned divers. Once submerged, the domes optically 'disappear' and guests have an unobstructed view of the underwater world.
The cabins also maintain pressure at one atmosphere meaning it will be a comfortable dive without the need to equalise or monitor for air. Also, the SuperFalcon is silent and uninvasive, as it has been designed with the environment in mind: its electric and acoustic emissions have been minimised so as not to disturb marine life.
Why have you chosen to launch the first DeepFlight SuperFalcon 3S in Four Seasons Landaa Giraavaru?
Four Seasons Landaa Giraavaru (FSLG) is superbly located in the Baa Atoll which offers a unique abundance of underwater marine life. The area surrounding Four Seasons Landaa Giraavaru is also ideal for submarine dives and we have identified more than 10 dive sites that will each offer a different experience.
With zero CO2 emission, the SuperFalcon is also aligned with Four Seasons Landaa Giraavaru's ongoing mission to create sustainable and eco-friendly travel experiences.
Are you planning to launch more Deep Flight SuperFalcon 3S excursions and where will they be?
Yes, plans are underway to launch another unit in the Maldives by Q4, 2019.
"Luxury travellers are more discerning these days and keen to push boundaries with their choice of water sports
How have you seen luxury watersports grow as an industry over the years?
Advancing technology has enabled the innovation of many incredible new products. For Ocean Group, the number one priority is always safety and reliability. We have noticed that luxury travellers are more discerning these days and keen to push boundaries with their choice of water sports activities/adventures, beyond jetskis and banana boat rides, and we seek to give them new thrills without compromising on safety or protection of the environment.
We were the first to launch the Mastercraft boat in the Maldives to meet the growing popularity of wake surfing. Ocean Group was also the first to launch the X-Jets Jetblade and X-Jets Jetpack in the Maldives – one of the most sought-after experiences among luxury travellers, catering to the more adrenaline-seeking water sports enthusiasts.
First introduced to the Maldives by Ocean Group, the underwater scooter SEABOB is immensely popular with both adults and children, allowing them to cruise and dive over and underwater.
What other types of activities and experiences do you offer?
In some resorts, we offer big game fishing and SEABOB excursions. We have also recently added another glass bottom boat to cater to guests who love getting acquainted with marine life without getting wet. Our brand new 37-feet glass bottom boat is specially designed and built by Paritetboat in Russia. Its unique bottom window –  shaped as an optically regular spheroid – at a never-seen-before size of 2×3 metres, is the biggest ever built.
Ocean Group also offers the largest kite-surfing school in the Maldives. Our centres are fully equipped with all sizes of Core kites, which are great whether you are keen to pick up the high-intensity sport or already a seasoned kite-boarder.
Wake-surfing is gaining worldwide popularity, and we are the first to offer this activity in the Maldives. It's highly enjoyable water sport, riding behind the wake of the boat without holding the tow ropes.
Have you seen consumer appetite change for underwater experiences? Are people more adventurous?
Definitely! As the awareness of the state of our oceans increases by environmentalists and marine activists around the world, travellers are curious about the underwater world. One of the unique selling points of the DeepFlight SuperFalcon 3S is that the guests are educated about the marine biodiversity in the area of their dive.
The journey is narrated by the pilot who has in-depth knowledge of the area of dive. We believe this will make the whole dive experience much more meaningful.
What trends do you predict for the luxury underwater experience market?
Adding to the existing lists of underwater spas, underwater villas and underwater restaurants, we see a trend in the future of underwater adventure parks where activities are integrated and marine presentations could be conducted fully underwater.