Okinawans reveal five secrets of healthy lifestyle and longevity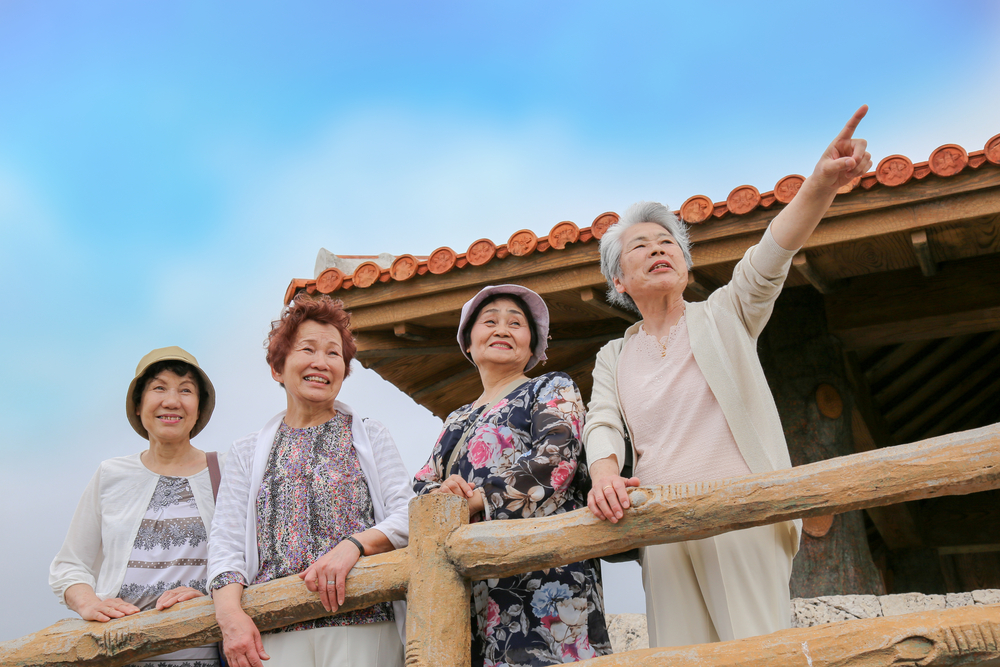 As one of only five of the world's designated 'Blue Zones' for longevity and home to the highest concentration of centenarians on the globe, Okinawa is well known for its healthy lifestyle, sub-tropical sunshine and nutritious cuisine. With health higher on the agenda than ever, there's never been a better time to take inspiration from the traditional Okinawan way of life.
While it may be some time before travellers can visit the prefecture again in person, Visit Okinawa share the top tips on how to live a healthy life like an island local from anywhere in the world.
Embrace the Okinawan mindset
People living in Okinawa feel less stress than those living anywhere else in Japan, which is largely attributed to the 'Okinawan mindset'. Locals live with an open mind, a tendency not to get too stuck into the unnecessary details of a situation and a laid-back approach to life. This mindset has a positive effect on health and helps to control the all-important mind-body balance.
Live with the Yuimaru spirit of community
A strong sense of community is seen across Okinawa's 160 islands and the ties and relationships between family and community are hugely important. Participation rates in local events and social activities are high and such bonds of supporting each other are referred to as the "Yuimaru spirit". This sense of community is also reflected in the Okinawan word "Icharibachodee" which means that once you meet, you are brothers and able to share.
Let go and put on a show
Okinawa is often referred to by locals as the islands of entertainment thanks to all the singing and dancing which takes place there. These fun activities are not only great for exercise they also relieve stress leading to a healthy mind and body. Many Okinawans add this type of activity into their daily schedules and groups of people can often be seen in local parks and public spaces dancing and singing in unison.
Live on "Uchinaa" time
Okinawa reputedly has a more relaxed sense of time than the punctuality prevalent in mainland Japan and the common term used to describe this is "Uchinaa time (Okinawa time)". The local people have a very forgiving attitude towards being late and don't like to rush, an attitude thought to have developed thanks to the warm climate the islands are blessed with.
Be at one with nature
Living together with nature is the foundation of Okinawan life and many see true beauty as something that is natural and untampered with. This is reflected in so many aspects of Okinawa, from the local environments to the foods preferred and even what is considered beautiful in appearance – all natural is always best. It's thought this deep connection with nature and its surroundings plays an important role in Okinawa's famed healthy lifestyle.
Eat what you grow
For locals in the prefecture, food is considered 'kusuimun' meaning 'medicine' and great attention is given to maintaining a balance in diet. Fresh nutritious vegetables, known locally as 'nuchigusui' meaning 'the medicine of life', dominate the cuisine and many people grow their own crops to ensure their flavour and freshness.
One of the most popular veggies eaten in the region is Goya or bitter melon, known as the king of summer vegetables. Characterised by its unique bitterness, it contains momordicin which stimulates digestion and improves appetite – it also has four times the amount of vitamin C than a lemon! The purple sweet potato with its vivid colour and delicious sweetness is another crop used in many traditional Okinawan dishes. Full of vitamins and minerals the vegetable contains anthocyanin which has antioxidant effects. Alongside these, taro which is high in iron, calcium and potassium, handama (Okinawan spinach) which is said to be effective against anaemia due to its high quantity of magnesium and iron and shibui (winter melon) which is used as a digestive aid and diet food, are all regularly eaten.
While the prefecture's rich soil, sea air and sunshine offer the perfect climate for tropical fruits and vegetables to thrive, there's plenty of vitamin-packed produce people can try to grow from anywhere in the world with a little gardening know-how.