PONANT promises luxurious adventure while keeping you safe
TD speaks with Julie Rogers, national business development manager for South East Asia and India at PONANT Yacht Cruises & Expeditions
As we tread the choppy waters of travel recovery, cruise lines proved that cruising and safety can go hand-in-hand. Whether on land or onboard, safety is PONANT Yacht Cruises & Expeditions' absolute and primary concern. The cruise company leads the way of sailing with confidence.
TD had a chat with Julie Rogers, national business development manager for South East Asia and India at PONANT about bespoke experiences and on safe cruising in 2021 and 2022. Rogers has more than two decades of travel industry experience from sales to business development.
Travel Daily (TD): You have been part of the PONANT family for seven years. What makes you passionate about the PONANT brand?
Julie Rogers (JR): PONANT is the world leader in luxury expedition cruising with 11 small and luxury expedition vessels. This allows us to explore every continent and all of the oceans on our planet. PONANT and I share a passion for sustainable tourism; to protect pristine eco-systems; precious wildlife and local communities. Following a philosophy of, 'we protect what we know', we encourage our guests to join us and be educated so they in turn can become ambassadors for sustainable tourism.
TD: Expedition Cruising has become a very popular way of travelling in the Asia Pacific region and beyond over the past few years. Why is it so popular and how does PONANT deliver the experience?
PONANT curates unique expedition itineraries that attract travellers who are curious but also appreciate the finer things in life. PONANT blends authentic expedition experiences, with luxury – think refined adventure as you explore our planets most remote locations.
The best example I can share from my personal experience is when you are ashore in Antarctica you are literally surrounded by curious and cheeky penguins. Your boots and waterproof pants are covered in ice, mud and quite often penguin poo. Then you are welcomed back onboard with a glass of French champagne and a Ladurée macaron. You are completely out of your comfort zone with life-changing experiences and then welcomed back to the warm cocoon of your home onboard one of PONANT's luxury expedition vessel.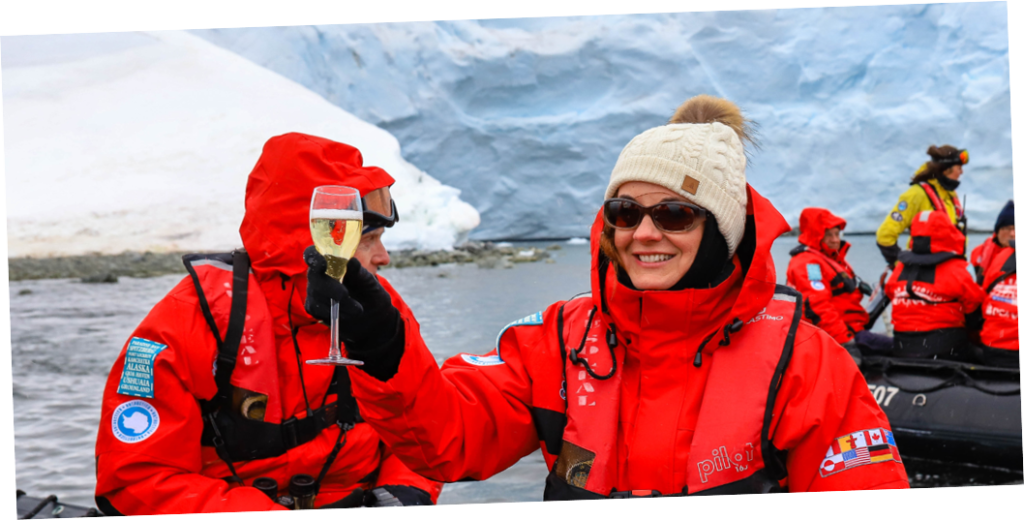 TD: How has PONANT survived the Covid crisis in 2020 and 2021 and what can we expect to see in the future?
JR: Our small ship format and limited numbers of guests onboard have allowed us to provide a scalable and manageable standard of reinforced health protocols to ensure the safety of our guests and crew at all times. In 2020, during the pandemic, we introduced our three-shield COVID-safe protocol to enhance the sanitary bubble onboard. This has proven to be a huge success and has set new standards in the industry. This protocol has been able to successfully evolve with the global context and has allowed us to complete over 60 sailings in various destinations in 2020, including France, the Arctic, Croatia and French Polynesia.
In 2020, we were very proud to see the completion and delivery of our last two EXPLORER ships, Le Bellot and Le Jacques-Cartier, the last two vessels of the series of six new generation purpose-built luxury expedition ships. Also in 2020, our latest fleet addition, Le Commandant Charcot, the world's first luxury hybrid-LNG exploration vessel, entered her last stages of construction. This PC2 polar class ship is designed to safely sail in extreme polar regions while consuming the cleanest energy available and will be launching later in 2021. Also, we were very excited to recently launching our 2022 Australia Kimberley coast program of 26 luxury expeditions, with one of our Sistership Le Soléal joining EXPLORER Series Le Lapérouse in the region as a second ship to offer small luxury expedition in this magnificent Northern Australian region!
TD: How do you work with travel agents and travel specialists in the South East Asia region?
JR: PONANT delivers two styles of experiences: Small-Ship Yacht Cruising and Luxury Expedition Cruising. Our guests from South East Asia are well travelled and appreciate the benefits of discovering new and less tourist-populated destinations – whether it is the secret islands of Croatia, Greece and Turkey usually only explored by private yachts or the exploration of unchartered locations, such as the North Pole or beyond the Antarctic Circle.
Usually, I travel to South East Asia two to three times per year for personalised service, I am not scheduled to visit until late 2021 or early 2022.
In the meantime, I assist our Valued Travel Agents with training webinars, one on one zoom Strategy Meetings, Virtual Consumer Events with Unique Offers. Travel Agents can access PONANT PRO, a resource centre with images and marketing collateral to assist with promoting PONANT. I am available to manage the time difference between South East Asia & India.
PONANT is a product available to everyone, not just high-net clientele. By working closely with our wholesale partners and retail agents, we provide Destination Training and Product updates on a regular basis. The next round of training is a series of 30-minute training sessions to showcase the wonders of The Arctic.
PONANT ARCTIC WEEK
Tuesday, 13 APRIL – ICELAND REGISTER HERE
Wednesday, 14 APRIL – EUROPEAN ARCTIC-Svalbard REGISTER HERE
Thursday, 15 APRIL – World's First Luxury Hybrid Electric Polar Explorer Le Commandant Charcot in the unchartered ARCTIC REGISTER HERE
TD: How many PONANT voyages have you been on and which one was your favourite? And why?
JR: I have travelled on seven voyages as a paying guest and certainly enjoyed the relaxed luxury onboard. I have also worked on several voyages in a Guest Liaison capacity, hosting destination lectures and assisting the Expedition Team where necessary. I hold a Marine License and am ready (and hopeful) to be deployed at any time!
My favourite voyage is absolutely ANTARCTICA. I know it is cliché to say Antarctica is Amazing, but trust me when I say, Antarctica is truly amazing and everything your imagination conjures up is true. Antarctica is truly one of our planets most spectacular regions; where the prolific wildlife rules supreme; Penguins literally run circles around you and seals bound towards you like puppies, when you step ashore. It is a welcoming party from a fairy tale, and the dramatic scenery is simply breathtaking!