Project Deepblu dives into adventure travel
We talk to marketing professional and Bitcoin-based entrepreneur James Tsuei about his new environment project
Contributors are not employed, compensated or governed by TD, opinions and statements are from the contributor directly
"My whole career has always been in tech, but I have always loved the ocean," sales and marketing professional James Tsuei shared with Travel Daily. As proof, the Taiwan-based veteran of Foxconn, iBase Technology and GiiNii Global has teamed up with local scuba diving and free diving enthusiasts as well as ocean explorers active in the tech industry, like co-founder Brad Chen, to form Deepblu.
The start-up opened Planet Deepblu as part of its long-term plan to unite divers and dive businesses into an interdependent ecosystem. Inspired by Tsuei's own frustration to plan a Bali dive holiday, a process of back-and-forth email correspondence that ran a full month with neither a flight or a hotel in sight, it has cut the time spent by divers planning and booking their experiences to three business days ("But it's usually done within the hour," he added).
Planet Deepblu is a global marketplace that allows the start-up's community of more than 40,000 divers to coordinate with its network of more than 500 dive shops. A diver first enters the site or logs into the app to shop for their preferred dive site, itinerary or business. Once they find it, they may choose to either book the trip straight up, or directly approach the dive operator through a messaging chat that's familiar to users of the alternative accommodations unicorn.
"Dive travel is a slow-moving industry… not like the hotel industry where you have a fixed amount of inventory"
More than 10,000 dive spots across the globe are currently featured on the platform, with new ones being added. The most popular sites are in Asia Pacific and Central America. All sorts of adventures can be seen and had: day trips, night trips, wreck exploration, cave dives, marine park tours, immersions with nature, conservation programmes, underwater museums with life-size cement sculptures, underwater photography, island tours, and dive-hopping through multiple sites in a day.
Some dive holiday packages come with hotel accommodations attached, while others are open for those who would rather snorkel. Operators hosted on the Taiwan-based, internationally-run aggregated sales channel also offer lessons, coaching sessions and practise dives for beginners and inexperienced divers. Enthusiasts with a little more mastery, if not confidence, can avail of certification dives.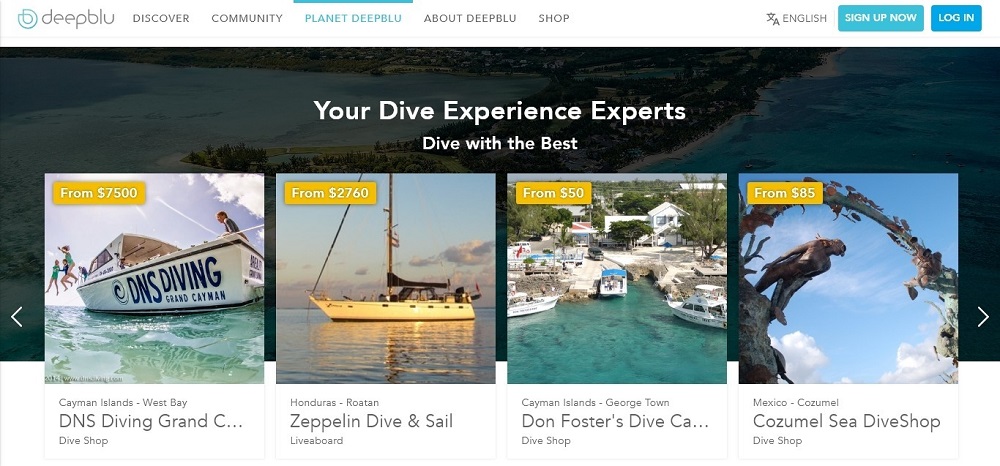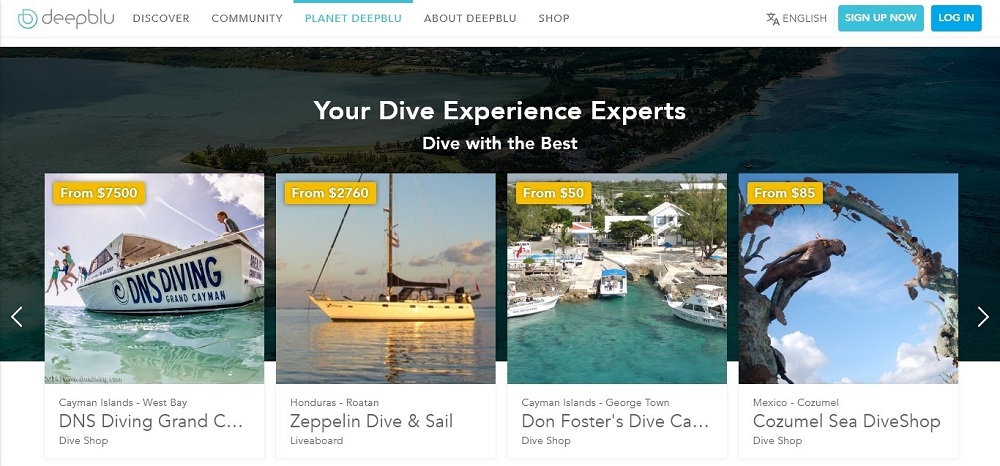 Planet Deepblu synchronises with the dive computer COSMIQ+, launched in 2016 as part of the start-up's first phase to compile a centralised and more permanent dive database online. Using COSMIQ+'s electronic watch and app, the platform allows divers to share their experiences and feedback online in real-time through integrated dive log cloud syncing and social sharing – aligning with Tsuei's goal of turning it into the 'Airbnb and Facebook' of the global diving community.
Planet Deepblu allows divers to arrange their own dream dive without need of third-party travel agents. Relevant businesses are added to the marketplace based on their ability to follow through with their offers and take care of their customers. Private guides, instructors, safety kits and oxygen are prerequisites. Transfers and snacks are also part of the arrangement, while meals are provided depending on the length of time divers spend outside of their hotel.
Wading the 'Blue Ocean' of travel marketing
Tsuei's seemingly easygoing way of describing Planet Deepblu to a non-diver like this writer both belies and compliments a passion for attracting a new generation to engage in water-based adventure travel. After stumbling into scuba diving on a 2008 trip to the Maldives and also after the Bali trip planning experience, the self-professed 'serial businessman' took it upon himself to channel everything that he learned first-hand about dive travel into a more organised resource.
"The dive travel industry, unlike the hotel industry, is a slow-growing industry based on many fluid, dynamic elements," he explained. "Here, inventory is affected by the seasons, the weather, the rise and flow of the tides, the accessibility of the dive site, and the availability of instructors or guides.
"More than big diving companies, it is run by many mom-and-pop businesses with minimal or zero online presence, much less marketing savvy. Planet Deepblu brings all these small operators, with their one-of-a-kind itineraries and knowledge of dive locations, together into a global marketplace."
Tsuei shared that the response to Planet Deepblu has been "phenomenal" months after its formal launch early this year. He said, "As customers, diving enthusiasts like how this platform allows them to speak directly with actual dive experience organisers. By allowing for direct interaction instead of going through a third party, transactions between buyers and sellers are resolved within three working days at low cost."
"A community of divers mostly at the 'starting age' of 35 to 45 years old"
The platform has also grown popular with dive operators, Tsuei added. "Dive businesses see (Planet Deepblu) as a completely new and easy way to reach out and communicate market that they never really accounted for. It helps that, unlike other new sites trying to do the same thing, we already have an existing community of divers mostly at the 'starting age' of 35 to 45 years old, given that most Western divers fall between 55 and 65 years old."
Tsuei and his team are still on the lookout for the next big innovation – case in point, he co-founded the Bitcoin mining start-up BitCrane Technologies. But with their collective passion to revolutionise scuba diving as a lifestyle and their ability to harness existing skills, technology and experiences towards this end, the team has garnered support from both divers across the globe and Hongkong-based venture capital firm Silverlink Capital.
It's not just Asia that's looking to sink into Planet Deepblu's disruptive action. Queensland in Australia recently allowed them to set up a base of operations in its dive spot, Cairns. This has given Deepblu entry into the competitive The Hot DesQ programme, where it was one of 25 entrepreneurs worldwide that managed to inject new ideas, skills and talent into the state in exchange for network expansion, global market access, and a grant of AUD100,000.
Plans for the future
So what's next for the upstart company? Of course, it's planning to scale up; Tsuei is contemplating setting a commission scheme in place that will still allow Planet Deepblu to pass savings on to its users. The site has also recently opened an online magazine to better promote its hosted dive spots.
The start-up has also landed a partnership with the Diving and Resort Travel Expo or DRT, considered the largest dive-related expo in Asia.
Supported by globally recognised dive organisations, dive and water sport equipment manufacturers, dive resorts, tourism boards, travel agencies, marine conservation, dive operators, commercial diving companies, underwater photographers and videographers, this opens up Deepblu's horizon to more than 90,000 registered members, underwater and adventure sport enthusiasts as well as the general public.
Of course, you can bet Tsuei will continue to make use of his downtime inviting dive operators to join the Deepblu ecospace while exploring and enjoying the deep blue in 'some island destination' out in the world.