Q&A: European Waterways
Contributors are not employed, compensated or governed by TD, opinions and statements are from the contributor directly
Travel Daily catches up with Mark Robinson, sales & reservations manager at luxury hotel barge operator European Waterways.
What does your role include and how long have you held it?
I have been with European Waterways for 3.5 years now, in a hands on role that tends to be very varied and rewarding. My responsibilities include managing our reservations and customer services, both in the UK, and across the pond in the US.
I also oversee our trade-friendly on-line reservation system, which enables our travel partners to place a booking 24/7. With over 30 years' experience working for luxury travel companies, the European Waterways' brand and product has been the perfect place for me to utilise the unique set of skills I've cultivated over the course of my career.
What are the recent updates and plans for the next 12 months?
Last year we were very proud to launch a beautiful new addition, Spirit of Scotland, to our hotel barge fleet on The Caledonian Canal, Scotland. We've also updated our family itineraries and culinary cruises and are incredibly excited about the upcoming launch of our Harry Potter themed cruises, perfect for a magical UK getaway.
All of our barges are currently undergoing a fleet-wide interior design renewal to ensure that they are up to our exacting standards before the cruise season begins again in April. It's also worth noting that we are constantly reviewing our existing excursions and searching for intrepid, intriguing new experiences that will delight our valued guests.
What type of customer does the cruise line suit?
Hotel Barging is a unique product and as such it attracts a wide ranging clientele. Often our guests are highly intelligent, well-travelled people who wish to really explore the heart of a country, accompanied of course with the finest of wines and haute cuisine.
A common misconception we face is that our hotel barges are small, self-drive affairs, but this couldn't be further from the truth. The majority of our fleet is set over two or three decks and can accommodate between six and 20 people, they tend to be around 10 times the size of a self-drive barge and are expertly driven with a qualified captain at the helm.
We own and manage a fleet of 17 barges which cruise the inland small waterways and canals of Europe. Each cruise is for six nights (Sunday to Saturday) which includes a crew of captain, pilot, private chef, tour guide hostesses and deck-hand. All of our barges are fully inclusive of fine wines, premium spirits, gourmet meals and exclusive escorted excursions, just about every whim is indulged!
We cruise between March and October and approximately 50% of bookings are for private charters where a group of friends or family have exclusive use of the barge. The other 50% of bookings are sold on a per-cabin basis where guests travel with other like-minded travellers creating a boutique hotel atmosphere.
The average age of our clients is 50+ but this is decreasing on an annual basis as we introduce more family-friendly and activity-based itineraries. Envision a fully-inclusive private villa, complete with staff and a varied excursion programme, however, instead of being in a fixed location, we cruise gently through the most stunning locations in Europe.
How do you work with the travel trade?
Our largest markets are the UK, Europe, Australia and North America. We have an online bookable reservation system CREWS for our partners to place bookings 24/7.
In 2017 we re-launched our website www.europeanwaterways.com, in addition we have a 98 page brochure available printed or e-format. Our trade partner tool kit includes non-branded six-page flyers, text prepared to easily create e-shots or postal mailings, an extensive video library of around 100 short films which can be embedded into agents' websites and an extensive image library.
We also host regular training webinars on request. Subject to availability, we offer barge visits on-board Magna Carta which cruises on the Royal River Thames close to our head office, and for partners who actively support us, we have attractive offer rates for them to enjoy a cruise.
Why should agents sell a European Waterways cruise?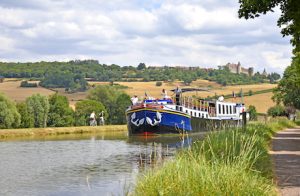 Because it is a truly unique experience. Due to our wealth of regional knowledge and exclusive contacts, the excursions, cuisine and culture that our guests enjoy are not readily available to just anyone. Moreover, all of our cruises are commissionable and once a customer has enjoyed a luxury hotel barge they return again and again to experience the impeccable level of service, in a different European location.