Q&A with new self-drive company Yonda
Travel Daily speaks with James Kafton, co-founder of London's self-drive sightseeing experience, Yonda.
What is Yonda and when did it launch?
I'm proud to say that Yonda is London's first self-drive sightseeing experience. We launched in May 2017, following extensive research and development into the sightseeing market.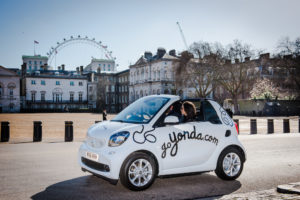 Creating a new, fun and engaging way of discovering the capital was our goal; we wanted to give consumers a chance to really get to know this vibrant city and the fantastic stories and history that it holds.
London's attractions portfolio is incredibly diverse, but we wanted to tap the gap in the market for more authentic and off the beaten track experiences.
Who is it for and how does it work?
It's the ideal experience for customers visiting London for a leisure break. They can opt for either a two seater convertible Smart car or a four seater with panoramic roof.
All cars are fitted with bespoke GPS-enabled technology that tracks an easy-to-follow 90-minute route. Accompanied by a smart and witty virtual guide, customers will be treated to humorous and clever commentary with an array of stories, scandal, historic facts and charming anecdotes to keep everyone entertained.
I was born and bred in London and I specifically designed the experience to appeal to lifelong Londoners, with original commentary that allows them to discover amazing facts and stories that they didn't know about the city. We also hope to attract FITs, incentives and time-poor business travellers.
Our office is located at the Q Park car park off Park Lane and it's from here that the tour begins. The beauty of being in a Smart Car is that you can get into all the nooks and crannies of London – places like Mayfair, Soho and Seven Dials. But the tour also visits traditional locations such as Westminster Abbey, Buckingham Palace and Trafalgar Square.
How do you work with the travel trade? 
We recognise the value of working with the UK travel trade, which is why this year we plan to actively engage with the industry through our inaugural trade initiative. A UK sales mission is currently in the planning stages, while a second FAM trip is scheduled for early next month.
Looking further afield, we want to develop our presence internationally, particularly in the USA, which is why we're planning a sales mission there this spring. We're also assessing opportunities in the Japanese market, with the view to undertaking a Japanese tour operator focus group later this year.
Is there any training on offer on the product for travel agents?
Yes. We understand the importance of providing comprehensive agent training tools, which is why we're working in partnership with b2me Tourism Marketing.
Together we have developed a range of training materials that can be presented as a webinar or face to face. The collateral features all the key information an agent requires to successfully sell our product to the consumer.
Agents interested in receiving product information or the training can contact Jacob Collins on jacob@goyonda.com