Q&A with Phuket Marriott Resort and Spa, Nai Yang Beach
Contributors are not employed, compensated or governed by TD, opinions and statements are from the contributor directly
Travel Daily catches up with David Ippersiel, GM of the Phuket Marriott Resort and Spa, Nai Yang Beach, for a rundown of the last year, the importance of MICE and plans for the future.
Travel Daily) Having opened in 2016, have you been happy with the response and feedback from your guests and industry partners?
Since we opened on 1st June 2016, we have received excellent feedback. Most of our guests have been very positive about the resort; especially our newly-renovated rooms and beachfront villas, our location (right on the beach and five minutes from the airport), and our position as a destination for events.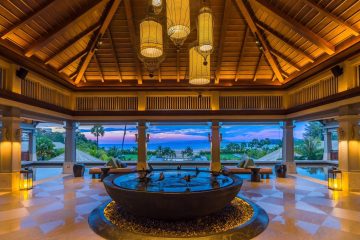 When you work in a competitive market such as Phuket, you have to pay attention to what is changing around you. The island itself has various kinds of visitors and Thailand is such a fast-moving economy, the greatest challenge is to keep up with new trends and to adapt to the ever-changing demands of millennial visitors.
The hotel business is constantly evolving; for example, the booking industry has changed. Guests have many choices nowadays so we have to keep up with the changes. We have to be present in all sales channels and meet their challenges. So far, we cannot confirm for certain whom our permanent guests are. What we can confirm however, is the standards we set for ourselves, to make sure we satisfy the needs of every guest. If they leave as happy guests they will help to spread our reputation around the world.
Also, with so many other resorts rising on the island, we need to ensure happiness among our associates. It is often a challenge for the hotel industry to find motivated and talented young people to join us. We need to adjust our management style to create a culture of happiness among our team members, which they can then deliver to our guests. As representatives of Thai hospitality, we are well-known as being great hosts.
Winning awards such as "Best Wedding Venue" and "Best Family Resort" means that we are making a good impression and received good feedback. We are very confident in being able to rise to the many fast-moving challenges so that guests will want to return time after time.
The resort is located in a relatively secluded corner of the island, away from the main tourist areas. Do you find that this location attracts a different type of guest than other, more central Phuket hotels?
The resort is set directly on Nai Yang Beach and surrounded by Sirinat National Park, making it wonderfully secluded and perfect for guests who are looking a quiet getaway, as well as the perfect destination for weddings and honeymoons. So our location is truly an advantage for us; we get a lot of short-haul business as a weekend getaway, as well as a strong long-haul market.
What most of our guests are searching for – and what we promise – is privacy. We have 11 room categories to fulfill the needs of all guests, including our 15 Beachfront Private Pool Villas which are nestled directly on Nai Yang Beach. Our restaurants, including the beachfront seafood grill, Big Fish, and signature Thai and international restaurant, Amber Kitchen, offer a variety of choices to satisfy guests, meaning that more guests are happy in "dine in" rather than try to find restaurants outside the resort (although of course we are happy to provide recommends).
We have become an attractive wedding and honeymoon destination, but we are also a family resort with many facilities for kids including a lagoon pool and kid's club.
What are you finding are your largest guest source markets, geographically?
We have mixed target groups that travel in different volumes at different times of the year. Our top five key markets are China, USA, Russia, Germany and Thailand.
How important is the MICE market to your resort? For example, are you attracting a lot of international weddings?
Phuket Marriott Resort and Spa, Nai Yang Beach provides a spectacular destination for all kinds of meetings, events and celebrations. We have the capacity to host up to 70 guests for various functions, from corporate executive meetings to social events and, of course, weddings. Our
MICE segment is seeing growth of around 20%, which is being driven by social events – mainly weddings. We have confirmed approximately 20 wedding groups since we opened in June 2016, with key international source markets being China, Singapore and Hong Kong.
Furthermore, we recently welcomed members of the media to the resort to showcase the wealth of services and packages we can offer to wedding planners. We have also attended the Shanghai Wedding Expo in China, and our goal is to become the preferred wedding destination for visitors from across the world.
What further developments can we expect from Phuket Marriott Resort and Spa, Nai Yang Beach in the near future? 
We have passed the opening stages and our main priorities are now ensuring that our product and service quality reaches the highest standards. If we match and exceed the standards of other hotels, guests will recommend us to their peers and our reputation will continue to grow.
And already this year, Marriott has announced its investment in PlacePass, the online platform for in-destination experiences, and reached 100 million members in our combined loyalty programs. We also introduced SPG members to a new mobile check-in experience and other innovative services.
The hotel business is growing rapidly all around the world; there are now around 675,000 people globally who wear the Marriott badge! So developing the skills of all our people and enabling them to provide the best service in order to go beyond our guests' expectations should be our main priority.