Qantas meets with 10-year-old airline CEO
It all started when a 10-year-old airline executive wrote a letter to Qantas CEO Alan Joyce for advice on how to run a passenger airline.
In the letter, Alex Jacquot asked Joyce to take him seriously and said that he wanted to start an airline. Alex explained that he has worked out some of the details such as what planes are needed, flight numbers, and catering. He has also hired a CFO, a head of IT, a head of maintenance, head of on board services and a head of legal.
Joyce responded that he does not usually give advice to his competitors, but would like to make an exception in this case "because I too was once a young boy who was so curious about flight and all its possibilities."
He told Jacquot to think about safety and comfort as the topmost priorities of a successful airline. Joyce also invited the boy to a meeting where they could "compare notes" and a tour of the Qantas Operations Centre.
CEO-to-CEO
On Thursday, Qantas revealed the much anticipated rendezvous of the two airline CEOs. The video showed Jacquot bringing his deputy CEO and co-founder Wolf Stringer and his head of inflight services 7-year-old Mila Jacquot and they toured Qantas before sitting in a boardroom meeting with Joyce.
They were joined by Qantas Group executives Olivia Wirth (CEO, Qantas Loyalty) and John Gissing (CEO, QantasLink).
Our competitors don't normally ask us for advice, but when an airline leader reached out, we couldn't ignore it.
Naturally, there was only one way to respond: CEO to CEO. pic.twitter.com/JTFpzn5a6Y

— Qantas (@Qantas) March 11, 2019
At the 30 minute meeting, the six airline executives discussed aircraft types, in-flight catering and the importance of a Frequent Flyer program. Improving passenger comfort on ultra long-haul flights was a focus, particularly given Qantas' plans to fly direct from the east coast of Australia to London and New York by 2022.
Qantas announced that it had signed a memorandum of understanding, for both airlines to cooperate from 2026, which is when Jacquot would finish high school — subject to regulatory approval, of course. Joyce added that the date may be pushed back, if Jacquot chose to attend university.
Australia's oldest airline gifted Jacquot and his team with a new logo, business cards and an artist impression of what Oceania Express' branding would look like on a Boeing Dreamliner. A domain name for Oceania Express was also registered on Jacquot's behalf.
"This is a big day for our little airline. We've got a lot to learn from them (Qantas), but they can learn from us, too," Jacquot, CEO and co-founder of Oceania Express stated.
"Future High Flyers" program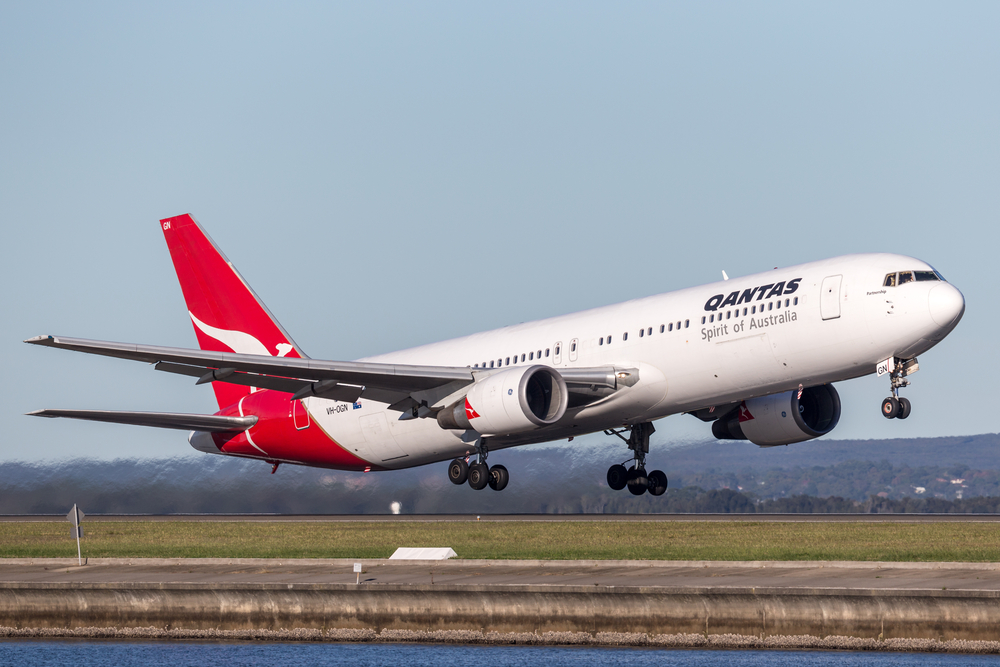 Qantas said that after the first post went viral, they have received letters from other children wanting to learn more about airplanes and aviation. On Thursday, Qantas has announced its own "Future High Flyers" program.
The 'Qantas Future High Flyers' program will offer a select number of school children the opportunity to experience a day in the life at the Flying Kangaroo in Sydney. The young aviators will meet engineers, pilots and head office staff as well as share their thoughts on how the customer experience can be improved. The program will be timed with school holidays later in 2019.
"There are clearly a lot of budding airline executives out there, probably because it's an industry that really captures the imagination," said Qantas Group CEO Alan Joyce in a statement, adding that he had no doubt that some of them would end up working at the airline in the future.
Remember the 10-year-old CEO who started his own airline?

We said we'd host him and his fellow executives at Qantas for a historic aviation summit.

And we weren't joking. pic.twitter.com/v2Bf4JFrXK

— Qantas (@Qantas) March 28, 2019