Qatar Airways' incredible growth in four years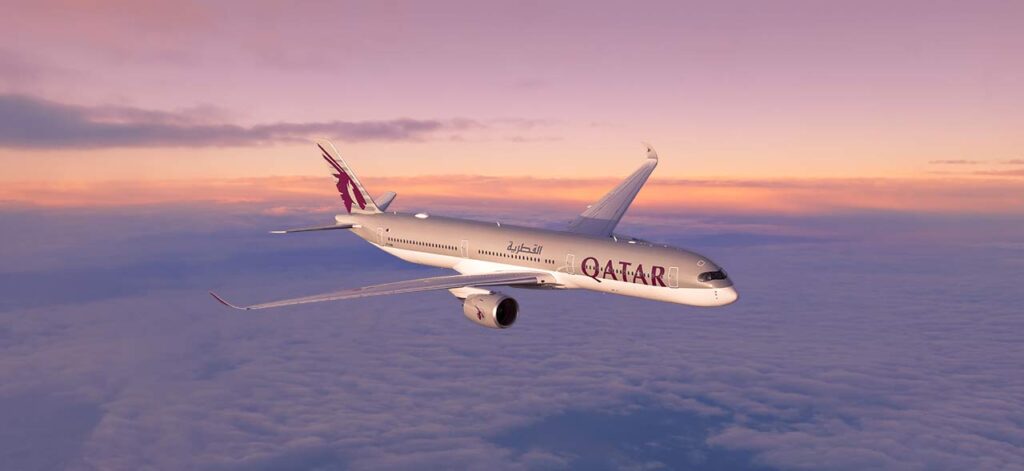 Rising above the myriad of challenges, Qatar Airways' growth has been massive. The airline's last four years are highlighted with improved products, more routes, and unparalleled overall standard.
Qatar Airways is the state-owned airline of Qatar based in Doha. With a modern fleet of more than 250 aircraft, it links Qatar to over 150 international destinations across Africa, Asia, Europe, the Americas, and Oceania from its base at Hamad International Airport.
Looking back, the airline is unrecognizable from when it started its operation in January 1994; especially in the last four years, Qatar Airways really pushed its limits. All we know is that the airline keeps making history and they are nowhere near from being done.
2017 – Qsuite and the 'most-liked' airline on Facebook
The year is marked by Qatar Airways heavily investing in its product offering. In June 2017, Qatar Airways turned heads at the Paris Air Show, where it showcased the state-of-the-art and award-winning business class seat – Qsuite.
Aiming to further elevate the flying experience, Qsuite features the industry's first-ever double bed available in Business Class, with privacy panels that stow away, allowing passengers in adjoining seats to create their own private room. Adjustable panels and movable TV monitors on the centre four seats allow colleagues, friends or families travelling together to transform their space into a private suite, allowing them to work, dine and socialise together. These new features provide the ultimate customisable travel experience that enables passengers to create an environment that suits their own unique needs.
Complementing the Qsuite, first and business class passengers flying long-haul flights are offered pre-select dining services. This gives more choice and freedom to create a personalised dining experience while travelling. Selecting dishes prior to the flight gives passengers more time to relax and enjoy the airline's superior on-board entertainment and amenities.
Qatar Airways knows the importance of keeping the lines of communication open and launched the 24/7 Twitter channel so passengers can get in touch with Qatar Airways' customer service team. The airline's social media engagement strategy has made it the world's 'most-liked' airline on Facebook. The airline expanded its reach and increased engagement in key markets by being available in multiple languages – including English, Arabic, Chinese and Russian.
These efforts made Qatar Airways bagged the 2017 'Airline of the Year,' awarded by international air transport rating organisation Skytrax. Known as 'the Oscars of the aviation industry,' Qatar Airways was also named 'World's Best Business Class,' 'Best Airline in the Middle East,' and 'World's Best First Class Airline Lounge' at the Skytrax awards ceremony held in Paris in June that year. The airline was also awarded the 'Best Up In The Air Experience' award for the third consecutive year at the Future Travel Experience Global 2017.
2018 – Delicious on-board dining experience and accolades
Qatar Airways wanted to make a mark with its in-flight meal as it luxuriated the premium and economy class on-board dining experience. From newly-designed tableware and cutlery to delicious in-flight menus, the airline wants passengers to eat like a king! The new menus feature regional influences and locally sourced produce based on route destinations and in alignment with the four seasons.
2018 also marked the year when Qatar Airways reaped multiple awards in many parts of the world. It is a year of continued success for Qatar Airways, which was named 'World's Best Business Class' by the 2018 Skytrax World Airline Awards. The airline scooped a host of prestigious global awards and was recognised by global industry leaders, such as Business Traveller, Kayak, TripAdvisor, Condé Nast Traveler and CJ Affiliate.
Having these awards elevated the status of Qatar Airways and became the airline of choice by many passengers worldwide.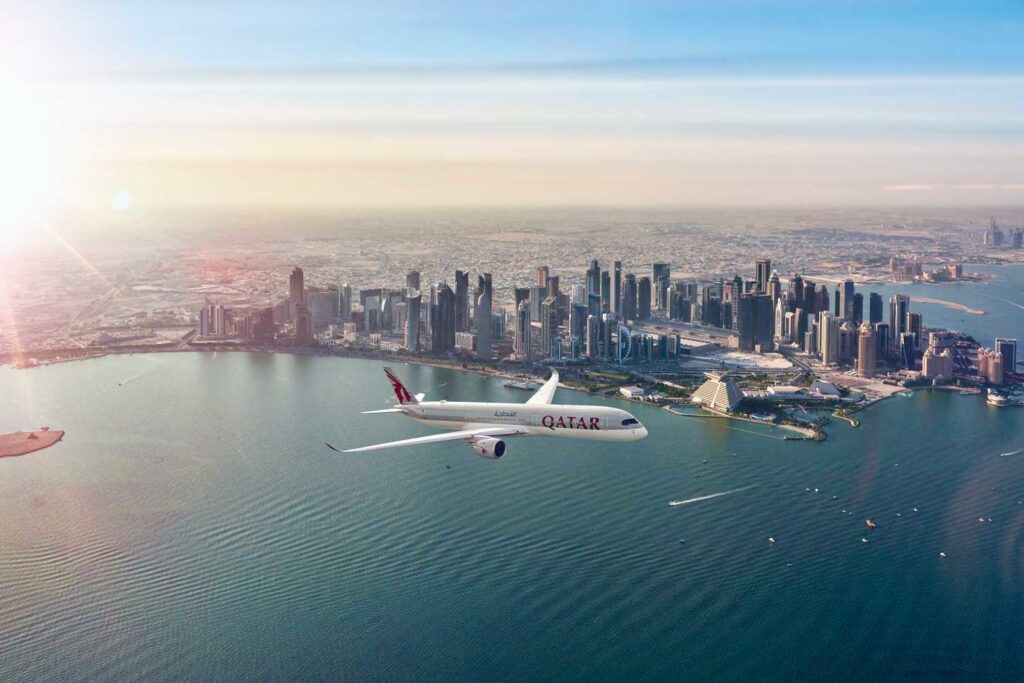 2019 – Quisine and more destinations
After revamping the menu last year, Qatar Airways branded it as 'Quisine', which is designed to further elevate customers' dining experience when they travel.
Passengers will be presented with redesigned menu cards which will include a service timeline on all long-haul and ultra-long-haul flights.
A pre-dinner drinks option will also now be available on flights of over five hours, with refreshments and cocktail snacks available prior to the main meal being served.
Food portions have increased by 25% to 50%, with a greater focus on the use of local, fresh and healthy ingredients that are in season.
Meals will also feature individually-wrapped artisanal warm infused bread and an individual bottle of water.
A wider selection of mid-flight movie snacks – cheese and crackers, chocolate bar, potato crisps and popcorn with innovative flavours – are available.
Qatar Airways also continued to expand its network as it signed codeshare agreements with Sri Lankan Airlines, IndiGo, and China Southern Airlines; and an interline agreement with Sky Express. Qatar Airways currently operates a modern fleet of more than 250 aircraft via its hub, Hamad International Airport (HIA), to more than 160 destinations worldwide. The airline has added a number of destinations to its growing network this year, including Rabat, Morocco; Izmir, Turkey; Malta; Davao, Philippines; Lisbon, Portugal; Mogadishu, Somalia; and Langkawi, Malaysia.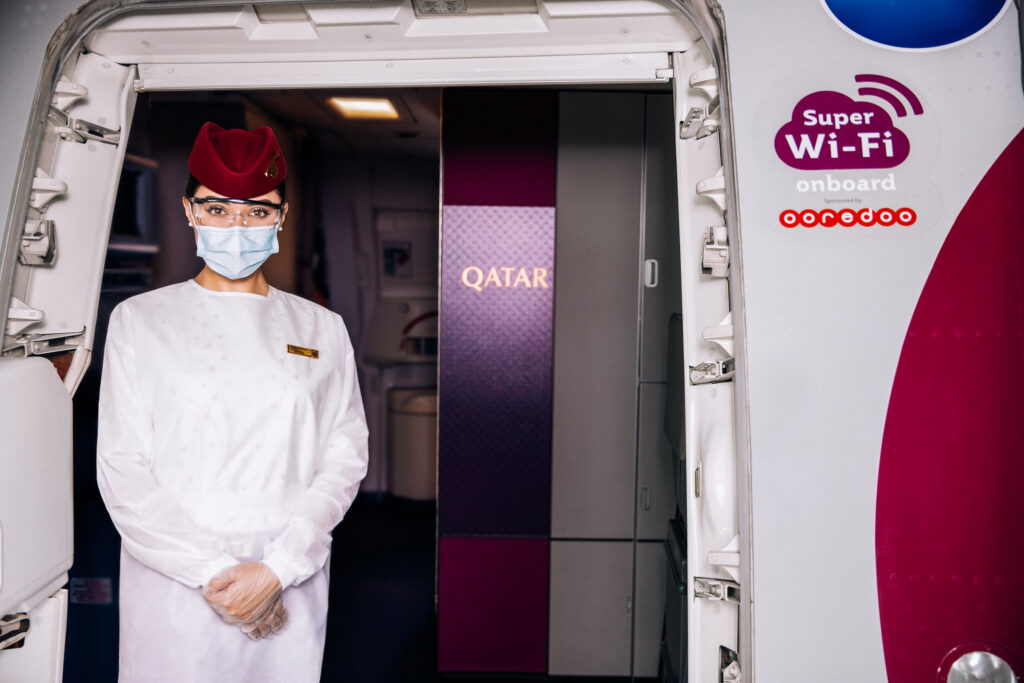 2020 and present – COVID pandemic and connecting families
2020 is a year no one could have foreseen. The COVID pandemic grounded thousands of flights and flattened the travel industry. Qatar Airways immediately jumped into enhancing its safety measures and how it will fit in in the airline's sustainable quest. In order to foster the passengers' travel confidence, the airline introduced health and safety protocols all throughout the customer's journey – from check-in to arrival. Some of the safety measures adopted by Qatar Airways are:
HIA has implemented stringent cleaning procedures and applied social distancing measures throughout its terminals. All passenger touchpoints are sanitized every 10-15 minutes and every boarding gate and bus gate counter is cleaned after each flight. In addition, hand sanitisers are provided at immigration and security screening points.
Passengers travelling from Hamad International Airport (HIA) will receive their face shields at the check-in counters, whereas, at other destinations, the face shields will be distributed at the boarding gates.
Cabin crew have received training on how to minimise their chances of contracting or spreading the infection, are thermally screened before the departure of flights and after their arrival, and are quarantined and tested if any colleagues or passengers on a flight shows any symptoms of infection or test positive for the virus.
Passengers will be provided with protective equipment (PPE) and a complimentary protective kit. Inside a ziplock pouch, they will find a single-use surgical face mask, large disposable powder-free gloves and an alcohol-based hand sanitiser gel. Business Class customers will also be offered an additional 75ml sanitiser gel tube.
Business Class customers are offered even greater privacy with sliding partitions and fully closing doors, and an option to display a 'Do Not Disturb (DND)' indicator if they wish to limit their interactions with cabin crew.
Qatar Airways' aircraft are regularly disinfected using cleaning products recommended by the International Air Transport Association (IATA) and the World Health Organization (WHO).
Qatar Airways becomes the first global carrier to operate Honeywell's Ultraviolet (UV) Cabin System, further advancing its hygiene measures onboard.
All aircraft feature the most advanced air filtration systems, equipped with industrial-size HEPA filters that remove 99.97% of viral and bacterial contaminants from re-circulated air, providing the most effective protection against infection.
All the airline's onboard linen and blankets are washed, dried and pressed at microbial lethal temperatures, while its headsets are rigorously sanitised after each flight.
All of these COVID measures did not go unnoticed. Qatar Airways became the first global airline in the world to achieve a 5-Star COVID-19 airline safety rating by Skytrax. The airline also earned the highest diamond standard status in the Global APEX Health Safety powered by SimpliFlying COVID-19 Audit.
Qatar Airways also signed more codeshare agreements with several airlines in 2020, which has expanded the airline's reach and added more destinations to its portfolio. Qatar Airways also knew that leniency when it comes to rebooking flights and simplified fare families will boost travellers' confidence during these uncertain times.
During the height of the pandemic, the airline operated several repatriation flights bringing people home. Taking you to places and connecting families have always been in the heart of Qatar Airways.
BOOK A FLIGHT NOW!