Qatar Airways to fly over 65 destinations by mid-July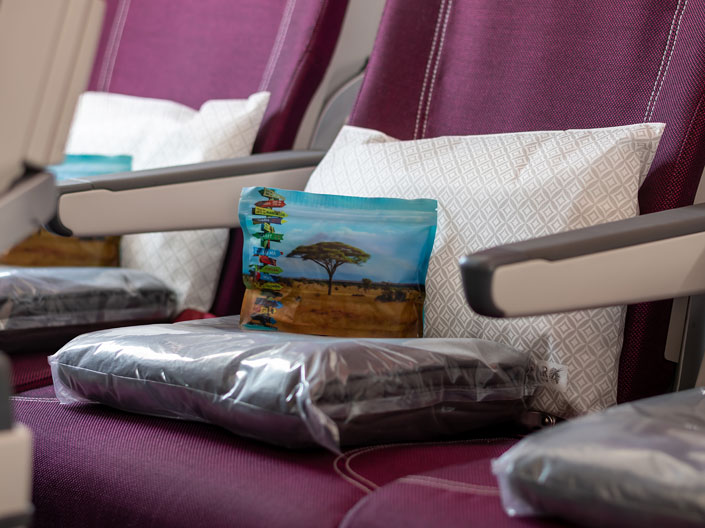 Qatar Airways welcomed the month of July by relaunching flights to 11 destinations. The airline will resume services to over 65 destinations by mid-July with the addition of flights to the following destinations:
1 July:
Bali Denpasar (daily flights)
Beirut (seven weekly flights)
Belgrade (three weekly flights)
Berlin (three weekly flights)
Boston (five weekly flights increasing to daily from 1 August)
Edinburgh (three weekly flights)
Larnaca (three weekly flights)
Los Angeles (three weekly flights, five weekly from 17 July and six weekly from 1 August)
Prague (three weekly flights)
Washington DC (five weekly flights increasing to daily from 1 August)
Zagreb (three weekly flights)
4 July:
Toronto (three weekly flights, new destination)
9 July:
Ankara (three weekly flights)
11 July:
Zanzibar (four weekly flights)
13 July:
Kilimanjaro (three weekly flights)
15 July:
Bucharest (four weekly flights)
Sofia (four weekly flights)
Venice (three weekly flights)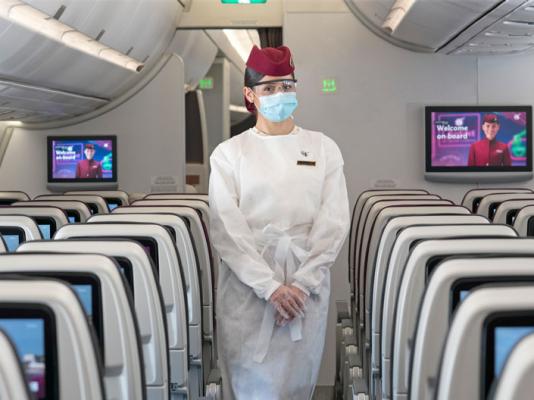 Qatar Airways continues to work closely with governments around the world to resume commercial flights in line with entry restrictions. The airline is hopeful further commercial flight restrictions will be eased throughout July, with the carrier planning to resume almost two-thirds of its pre-COVID19 network by the end of the month. The airline expects its number of flights to almost double in July with close to 3,500 flights scheduled, compared to just under 2,100 in June.
Enhanced health and safety measures
Qatar Airways has increased its health and safety measures onboard by introducing the following:
New personal protective equipment (PPE) for customers and cabin crew. The airline's additional robust measures include offering face shields and protective kits to all passengers, in addition to a new protective gown for cabin crew.
The disposable face shield will be available in two standard sizes – one for adults and the other for children. The children's face shields feature the airline's Oryx Kids Club mascots as part of their design. Passengers travelling from Hamad International Airport (HIA) will receive their face shields at the check-in counters, whereas, at other destinations, the face shields will be distributed at the boarding gates.
Onboard, all Qatar Airways passengers will be provided with a complimentary protective kit. Inside a ziplock pouch, they will find a single-use surgical face mask, large disposable powder-free gloves and an alcohol-based hand sanitiser gel. Business Class customers will also be offered an additional 75ml sanitiser gel tube.
Business Class customers are offered even greater privacy with sliding partitions and fully closing doors, and an option to display a 'Do Not Disturb (DND)' indicator if they wish to limit their interactions with cabin crew.
Aircrafts feature the most advanced air filtration systems, equipped with industrial-size HEPA filters that remove 99.97% of viral and bacterial contaminants from re-circulated air, providing the most effective protection against infection.
All the airline's onboard linen and blankets are washed, dried and pressed at microbial lethal temperatures, while its headsets are rigorously sanitised after each flight. These items are then sealed into individual packaging by staff wearing hygienic disposable gloves.
In addition, HIA has implemented stringent cleaning procedures and applied social distancing measures throughout its terminals. All passenger touchpoints are sanitized every 10-15 minutes and every boarding gate and bus gate counter is cleaned after each flight.
Qatar Airways Group Chief Executive, His Excellency Mr. Akbar Al Baker, said: "Throughout the COVID-19 crisis, the safety of our passengers has been our highest priority. By introducing these additional onboard safety and hygiene measures, our customers can rely on us and our unparalleled expertise to fly them safely to their destination. As the largest international airline flying consistently throughout the pandemic, we have become one of the most experienced in safety and hygiene. We will continue to lead the industry in terms of the services offered to our passengers, so that they can travel with confidence."