China's most scenic spot: Red Beach near northernmost coastal city Panjin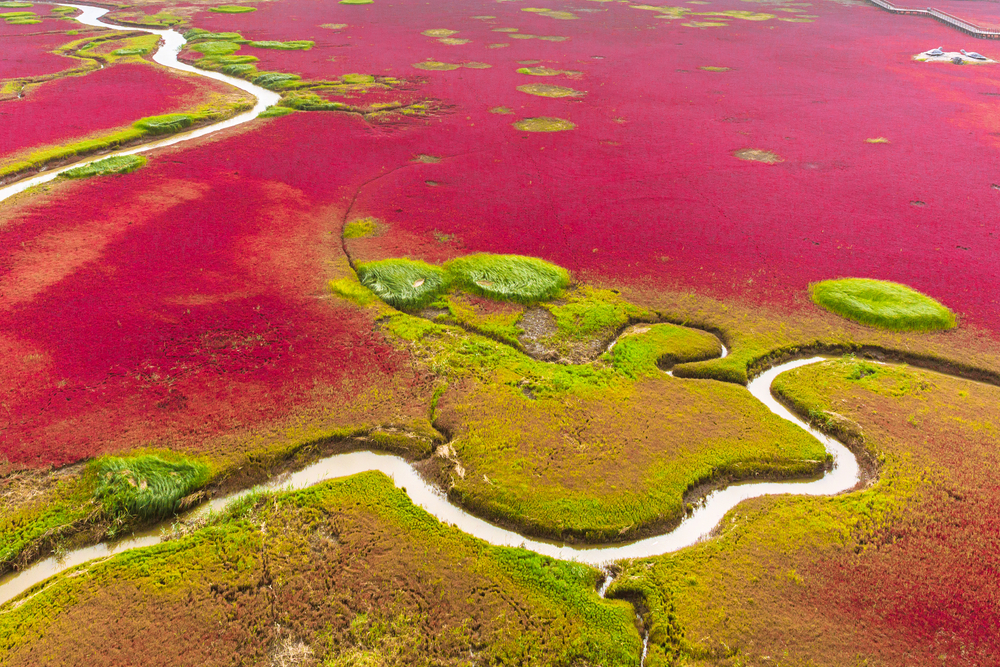 China's northernmost coastline monument was unveiled at Red Beach National Scenic Corridor in Panjin as a national 4A level scenic spot.
Red Beach National Scenic Corridor is known as "China's most wonderful leisure corridor" and "China's most romantic recreation coastline", and thus receives more than two million tourists annually, according to Panjin Red Beach Wetland Resort Administrative Committee.
Red Beach National Scenic Corridor is located between 40 degrees 39 minutes to 41 degrees 27 minutes latitude north, and east longitude 121 degrees 25 minutes to 122 degrees, at the northernmost coastline of China.
Red Beach National Scenic Corridor is one part of the Liaodong Bay coastline, which stretches for 118 kilometres in Panjin, extending in the shape of a trumpet. China has more than 32,000 kilometres of coastline,  part of which will freeze every winter, commonly known as "sealing off the sea", forming a magnificent ice row.
As the entrance of Liaohe River into the sea, the shoals of Red Beach National Scenic Corridor are formed by a large amount of sediment deposited by Liaohe River, commonly known as "great mud bank", which are very suitable for the growth of seaweed and reed, breeding the world-famous red beach and green reed.
There are more than 100 kinds of seepweeds over the world, and the seepweed growing in Red Beach National Scenic Corridor is unique, which has two red opposite leaves, like the wings of a pair of birds. On the tidal marsh, the seepweed and reed are keeping a thick growth from summer to golden autumn, which forms a world spectacle of "red beach green reed". October is always considered as the best viewing season for Panjin red beach.
Panjin city has entered a new era of regional tourism, implementing a further advance with red beach and singing reeds. The representative tourism of Red Beach National Scenic Corridor concludes visiting flowers, beautiful countryside, characteristic ancient towns, hot springs, sightseeing and leisure, which is favoured by tourists at home and abroad.