Seguing to Hua Hin for a quick getaway is like a refreshing glass of coconut water compared with the heady cocktail of life in Bangkok.
The peace and calm of the seaside, just a couple of hours down the highway, is in such contrast to the Thai capital that it is no surprise that Hua Hin is so popular for a weekend away for Thai locals, expats and tourists seeking another side of Thailand.
Capitalising on the chilled out vibes of its location is Mövenpick Asara Resort & Spa Hua Hin, which opened at the beginning of the month. When I swang by last weekend, to sample the Swiss hotelier's brand of hospitality in the former fishing village, I couldn't have been more delighted.
From the moment I walked up the steps and into the hotel's lobby I was struck not just by the extraordinary view of the sea from the open plan welcome area, but also by the dark woods and natural tones of the space which epitomises the tranquil nature of its location. This immediately put me at ease, replacing the stink of the big city with the revitalising bite of breeze from the ocean.
Rooms
As you can imagine, this calm only developed after a swift check-in and transfer to my spacious accommodations, within the resort's private pool villas. Camouflaged by the estate's tropical gardens the one- (150 sqm) or two-bedroom villas (200 sqm) are designed with small groups or families in mind, so with just myself and guest in situ, we were spoilt by the floorspace, private dipping pool and capacious and regal bathroom.
All 96 suites and villas at Mövenpick Asara Resort & Spa Hua Hin offer expansive, thoughtfully appointed living spaces, featuring contemporary décor infused with traditional Thai touches. The 120 sqm suites feature comfortable family sized living sitting rooms, interconnecting bedrooms plus indoor and outdoor rain showers and bathtubs – with the guest's choice of either balcony or terrace.
For guests who want to crank the luxury level up to maximum, the hotel can provide the Presidential Beachfront Villa — a 400 sqm abode stretched over three separate pavilions and featuring its own exclusive beach area not to mention the private outdoor infinity pool overlooking the ocean.
Food and drink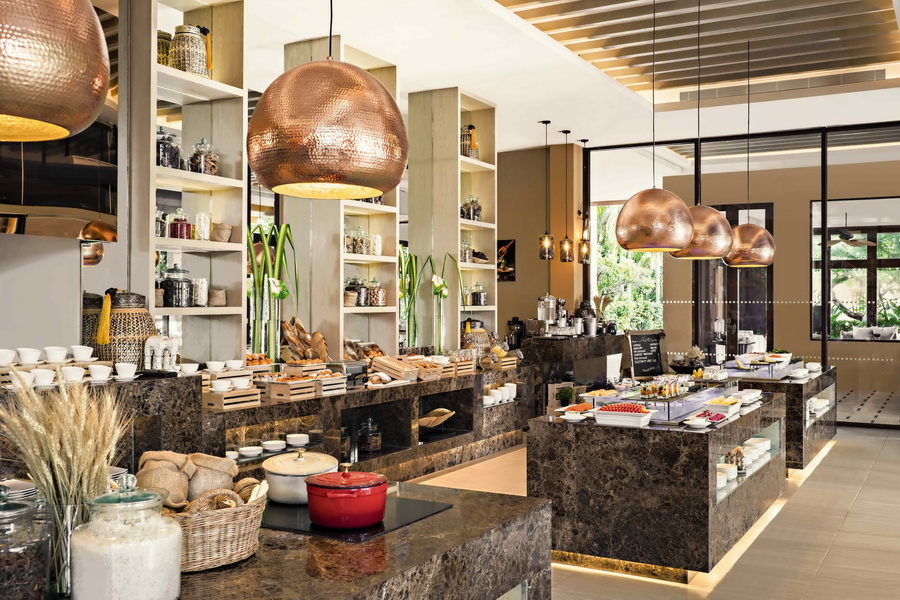 The Mövenpick Asara Resort & Spa Hua Hin has two main food options: Kampu (above) the resort's main eatery and all-day restaurant offers wide selection of Asian and Western dishes for breakfast, as well as poolside holiday favourites throughout the day.
In the evening, proceedings get a Gallic kick with French classics added to the dinner service – I can personally vouch for the tender meat and deeply savoury flavours of the Beef bourguignon.
A couple of minutes stroll from Kampu, takes you to the rather striking – all wood – beachfront restaurant, Baan Dum. Here the focus is solely Thai food; using fresh seafood and local ingredients Baan Dum knocks out expertly prepared dishes with a cheffy twist.
Facilities
The Asara Spa offers an array of indulgent treatments including of massages, facials, wraps and scrubs, perfect for a post-workout wind down at the fitness room.The Mövenpick Asara Resort & Spa Hua Hin also features two swimming pools and a kids, club for added stimulation for young bodies and minds.
MICE
Mövenpick Asara Resort & Spa Hua Hin has got something special going on when it comes to meetings and events. It may not have the biggest function rooms but the wooden floors and panelled walls of the 10m-high Grand Asara Hall — featuring colonial style ceiling fans and panoramic windows — is a unique option for event organisers in search of a spacious and inviting location.
"What sets us apart… is the atmosphere"
As Eric Furrer, the resort's F&B director, described as he showed me round: "We have a charming ballroom which accommodates up to 80-100 persons. This can be used for weddings and other celebrations.
"Additionally, we have meeting rooms ideal for corporate use. While we don't offer huge facilities, what sets us apart from the typical, bland meeting rooms is the atmosphere: dark wooden features creating a cosy vibe, with plenty of natural light and views on the green surroundings. It's quite rare to find this in a five-star hotel."
I think it's fair to say that everything at the Mövenpick Asara Resort & Spa Hua Hin is pretty rare – and pretty special.
Click here for more information and reservations.