TD's regional director for APAC Anthony Gallagher had an uncanny meeting with Richard Branson during the launch of Virgin Voyages in Sydney on Tuesday.
Even at 70, Branson is the life of the party dancing on top of a bar where Anthony and three other guys in suits are enjoying their drinks. Branson then jumped into the moshpit and almost lost his balance — good thing Anthony caught him tenderly. He joked that it is not every day that you can hold Richard Branson in your arms.
Anthony said that it is a no-brainer for Virgin Voyages to tap the Australian with a total of 1.35 million Australians took a cruise last year, an increase of 0.9% over 2017.
Branson is in Sydney to invite Australians to join the maiden voyage of Scarlet Lady in April 2020 as his cruise line Virgin Voyages partnered with Virgin Australia that will fly Australian travellers to Miami to board the ship.
The British business magnate and philanthropist vows to "disrupt" the cruise industry by steering away from the boring, one-size-fits-all type of cruise. Virgin Voyages' Scarlet Lady will dispatch its first "adults-only" ship to the Caribbean from Miami next year.
"I think there are some people who would never dream of going on cruises and all our research suggests people are willing to give Virgin a try when we launch a new business and generally they're happy with the results," Branson said.
The 110,000 gross tonne, Italian-built Scarlet Lady — which is the first of four ships on order by Virgin Voyages – can accommodate 2,770 passengers, which the company refers to as "sailors", the ship is designed to look more like a sleek, luxurious yacht than a mega-cruise ship. It features 1,330 stylish cabins with mood lighting, 78 "Rock Star" suites and four "Mega Star" suites that come with standing hot tubs and guitar-lined music rooms.
Scarlet Lady has no massive buffets that are commonly found in cruise ships; instead, it has more than 30 more intimate restaurants and a champagne on-demand service. True to Virgin's rock n' roll heritage, there is a tattoo parlour and a vinyl record store on board. Also, there will be a lot of table-top dancing.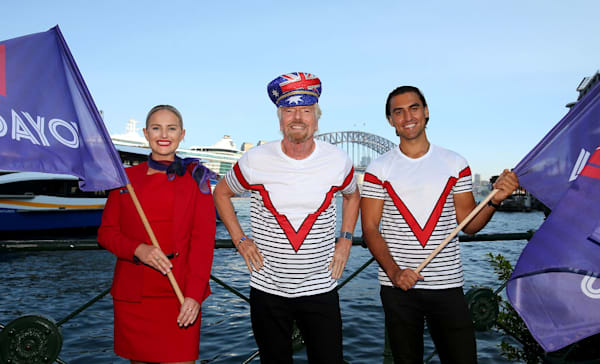 Starting today, Aussies can buy Tail to Sail packages – a one-stop-shop packages to travel with Virgin Australia to Miami and board Virgin Voyages ship, Scarlet Lady. Tail to Sail packages include return flights from the East Coast (Sydney, Brisbane, Melbourne) to Miami, accommodation in Miami and a Virgin Voyages cruise to destinations such as the US, Mexico, Puerto Rico and the Dominican Republic.
"I've always loved coming to Australia and am delighted to launch this new partnership between two iconic brands in our Virgin family, which will bring more of our Virgin magic Down Under and allow Aussies to experience our wonderful Virgin service across Virgin Australia and Virgin Voyages," Branson said.