Robots to take over our airports by 2030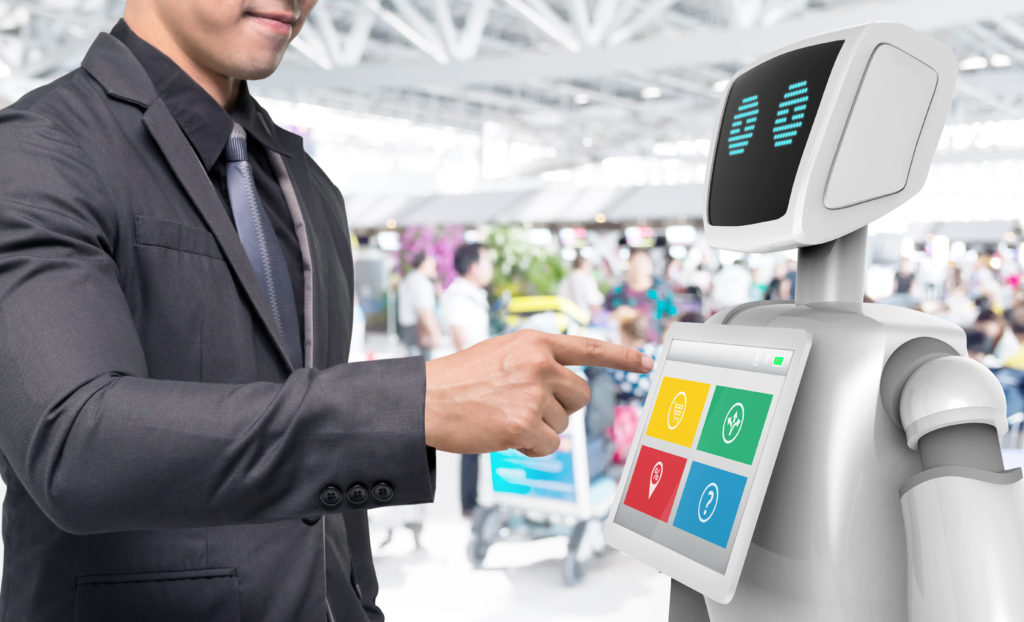 Robots are set to replace airport staff and our air travel may soon be devoid of any human contact, says recent research.
Service robots are set to take over our airports by 2030 – this is the startling finding of a study conducted by Aira and Vero Solutions. Robots will replace existing check-in processes, will have access to real-time airline customer data, and will understand customer's health and emotional states.
An increasing number of airports are using robots for cleaning or providing passengers with their flight information. More upcoming technologies, to improve the services in airports, are currently in testing and passengers will soon be seeing end-to-end transformations across the flying experience.
AI and chatbots
Artificial intelligence and chatbots are slowly being adopted by airlines to handle bookings and inquiries of passengers. Air New Zealand's Bravo Oscar Tango, or simply Oscar, provides the answers to customers' questions 67% of the time.
"Quick answers on the day of travel"
Avi Golan, Air New Zealand chief digital officer, said: "We know customers generally turn to him when looking for quick answers on the day of travel and for booking flights, with hot topics including booking confirmation, baggage allowance and Airpoints queries."
Robots of the more physical variety are roaming the airports, too, such as Kate of Kansai airport, which is an intelligent check-in robotic kiosk that autonomously moves to busy or congested areas of the terminal as needed. It uses data related to passenger flow at the airport to reposition itself, thereby reducing passenger wait times.
Leo of Geneva airport is a bag-drop robot that hangs around at the drop-off point as you step out of your taxi. You can place your suitcase onto Leo's belt and scan your boarding pass with a handheld scanner – Leo prints a bag tag that you attach to the suitcase handle, a door closes with your suitcase secured inside, then the robot prints you a baggage receipt. No need to drag your luggage around.
Automated check-ins are implemented in some airports, cutting waiting time of passengers while resolving issues during check-ins such as missing luggage or items.
Security and maintenance
Robots are also used for cleaning and maintenance as well as security. Incheon Airport in South Korea has deployed Airport Cleaning Robot by LG Electronics, which is a large vacuum cleaner fitted with cameras, light sensors, and sensor-laden bumpers which moves around the airport vacuuming up rubbish.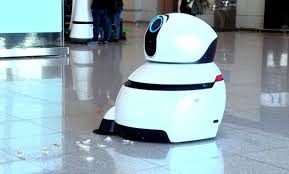 The cleaning robot can move autonomously choosing the best route for cleaning using a map of the airport in its database. It is like having a Roomba for your house.
In terms of security, robots will be useful in detecting threats using facial recognition. A number of instances revealed that criminals are spotted in the airport escaping. Deploying security bots is like adding another layer of safety net to catch hoodlums. Robots can also be used to handle risky situations like dealing with bombs.
Shenzhen's Bao'an International Airport deployed Anbot, a security robot to patrol the airport. Its objective is to monitor the departure hall at the airport, identify suspicious people and help people navigate through the airport. Anbot is equipped with a taser.
Cost versus experience
Aside from the things mentioned above, another advantage of replacing the staff with robots is its cheaper cost. However, just like in any service industry, human interaction in airports is essential. Whether the advent of robots in airports is for the better can only be answered in the foreseeable future.