Saga Cruises offers Spirit of Discovery – an adventure cruise by name and by nature
Spirit of Discovery is not just the name of Saga Cruises' new ship, it is also the philosophy of the new cruise departing from Dover on 17 August 2019 and sailing around the Baltic, weaving a course through the islands that surround Stockholm.
Tours include canoeing at the 'Gateway to Lapland' Kemi, river-rafting adventure in Luleå to experience Sweden's Arctic Lapland or travelling aboard a river cruiser through the Finnish countryside before sightseeing in Pori by road train.
The new excursion to Skagen, which is known for its wild scenery that attracts painters and artists from around the world, is also included. Visits to art galleries and the studio of artist Peder Munk Ravn are included; guests can also participate in watercolour lessons on board. Moreover, they can enjoy the performance of Jools Holland aboard the ship.
"Our guests are… hugely independent and well-travelled"
Neil Cron, shore excursion manager, said: "While many of our guests opt to join our exciting range of tours, many are hugely independent and well-travelled so once the gangway is lowered in port they are keen to jump ashore to discover a region.
"The Explore Ashore team has been created to help guests make the most out of a destination – so if picnicking on Yyteri Beach in Finland sounds fun they can help plan the perfect day from booking a return taxi to organising a packed lunch or giving advice on hiking routes and 'must-see' attractions."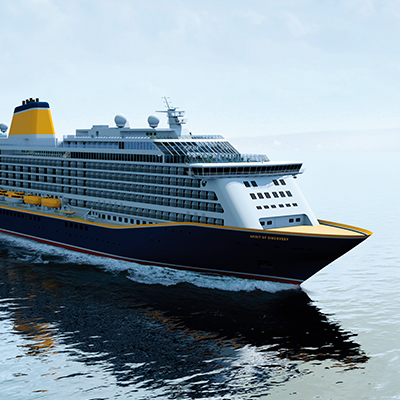 Spirit of Discovery will cruise for 15 nights and costs GBP 4,984 (USD 6,533) with calls to Skagen, Denmark; Stockholm (overnight mooring) and Luleå, Sweden; Kemi and Pori, Finland and Fredikstad, Norway.
Price includes UK travel package to and from Dover, all meals and entertainment, choice of table wines at lunch and dinner, afternoon tea, 24-hour room service, welcome cocktail party, unlimited tea and coffee in selected venues, wifi, onboard gratuities, porterage and free shuttle bus to nearest town centre (whenever possible and when the ship is berthed more than 500 yards away).
However, excursions mentioned are optional, at an additional cost, and are subject to availability and change. Some of the highlights detailed may only be seen on optional excursions or by exploring independently.