Visitors can discover the 'real Japan', blending culture, food and adventure.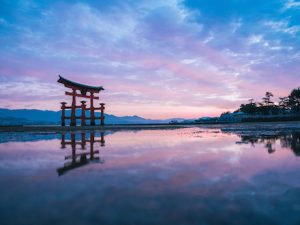 Created as a new tourism body in 2016, Setouchi Tourism Authority is the largest Destination Marketing Organisation (DMO) in Japan and the first to oversee multiple prefectures.
Setouchi launched for the first time in the UK in October 2017.
Encompassing the Seto Inland Sea Region of Japan, the 450 kilometre long area west of Kyoto includes seven prefectures (Hyogo, Okayama, Hiroshima, Yamaguchi, Tokushima, Kagawa, Ehime); the cities of Naoshima, Kobe and Hiroshima, and the iconic art of Miyajima Island.
With over 300,000 annual UK visitors to Japan and an annual growth rate of between 10 -15% the desire to visit Japan has never been greater.
Known for its unique culture, art and design, active adventure, as well as food and drink, the Setouchi brand will be optimised for the UK market, ahead of events in Japan – the Rugby World Cup 2019 and the 2020 Olympics – attracting further tourism.
Setouchi offers something for all UK travellers, showcasing the 'real Japan', it has a vibrant art scene, adventures, temples to explore and is a foodie haven.
Three of Japan's most iconic World Heritage sites can be found in the Setouchi region; The Himeji Castle, Atomic Bomb Dome, and Itsukushima Shrine at Miyajima.
These three sites symbolise Japan's feudal history, religion & culture and war tragedy.
Miyajima is considered one of the top three scenic spots in Japan, which has become a mecca for instagrammers.
One of the 13 original castles remaining, Himeji Castle's history – more specifically the legend of Bancho Sarayashiki – also inspired the horror film 'The Ring'. The A-Bomb Dome is the only building to withstand the 1945 Atomic Bomb in Hiroshima due to its steel frame and now serves as a memorial.
While not a World Heritage spot, the Korakuen Garden is considered one of the top three gardens in Japan.
Travellers can experience the 'real Japan' in Setouchi, from the ryokans of Yamaguchi Prefecture to the ruins of Takeda Castle, known as Japan's Machu Picchu and Naoshima's all-female bunraku performance, not found anywhere else in the world.
Every year more and more art projects are popping up across 12 islands scattered throughout the Seto Inland Sea, most notably Naoshima, Japan's Art Island.
These projects are showcased every three years at the high-profile Setouchi Triennale, which next takes place in 2019.
Visitors can step inside the well-documented pumpkin sculpture by Japanese artist, Yayoi Kusama (aka Queen of Pop Art), that resides on Naoshima, or stay overnight in the island's Benesse House Museum.
Local makers are abundant in Setouchi, including Kumano brushes, knife-makers, Tobeyaki ware, jeans and ceramics of Okayama and Hyogo's Leatherwork.
Culture seekers can learn about the history, design and manufacturing process for Japanese Samurai Swords in the town of Osafune, Okayama, which once flourished as a major producer.
Known as the cycling mecca of Japan, views abound on the 70km Shimanami Kaido cycle route from Honshu to Shikoku, which crosses nine bridges, seven islands and passes countless temples. One-day cycle rentals save visitors from travelling with their bikes, available from ¥1,000 per day.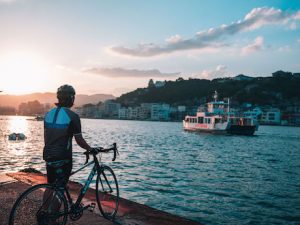 Cyclists can also book into Hotel Cycle, a converted warehouse in Onomichi, Hiroshima featuring cycle hooks in each guest room. With several mountain ranges, waterfalls and the terraced paddy fields of Hiroshima and Kamikatsu, hikers can explore a number of landscapes and experience scenic views.
Watersports are also plentiful. From kayaking on the Inland Sea to white water rafting on the Yoshino River – one of the three most torrential rivers in Japan – to a slower-paced bathe in the hot springs and spas of Dogo Onsen, said to be the oldest in Japan.
Travellers can also explore the Inland Sea by air, aboard Japan's only seaplane tour, costing ¥32,000 or marvel at the natural whirlpools of Naruto.
275 sake breweries can be discovered (and sampled) across Setouchi and travellers who wish to learn more about Japan's rice wine can visit Hakutsuru Sake Brewery Museum in Kobe, Hyogo – Japan's top sake producing region.
Seafood delicacies are abundant with Setouchi's proximity to the sea, and freshly caught Setouchi fish can be found at the Karato Fish Market, located in west Yamaguchi.
Hiroshima is Japan's premiere oyster farming prefecture, where oyster lovers can grill their own fresh oysters in dedicated Oyster Huts which can be found across Hiroshima City.
Kobe Beef is known globally as one of the highest quality meats on the planet, with its characteristically high amount of marbling adding flavour.