Shama Lakeview Asoke: A top-to-toe transformation
TD speaks with Sukamal Mondal, GM of Shama Lakeview Asoke
Contributors are not employed, compensated or governed by TD, opinions and statements are from the contributor directly
Inspired by nature, Shama Lakeview Asoke Bangkok has re-opened its doors near the city's Benjakitti Park and Lake. The property has been extensively renovated, featuring all-new studios, apartments, lobby, pool terrace and public areas — another milestone for the hotel, which had gone through a rebrand in 2018.
To tell us all about the hotel's recent revamp, we sent some questions over to Sukamal Mondal, general manager of Shama Lakeview Asoke.
TD: What does 'Shama' represent and how are you bringing it to life for guests?
SM: Shama is the Sanskrit term for "tranquillity". The new look and feel of our park-inspired interiors invite residents and guests to retreat in a calming setting that's truly a home away from home.
We also operate a Shama brand-wide programme called "Live without Boundaries" which goes beyond providing excellent service to offering outstanding guest experience by granting guests access to "hood tours" to familiarize themselves with the immediate neighbourhood, local culture, lifestyle venues and nearby amenities.
"Live like a local"
We also host a series of residents' activities to foster a closer sense of community, and our knowledgeable team members recommend hidden gems in the area that span all aspects of living so that our guests can make the most of their new city and live like a local, whether they are here for just a few days or much longer.
"A Shama that sets the standard"
TD: Could you tell us more about the re-branding of the hotel from Somerset to Shama?
SM: The rebranding took place while the property was still in full operation. It was a challenging time, and thankfully there were two aspects that made that rebranding successful – our valued guests and our passionate team members.
We have been able to continue welcoming guests, taking care of residents as well as retain several team members from the previous operator. The team here stayed true to the core values of ONYX Hospitality Group and have done a great job during the challenging transition, with extensive renovations taking place in stages whilst the property remained operational not just as a hotel but as home to many of our longer staying guests.
We are now proud to present a brand new property, a Shama that sets the standard for the future of this expanding brand.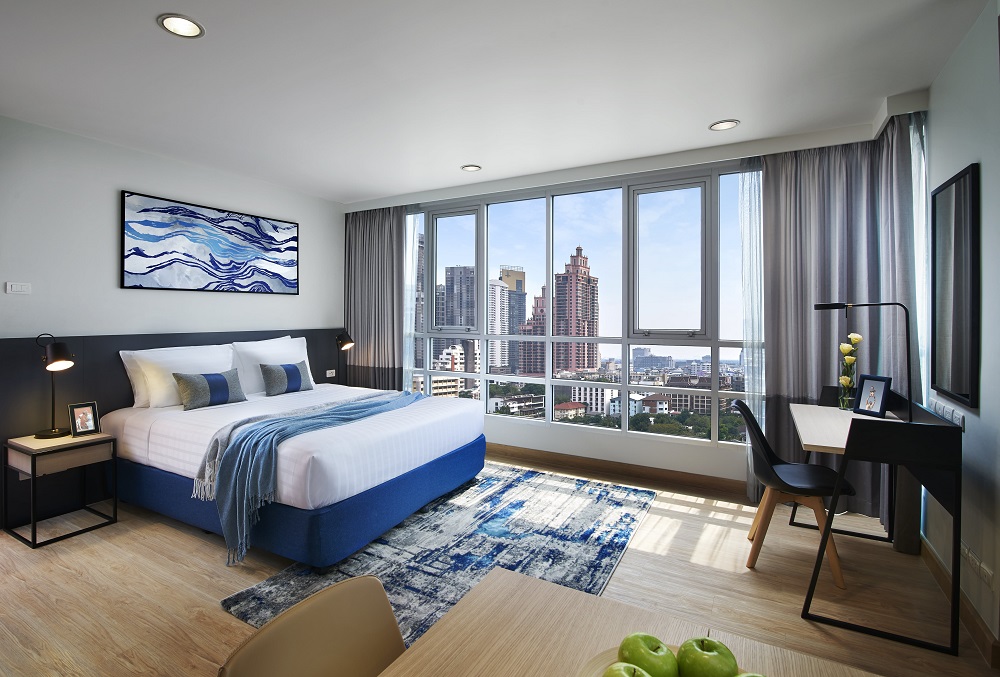 "A top-to-toe transformation"
TD: How was the old interior like and what do love the most about the hotel's new look and feel?
SM: Let's just say that the property really needed a top-to-toe transformation which I am very happy to have been a part of. This property has been operating for 25 years with little attention paid to the upgrades and enhancements.
We are extremely proud of the new look following almost one year of renovations. Our interiors and environment are fresh and modern, with a design influenced by everyday scenes from the nearby Benjakitti Park and Lake which the property overlooks.
Our guests and residents love our newly-renovated apartments for their calming colour palette with touches of blue from the sky and the lake, and greens from the park's trees and scrubs. I love the fact that our new interior is bright with lots of natural daylight and really brings the outdoors right into your private space.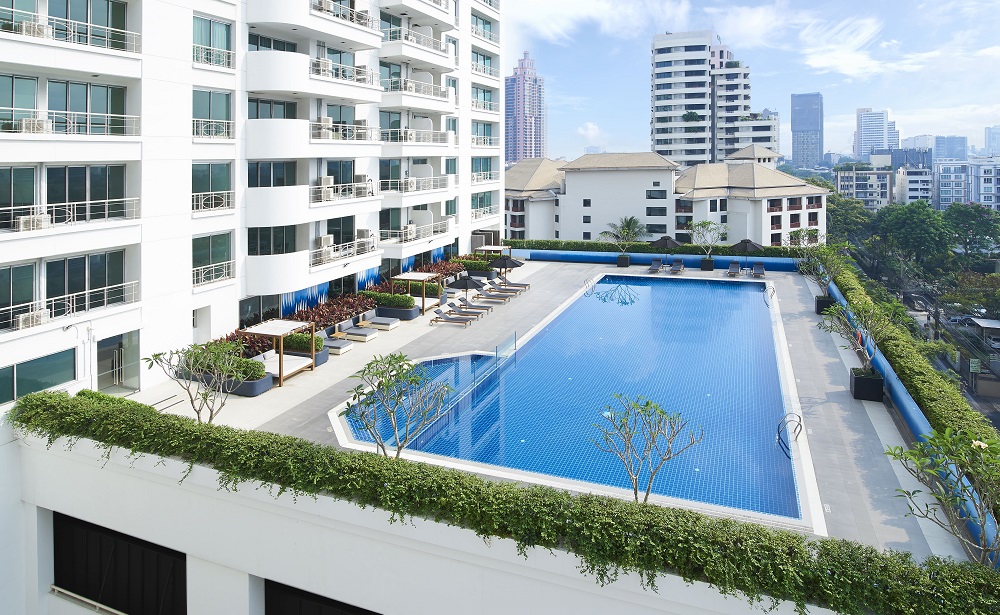 About Shama Lakeview Asoke Bangkok
Inside Shama Lakeview Asoke Bangkok are specially-commissioned art, installations and furnishings, spread throughout its communal spaces. As a nod to the property developer's Japanese roots, it also offers a collection of tatami studios and one-bedroom apartments, each fitted with a raised tatami seating area.
The hotel's 429 studios and apartments feature new interiors designed and built by Bangkok-based ASC Interior, which drew inspiration from the nearby Benjakitti Park and Lake.