Should FlipKart launch a travel marketplace?
Is India's ecommerce giant Flipkart building plans to enter online travel - we look at the signs and implications
Is India's ecommerce giant Flipkart building plans to enter online travel? We look at the company and its history – and why it might be well-placed to build the country's biggest OTA.

FlipKart is an e-commerce giant who has raised more than US$7 billion to date. The company's investors include a long list of VC powerhouses such as Naspers, Softbank, Tencent, and Tiger Global.  It was founded in 20017 by two ex Amazon employees, Benny and Sachin Basil.  
It started out in a very Amazon-like style, selling books and slowly expanding out to include other ecommerce categories. The big step forward for the company came in solving the online payment challenge. It did this not through cutting edge payment gateway – but by offering, quite simply, cash on delivery as a payment option.
This payment innovation, a maniacal focus on mobile, SEO excellence, and non stop execution has propelled them to their current enviable position, a leader in one of the world's largest and fastest-growing eCommerce markets.  The founders have since found themselves in a fierce battle with their former employer, Amazon, and the Alibaba-backed Paytm Mall coming up quickly.
Why would anyone enter the India OTA space?
With all this competition in the traditional e-commerce consumer categories, why would FlipKart consider travel now? It's not confirmed that it is, but the rumours started when MakeMyTrip co-founder Rajesh Magow joined (or rather, rejoined) the FlipKart board.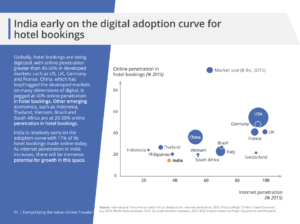 The India travel market is staggering already and growing at a double-digit pace.  A June 2017 report published by Google and BCG predicts the overall travel market will reach $48B by 2020.
The appeal of online travel specifically is supported by the relatively low percentage of total volumes online today, set against a rapidly growing internet population.
For Flipkart, online travel represents a category it can use to aggregate customers and build its gross merchandise volume. 2017 was all about funding and 2018 will be all about scaling. Travel offers Flipkart a massive consumer online category in a space not yet fully addressed by Amazon or Paytm.    
What Would a 'FlipKart for Travel' Look Like?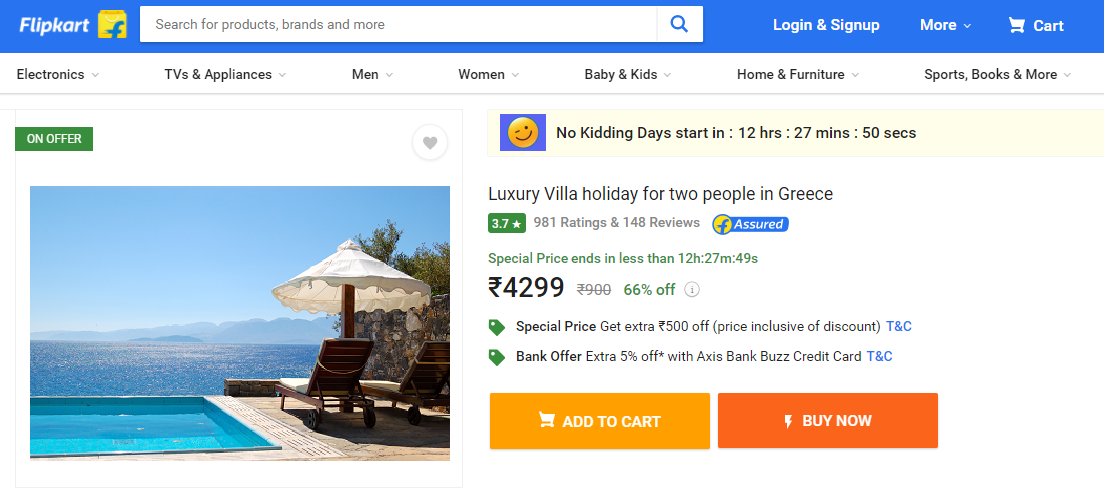 Perhaps even more interesting (and telling) than Rajesh rejoining the FlipKart board is that the South African VC Naspers has 100's of millions in investment in both FlipKart and MakeMyTrip.
The likelihood of a FlipKart + MakeMyTrip partnership in the OTA space looks much more plausible than a head-to-head battle for travel consumers.
The likelihood of a FlipKart + MakeMyTrip partnership in the OTA space looks much more plausible than a head-to-head battle for travel consumers.  The Naspers' investments only provides proof that they are smart investors in two of India's home grown e-commerce leaders – not that the two will work together.  
Traditional OTA?
Building a even an scaled down online travel business and platform from scratch would take both time and money. FlipKart certainly has the funding, but it doesn't don't have the time.
Spending 12-24 months iterating on development of a traditional OTA travel platform before getting to market would be a giant distraction at a time when it is in a fierce battle for market leadership with Amazon.
A MMYT partnership could shortcut this path to market. Others have speculated a Yatra or Cleartrip acquisition as a shortcut.
The Pig That Flies: Fliggy
The Alibaba travel marketplace Fliggy (formerly Alitrip) has been soaring over the past 18 months. It's the rebranded millennial-focused travel marketplace of Alibaba Group launched in October 2016. Its position as the travel marketplace on TaoBao provides them access to the site's 580 million active users.
Fliggy has built an impressive amount of airline and hotel content on the marketplace with both foreign and domestic brands.  Western brands such as Marriott and American Airlines have developed deep relationships that go beyond just distribution but also enlist the marketplace's support in managing the brands' Chinese presence and loyalty programme integrations.
What to expect – our analaysis
Flipkart: If it does tackle travel, themanagement will hire a team to own the category, solidify some launch partnerships and get to market quickly. It will go with a Alibaba / Fliggy model to better leverage and grow the marketplace and wallet (phonepe).  This will immediately set FlipKart apart from its marketplace competitors. 
Amazon: It will not launch an India travel marketplace (not soon anyway) and will be laser-focused on aggregating users and spend in the existing consumer categories, as well as delivering the best user experience.
Paytm is also coming for Flipkart but not in the short-term. It will continue to focus on owning the payments space (an approach that has paid off for Alibaba) as well as building out other core e commerce categories in the Paytm mall. Alibaba's investments in India's online grocer Big Basket and its focus on building out its logistics strength with Cainiao are good telltale signs.
So should Flipkart launch a travel marketplace?
Logically, no. The risk is in travel is a distraction. Its fierce battle with Amazon and Paytm will only intensify in future and the stakes are high. Flipkart can't afford to take its foot off the gas in any of the core categories. 
Online travel in India is fiercely competitive with existing players still focused on scaling versus profitability.  Shortcutting the process by acquiring an existing player such as Yatra or Cleartrip would be an expensive bet. Strategic, cultural, and financial fit of such an acquisition would raise question marks, as would the ability of platforms to support rapid execution of a marketplace Fliggy-like model.
But – will Flipkart launch a travel marketplace?
Yes. Winners win because they go big and take risks. Flipkart's leadership and culture hasn't been built by fear. It will enter travel and will push hard on this category to drive differentiation, GMV and stickiness. The Naspers link and recent board appointments make a MakeMyTrip relationship likely.  We can't wait for its entry into the category and wish them every success.