Singapore Tourism Board champions sustainability in MICE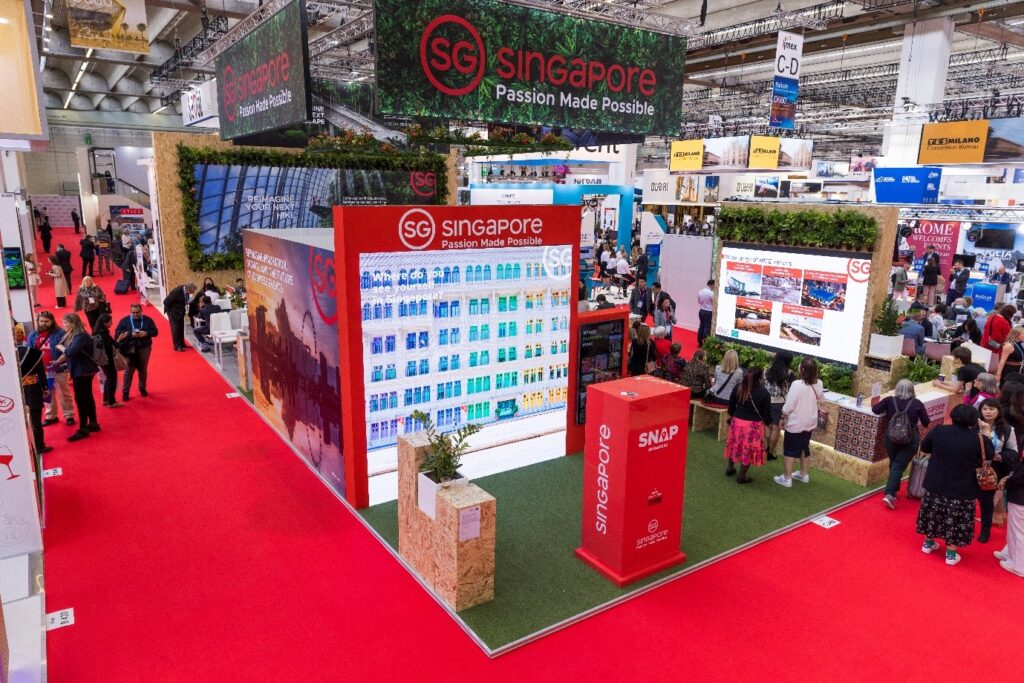 Singapore prides itself as a sustainable MICE destination with the local industry set for a strong business recovery on the back of the city's reopening to fully-vaccinated visitors.
Singapore's MICE industry is expected to recover fully in a few years as the nation hosted over 200 events attended by an estimated 49,000 delegates in 2021. In the first three months of this year alone, Singapore hosted more than 150 events attended by over 37,000 delegates. This number is set to increase, with at least 66 international events secured for the rest of 2022. With in-person events now back on the agenda, sustainability is now at the forefront of travel and Singapore is more than ready to cater to them.
At IMEX Frankfurt, the largest trade show in Europe for the meetings and events industry, held on 31 May – 2 June in Germany, the Lion City reaffirmed its commitment and drive to becoming a leading sustainable MICE destination with the launch of the 'Ready, get set, go green!' whitepaper with American Express Global Business Travel as well as several new wellness and sustainable experiences as part of its In Singapore Incentives & Rewards (INSPIRE) Global 2.0 programme.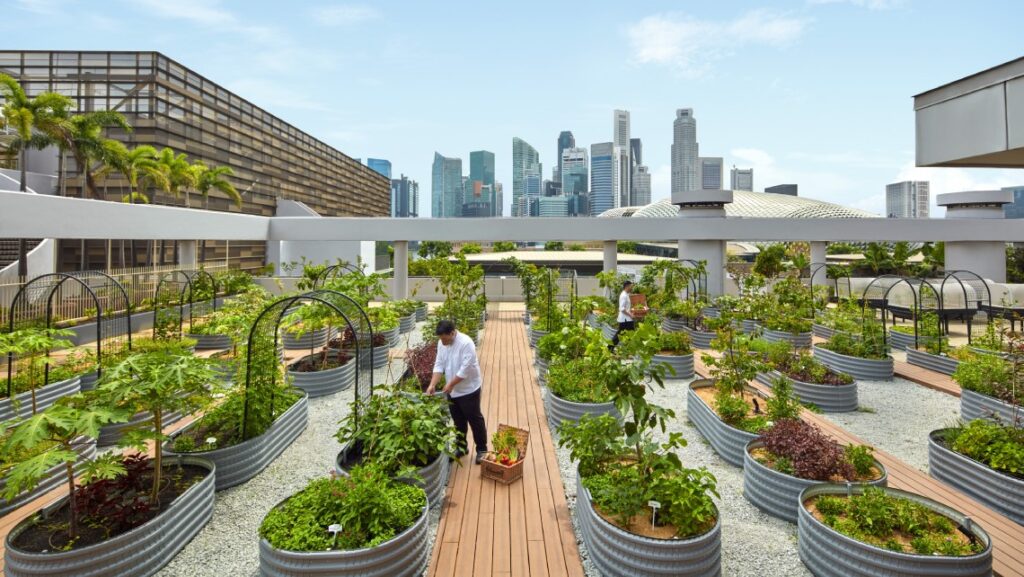 A City in Nature – Big experiences come with small footprints
As travel returns to pre-pandemic levels, in-person meetings and events are expected to follow suit. Virtual and hybrid formats will continue, but more to support overall engagement strategies. According to the 2022 Meetings & Events Forecast by American Express Global Business Travel Meetings & Events, 81% of events are expected to have an in-person element and two-thirds (67%) believe in-person meeting levels will return to their pre-pandemic numbers within one to two years.
However, MICE is better and "greener" this time. With companies placing ESG goals in the foreground, demand for greener events has increased so much that 83% of travel and meetings professionals say sustainability is a consideration in planning meetings and events, according to AMEX Global Business Travel's consulting.
Moreover, 88% of travel and meetings professionals surveyed viewed addressing climate change as their number one priority. Event owners and planners are also increasingly looking at how to create a legacy of good beyond the environmental aspects of sustainability considerations but also the social and cultural aspects.
Singapore paves the way to sustainability under the Singapore Green Plan 2030 – A nationwide movement on sustainable development based on the United Nations 2030 Sustainable Development Agenda and the Paris Agreement. The country is committed to peak carbon emissions around 2030 and to achieve net zero by or around mid-century.
In travel and tourism, STB, together with those of our tourism industry partners, aims to be one of the world's most sustainable urban destinations where large experiences come with small footprints. STB is participating in the Global Destination Sustainability Index (GDS-Index) to benchmark Singapore's social and environmental performance against other destinations.
Moreover, the tourism board is reworking the MICE ecosystem to promote standards, certification, and greater adoption of green practices. This is aligned with goals set by the UN and reinforces Singapore's status as a leading MICE destination.
"The business community is eager for opportunities to meet and network in-person again. This desire, as well as the recent easing of our border restrictions, puts the MICE industry in good stead to recover strongly," said Yap Chin Siang, Deputy Chief Executive, STB. "We look forward to welcoming more business travellers and delegates back to our shores over the next few years, and we hope that the curated experiences under INSPIRE Global 2.0 will encourage visitors to enjoy all that Singapore has to offer."
As consumers become more aware of the impact of their activities and purchases, travel and meeting professionals are demanding more sustainable options when planning business events, the whitepaper takes a look at the strategic ways meeting professionals can organise sustainable face-to-face meetings and reduce the sector's negative impact on the environment.
According to the report, travel and meeting professionals encourage travellers to practise 8 ecologically responsible behaviours (listed in the following order):
1. Choose energy-efficient hotels and event venues (76%)
2. Prioritise routes with smallest CO2 footprint (73%)
3. Reduce frequency of travel (71%)
4. Prioritise electric vehicles over hybrid or conventional cars (67%)
5. Prioritise flights using Sustainable Aviation Fuel (65%)
6. Give preference to sustainable food options (62%)
7. Prioritise public transportation (60%)
8. Offset emissions by investing in environmental projects (60%)
For more information on the whitepaper, download and read it here.
Assistance schemes that empower exceptional and sustainable events
As part of Singapore's drive to become a green MICE destination, STB offers other assistance schemes to event organisers to support their meetings and events. One of these assistance schemes is Business Events in Singapore (BEiS), which offers customised support to planners in securing venues, helping marketing and publicity, and encouraging business events industry to innovate and host sustainably while anchoring quality events in Singapore.
Another assistance programme, Singapore MICE Advantage Programme (SMAP) 3.0 provides event organisers and delegates with support and attractive discounts from Singapore Airlines, Changi Airport Group, Grab, JetQuay, StarHub, and NETS as well as complimentary leisure experiences with Sentosa Fun Pass.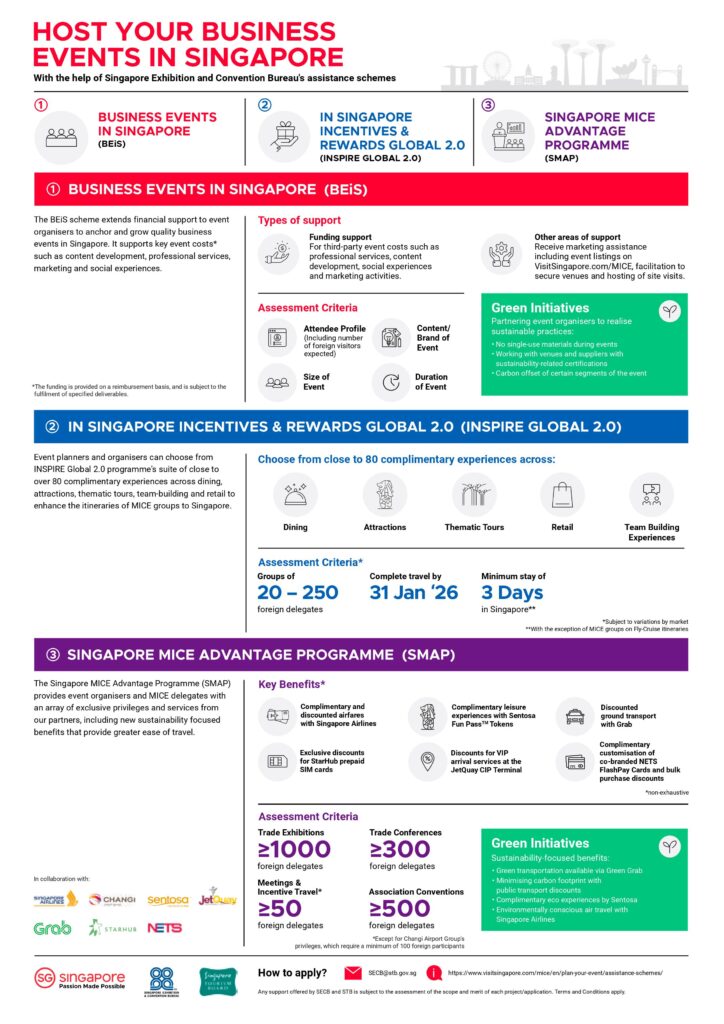 Singapore continues to be recognised as the preferred destination for business events. The robust pipeline of MICE events in 2022 reflects event organisers' confidence in Singapore's fundamentals – its vibrant business culture, excellent infrastructure, stable government, and stellar track record in delivering high-quality events. With its renewed focus on sustainability, meetings and events in Singapore will take a new form.