Staycation online bookings rise to 127% as non-essential travel resumes
Staycation providers see a huge jump on online bookings as the UK relaxes non-essential travel rules.
Real-time personalisation and optimisation platform Fresh Relevance has revealed that staycation bookings are back to its pre-pandemic status showing that Brits are itching to travel.
The findings, taken from a sample of over 250 businesses within Fresh Relevance's client base, reveal the substantial hit that travel has taken over the course of the Covid-19 crisis. However, after online travel bookings fell to 19% of their pre-pandemic level in April, overall revenues improved significantly in May to 26% of their normal revenue and improved further up to 62% in June.
Even better, staycation providers offering vacations such as self-catering accommodation, camping and holiday parks in the UK recorded an uplift in online bookings to 127% of their pre-pandemic level in June.
This online sales trend indicates that consumers are keen to take advantage of the ability to travel again but may not be ready to return to holidaying overseas. With many still worried about a potential 'second wave' of infections across the world, UK consumers are choosing to book breaks within the UK – potentially to mitigate any risks of costly cancellations for overseas packages.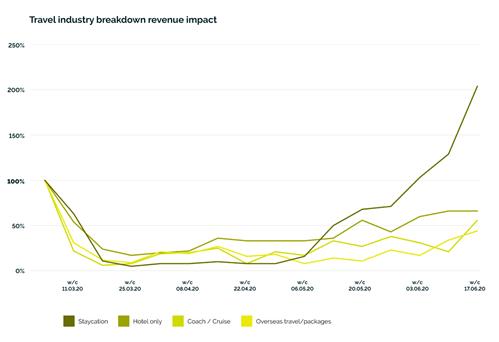 Mike Austin, CEO and co-founder, Fresh Relevance: "We can see positive signs that the travel industry is slowly starting to recover from the pandemic. With the list of air bridges growing, consumers may be less concerned about having to quarantine upon return and more willing to travel abroad.
It looks like 2020 will be the year of the staycation in the UK, with sales increasing substantially over the last two months in line with the easing of travel restrictions and pent up demand for seaside or countryside stays. With fears about a second wave of the virus striking across the world, consumers are understandably cautious in their holiday planning due to concerns about chasing large refunds or being stranded abroad. This, combined with official recommendations against cruise ship vacations, means that more holidaymakers turn to the staycation market than ever before.