Our friends at Marketing Interactive recently shared that the Singapore Tourism Board (STB) threw shade at Time Out, whose recent "most exciting cities" survey ranked Singapore 31 out of 32. 
The 2018 Time Out City Life Index polled 15,000 people from 32 cities including Singapore, alternately called the Lion City and the Red Dot. Residents of the Southeast Asian island-city gave it low scores in terms of population (19% of respondents say it's overcrowded), living expenditure (well-known to be on the pricey side, 58% think the expenses are prohibitive), arts and culture (only 17% report that the Red Dot has such a scene), and live music and nightlife (also lacking).
While not quite a catfight, STB dished out what we find is the slickest rebuttal to any naysayer: a video rendered by its agency partner, TBWA. Marketing Interactive added that STB director for digital and content Terrence Voon said that the board's Destination Newsroom, which he called a 'social media command centre,' allows it to use storytelling in order to engage with fans.
#Triggered?
The Facebook video hosted on STB's official visitor page super-imposes various comments from survey respondents on footage that directly contrasts with each statement. The video not only ends with "Could we be any more boring?" but even dares to tag Time Out: "Yeah, Time Out London, we're pretty "unexciting". ¯\_(ツ)_/¯" See for yourself:
Yeah, Time Out London, we're pretty "unexciting". ¯_(ツ)_/¯

Posted by VisitSingapore on Donnerstag, 1. Februar 2018
Between its posting and this time of writing, the video has earned over 158,000 views, 1,600 shares, 2,400 reactions and 200 comments. The reactions themselves are quite varied: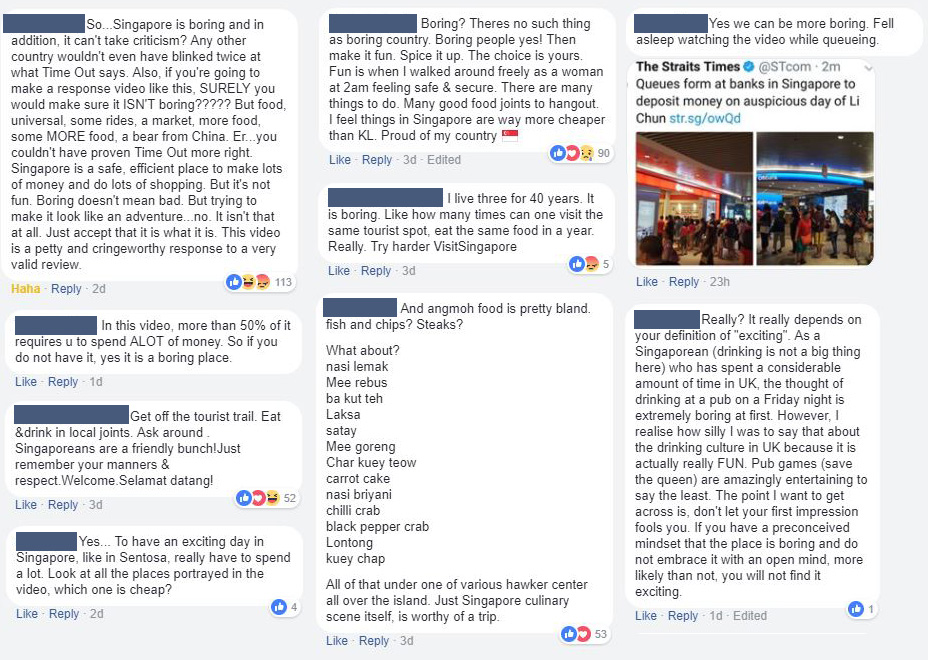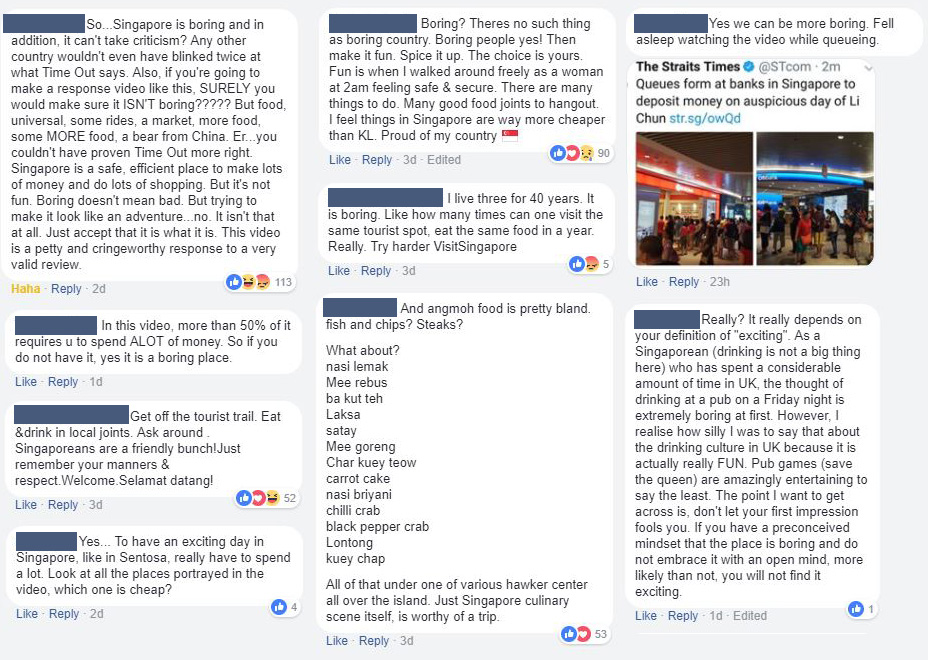 Missed opportunities
After watching the video again, we find it odd that STB chose not to highlight what Singapore does do well in. After all, the city prides itself on making passion possible, so why restrain visual representations of that?
For instance, 92% of people in the Time Out poll have the Lion City's back where dining is concerned; from that percentage, 42% called Singaporean cuisine "amazing," with "unbeatable quality and choice." But the video doesn't make Singapore look any more appetising beyond a Lau Pa Sat cook at his stall and a Michelin-approved S$2.00 (US$1.50) hawker meal.
We thought a better hook would be to show the most drool-worthy close-ups of best-selling Red Dot dishes at either the annual Singapore Food Festival or hawker centres teeming with non-Singaporeans. After all, STB already posted a GIF image of different shots of its ice cream sandwich – essentially baked goods filled with the cold confection, sold in either cup or biscuit variants by street carts – after taking offence at Buzzfeed UK's 2016 review of the snack.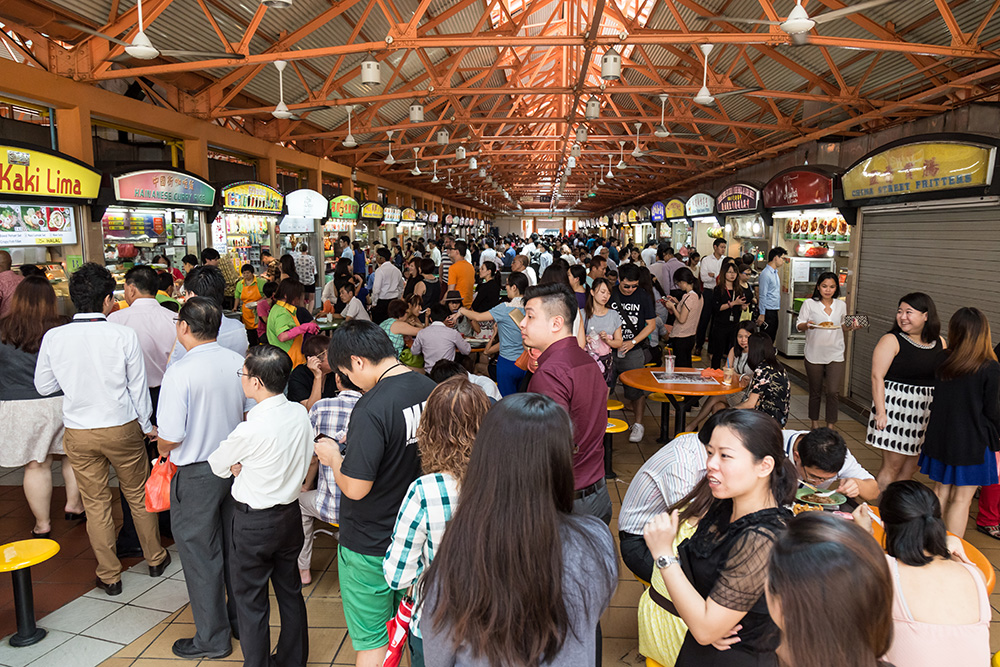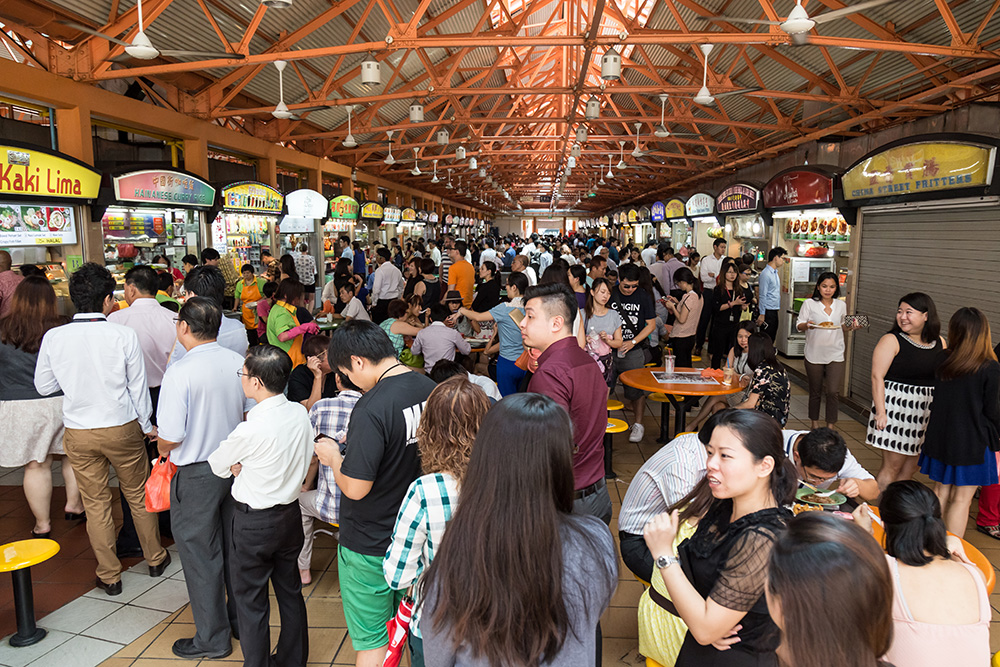 Singapore also scored well on health – for being such a food destination, the Time Out poll said its residents were doing more exercise than the global average. This was another huge opportunity that the STB overlooked in producing the video, which is a shame because this editor once managed to squeeze into a single morning one session each of tai-chi, yoga and jogging at the parks near Geylang MRT.
For that matter, those outdoor wellness and workout sessions – which anyone can join! – along with affordable hawker eats and strolling through greenery all go a long way towards shaking off the "expensive" image that the country has. We are sure there are other activities that budget tourists can enjoy on the ground that even our editorial team may not have explored yet, but maybe that's a job best left to our friends from the Be app. All the same, it's high time they bring these secrets out into the open for more travellers to appreciate.
In sum, no singular country can yet be everything for all kinds of travellers, not even Singapore. Maybe the Lion City needed this sort of publicity to kick-start improvements; maybe it didn't. But either way, the case remains that it needs to consider the criticism levelled at it – by its own residents, no less – and use it as a means to further work on its image as a tourist destination, the way all countries relying on tourism should.