Steering cruise travel towards innovative sustainability in Asia Pacific region
Contributors are not employed, compensated or governed by TD, opinions and statements are from the contributor directly
As the travel industry is busy getting back on its feet, Travel Daily Media caught up with Damian Perry, managing director of Asia Pacific Region at Hurtigruten.
TD: What messages do you have for Asia Pacific region travel agents in the wake of COVID-19?
DP: As we witness high demand again, it's time to change the conversation, and be proactive. It's kicked in sooner than we anticipated and clients are committing into late 2021 and 2022. We see this in all markets, creating an extremely positive psychological shift, whilst injecting much-needed enthusiasm into our industry again.
TD: With a pandemic on your resume and unprecedented industry crisis, what lessons have you learnt about yourself as a leader?
DP: For me, it was really about digging deep, finding more patience, and understanding how everyone around me was affected. Being empathetic increased my perspective. We needed to continue to communicate and engage whilst checking in on each other, as motivations were zapped. I've found an extra depth in planning, reorganisation and engagement with everything I do now.
TD: What plans do you have for Asia Pacific?
DP: In Norway and Europe, we are a household name, so we now have to build our brand in Asia Pacific and create awareness of what we do, in particular about our unique selling points. We have a great history and exciting future as the leader in sustainable expedition travel, which resonates with Asia Pacific passengers. Hurtigruten was the first to ban heavy fuels, single-use plastic and introduce hybrid-electric power.
"Innovative sustainability is core to all our operations, in and out of the water." Our new beautiful hybrid-electric power expedition ships, Fridtjof Nansen and Roald Amundsen are world-class leaders in their field. Hurtigruten's whole focus is to lower emissions, increase knowledge and share awareness of the environments we explore. We work closely with the Norwegian Institute for Marine Research and the Norwegian Institute for Water Research.
We've also made a significant investment in our Science Centre, with labs, libraries, theatres, and our expedition base. It's the heart of the ship, where guests participate in the science of our expeditions, and the ship revolves around this centre, not a casino or a stage show. It's a brilliant experience, and guest love participating in the research programs and presentations whilst soaking up Antarctica, the Arctic and our coastal voyages.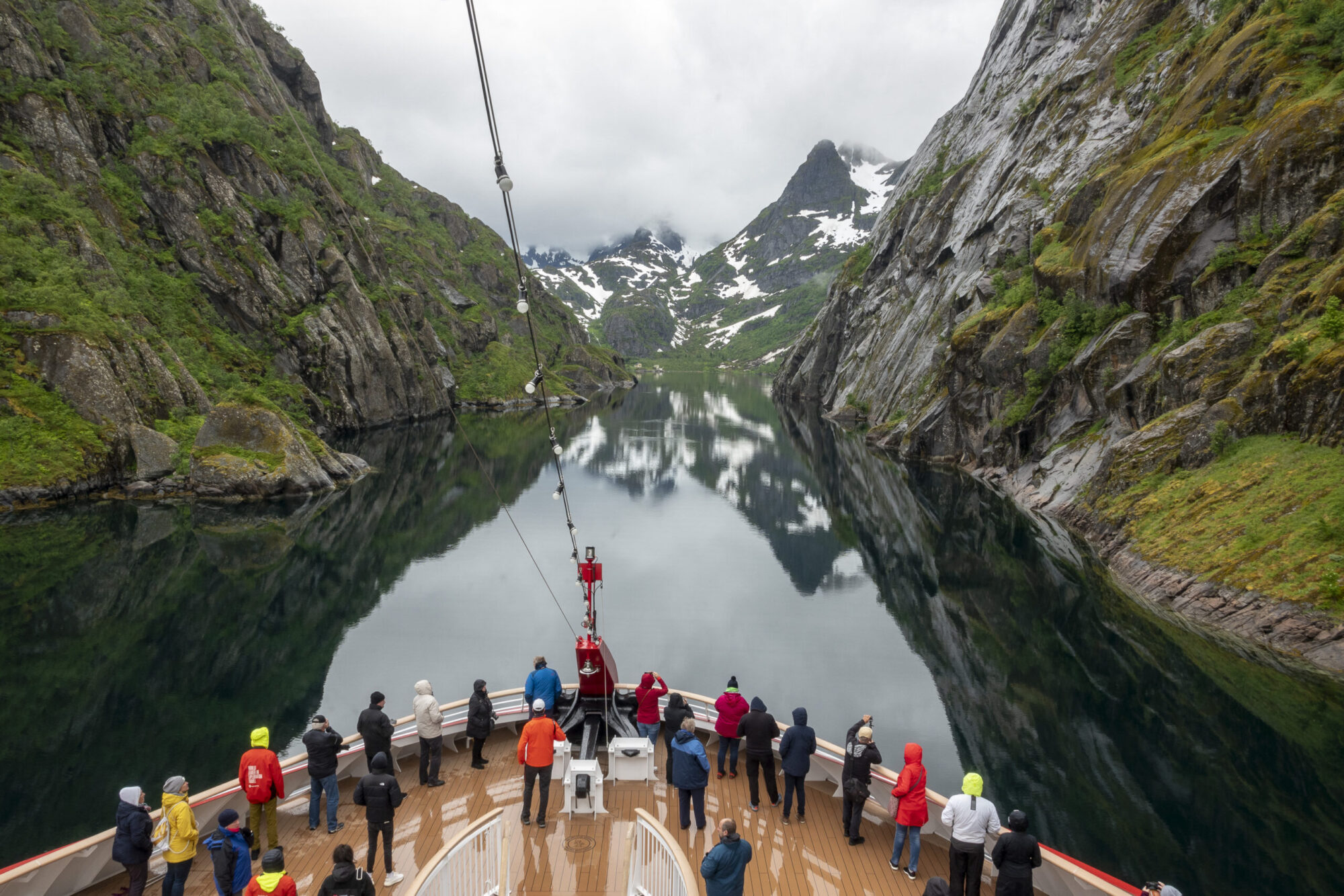 TD: Can you name your biggest highlight or professional achievement since joining Hurtigruten?
DP: Personally, Hurtigruten has given me an incredible opportunity to travel to the most pristine parts of the world, Antarctica, Svalbard, Greenland, Iceland and Norway. I've seen it all multiple times, in great detail. The real highlight is sharing passengers' enthusiasm and their rich experience.
Professionally, I entered into the Asia Pacific market, and it was still a traditionally structured model with limitations. Naturally, changes were required, and I presented a new plan, and the key leaders understood I was adapting for growth and agreed to invest. I've put together a really talented and engaged team which is very rewarding for everyone involved.
TD: Can you give our readers an overview and point of difference for Hurtigruten?
DP: We are Scandic, and it's pretty cool, with a premium style and fascinating experience. The ships are small yet spacious, and sustainability is always emphasised. We don't have butlers, and we don't pitch to luxury. It's 'premium all-inclusive'. Of course, we have great spas and the best saunas on the ocean.
Hurtigruten is casual, and we keep it authentic. Our service, style and quality of dining is premium and ocean to plate, with minimal waste. We pitch the price below luxury, yet no comforts are spared. It's a more accessible product to a broader range of travellers who genuinely value the experience. The average age is coming down; we are now tapping into the 30-40+ age groups. The younger really resonate with the experience, the environment, our sustainability and strong educational focus. Guests are inquisitive, and the ships state-of-the-art technology is of big interest. "It's action-packed and a non-stop experience."
TD: What's hot now?
DP: Antarctica and the high Arctic; guests are 'booking now', and 2022 is selling fast. Svalbard, Greenland, and the North-West Passage are always popular. Norway will boom again, it's our solid base and will be strong again in late 2021/22.
TD: How does Hurtigruten support the Asia Pacific agent network?  
DP: We have commercial teams within several cites; we support the industry by sitting down and discussing their specific needs. If you're an agent, OTA, Wholesaler or a Tour Operator Specialist, we can discuss and create solutions to support you.
TD: What last impression or selling point would you like to leave our readers?
DP: Hurtigruten is creating and committed to sustainable premium expedition experiences. They are highly educational and fascinating, so if you have one client who wants that bucket-list destination, we have a broad solution. If you want to work with us, we are here for you with a unique product scope, a lifetime of experiences and happy passengers.
For more information, click here
The team in Asia:
Hongbin Li
Regional Sales Manager, Asia Pacific
hongbin.Li@hurtigruten.com
m: +852 9863 9066 | Hong Kong / China
Cynthia Hu
Marketing Manager, Asia Pacific
cynthia.Hu@hurtigruten.com
m: +85255115239
Kengo Kuno / 久野 健吾
Hurtigruten / フッティルーテン
Asia-Pacific Regional Sales Manager, Japan & Korea / アジア太平洋リージョナルセールスマネージャー 日本・韓国代表
kengo.kuno@hurtigruten.com
m: +81 90 9159 8909
The team in Australia:
Damian Perry
Managing Director, Hurtigruten Asia Pacific
damian.perry@hurtigruten.com
m: 0410 220 762.
Joel Victoria
Marketing Director, Hurtigruten Asia Pacific
joel.victoria@hurtigruten.com
m: +61 403 787 287
Inside Sales
Hurtigruten Asia Pacific Limited
Darren Wakefield
darren.wakefield@hurtigruten.com
m +61 410 930 271