The past year has seen UK visitor numbers to Sweden soar, new campaigns, new tourism products and the launch of three new flights from the UK.
Annual figures from Visit Sweden show that UK traveller bed nights hit a record number of 857,570 in 2016.
With 600,170 UK traveller bed nights recorded in 2013, this represents a 43% increase in the space of just three years.
Visit Sweden anticipates further growth this year – the latest statistics show that UK traveller bed nights between January and August 2017 hit 617,227, an increase of more than 12,000 on 2016's record figures.
This growth makes the UK Sweden's fourth largest inbound tourism, with the country seeing strong investment from the UK travel industry.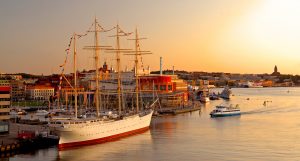 Over the past year, new air routes have been launched by easyJet (London Luton to Stockholm – March 2017) and bmi regional (Birmingham to Gothenburg – May 2017).
A new route between London Gatwick and the lesser known region of Jämtland Härjedalen in northern Sweden, gateway to Sweden's premier downhill ski resort of Åre, was also launched by easyJet at the end of 2016.
Gabriel Dorch, marketing manager for Visit Sweden UK,  said: "We are delighted that an increasing number of British holidaymakers are discovering Sweden. The simplicity and sense of wellbeing offered by the Swedish lifestyle appeals to UK travellers, and we have worked closely with trade partners to develop exciting tours and products reflecting this. Over the past year, we have concentrated on promoting key lifestyle messages of design, food and sustainable nature to the UK market, highlighting Sweden as the number one destination to enjoy experiences tying back to these themes."
The tourist board launched numerous campaigns into the UK market this year, including listing the whole country of Sweden on Airbnb to highlight its freedom to roam policy and  nature.
Gothenburg and West Sweden launched Meet the Locals, enabling curious travellers to engage and spend time with locals, wanting to demonstrate the Swedish way of life. Whilst in Swedish Lapland, the world famous ICEHOTEL opened a year-round ice experience in June.