SWISS: Travel memories have the power to shape our personality
Contributors are not employed, compensated or governed by TD, opinions and statements are from the contributor directly
As part of its Moments that last campaign, Swiss International Air Lines (SWISS) has commissioned a new research and revealed that travel memories are key when it comes to shaping our personality.
In collaboration with neuropsychologist and professor Lutz Jäncke, who holds a chair in neuropsychology at the University of Zurich's Department of Psychology, the survey explored the extent in which our travel experiences are embedded in our memories—how they differ from other memories and how they influence people.
The survey included respondents from the UK, Germany, Italy, Switzerland and the US, with 1,000 people aged between 18 and 55 taking part per country.
True to the belief that travel is one of the best investments we could have, the research revealed that travel memories are key when it comes to shaping our personality. More than 40% of Brits said that they have already been on a journey that has changed them, around 20% of British holidaymakers picked up a new hobby after travelling and nearly 15% started exercising after returning home.
"We are what we remember about ourselves"
Professor Jäncke, explained: "Travel and our travel memories have the power to shape our personality. We are what we remember, or, more precisely—we are what we remember about ourselves.
The information stored in our memory spans the whole range of our personal experiences. Holiday and travel memories take a prioritised position within this realm of experiences, which is why they are major pillars of our personality."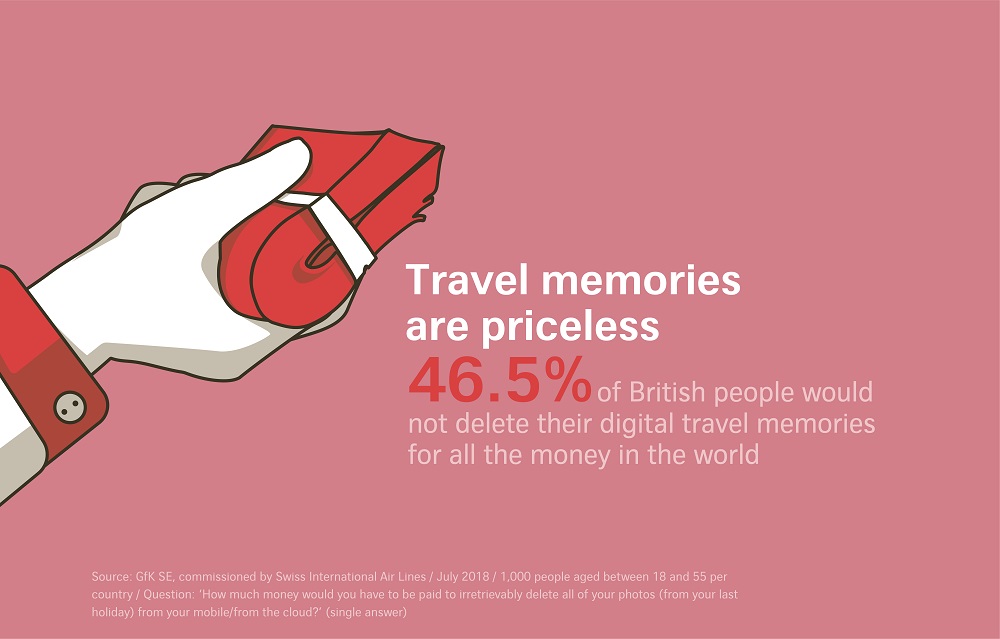 Also according to the data, more than 80% of British people wish they were able to relive a particularly happy travel experience and cherish their travel memories, with 46.5% of those in the survey stating they would not delete their holiday photos for all the money in the world.
However, it seems that 62.1% of Brits record their travel memories using their mobile phone or camera because they are worried that they might otherwise forget them—trusting their smartphone more than their own memories.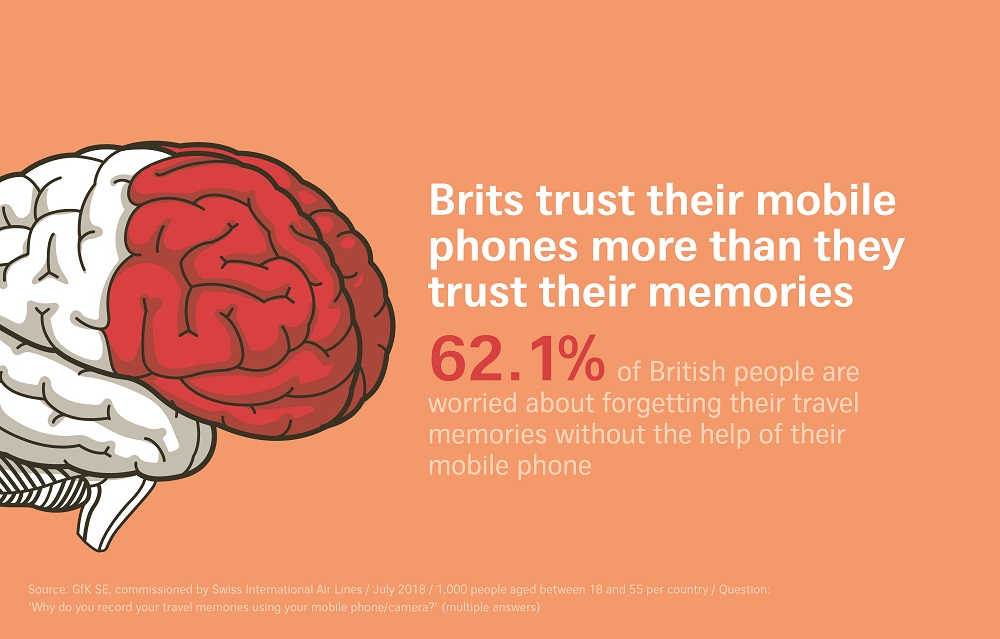 "As a result of the intensive use of mobile phones, with constant access to the internet, it is becoming less and less necessary to retrieve information stored in our memories. This means that we start to lose trust in our own memory skills," added Jäncke.
This scepticism towards our own ability to remember is unjustified, however, said Jäncke: "Our travel memories occupy a very special place in our memory. We often retain them all our lives."
"The building blocks of our memories"
"The reason for this is that holiday experiences are frequently associated with very positive emotions and are particularly deeply embedded in our memory. Freed from the worries and stress of everyday life, we are also able to absorb lots of little details when we are travelling—and they are the building blocks of our memories."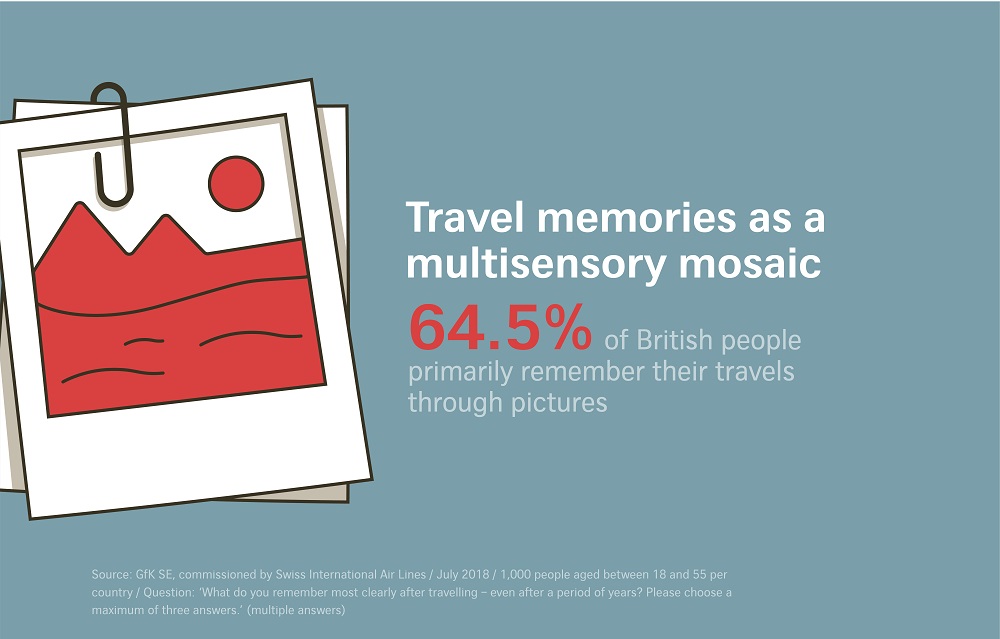 These detailed travel memories are stored as a kind of "multisensory mosaic" comprising various sensory impressions, with nearly 65% of Brits stating that it's the images of their travels that they remember the best.
Jäncke concluded: "Our sense of sight plays a key role because evolution has made us that way. Visual information is particularly important to humans and is prioritised in terms of processing."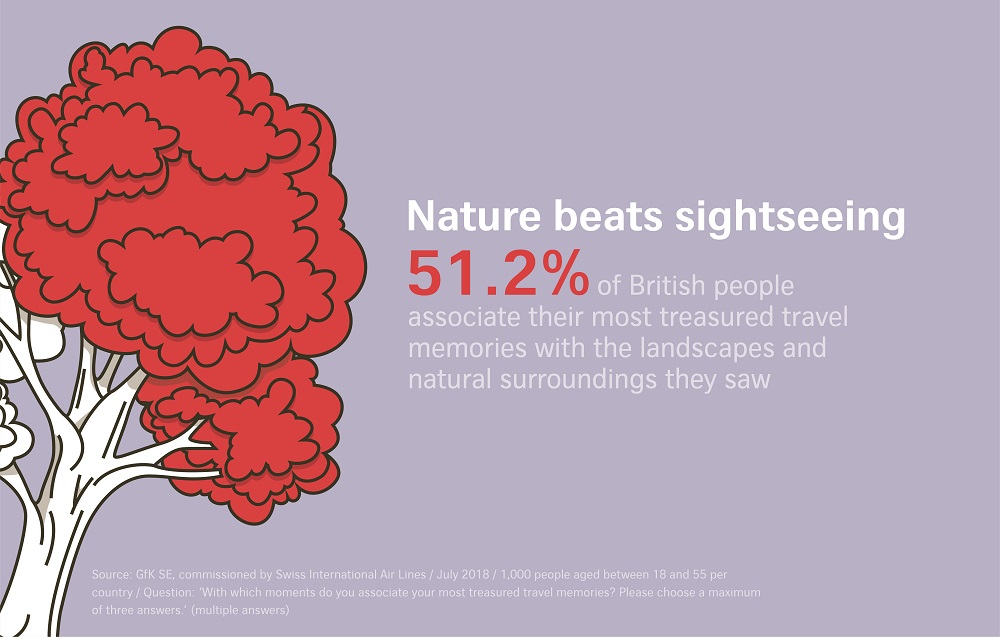 However, UK holidaymakers also remember the food tasted while away (53.21%), as well as the people (47.7%) and the smells they encountered (22.8%). And while sightseeing is often a major motivation for travelling, it's not the tourist attractions that generate the most vivid travel memories but spending time with family and friends (55.9%).
Finally, the video below from SWISS shows what we can and cannot remember: