THAI and Bangchak Sign MOU on SAF Technical and Professional Knowledge Sharing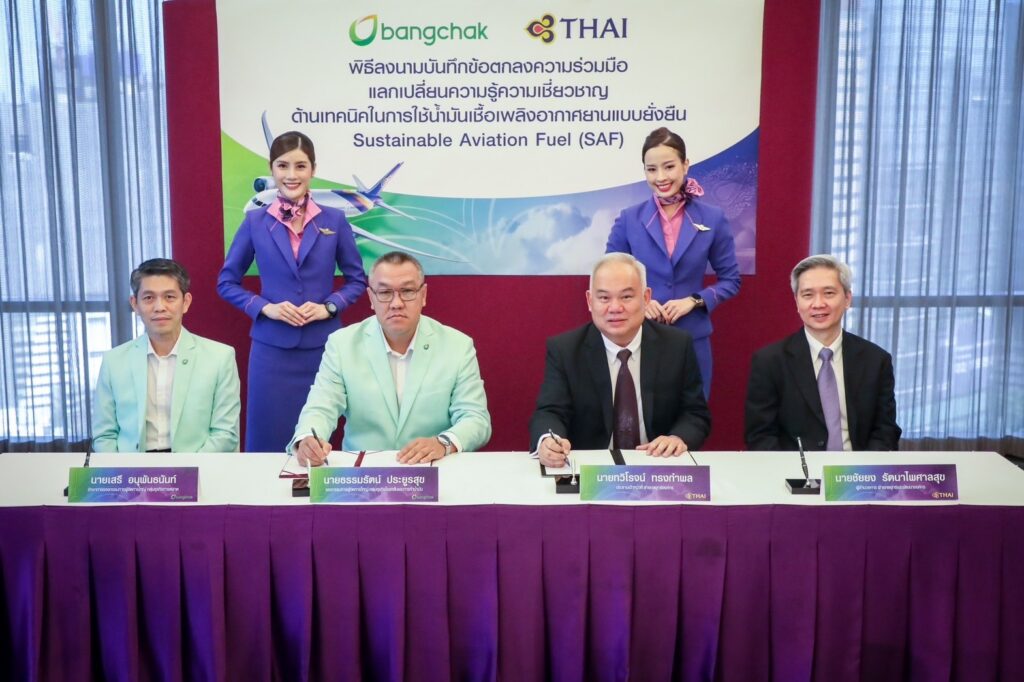 Thai Airways International Public Company Limited (THAI) and Bangchak Corporation Public Company Limited (Bangchak) signed the Memorandum of Understanding on technical and professional knowledge sharing concerning Sustainable Aviation Fuel (SAF) utilization. Taviroj Songkumpol, THAI Chief, Corporate Strategy, and  Thamarat Prayoonsuk, Bangchak Senior Executive Vice President, Refinery Business Group, signed the MOU. Also present to witness the signing was Pativat Tivasasit, Bangchak Chief Operation Officer, Refinery Business Group, at THAI Head Office.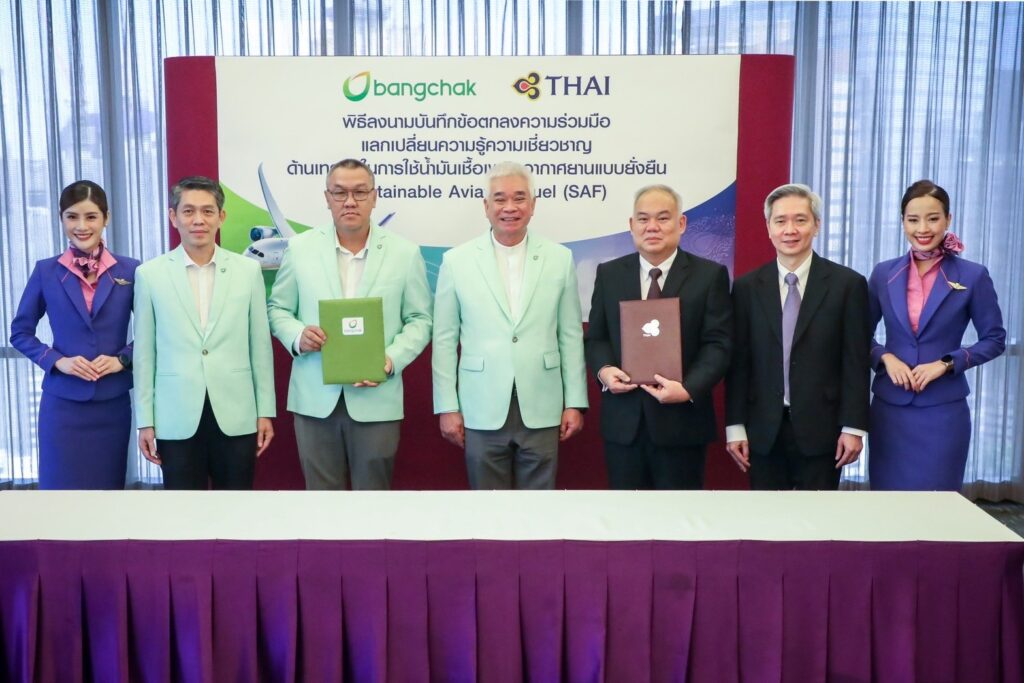 Taviroj Songkumpol, THAI Chief, Corporate Strategy, said THAI, as the national full service carrier providing cargo and commercial flights in over 30 countries around the world for more than 63 years, strives for balancing the economy, the society, the environment and good governance in operating its business. Bangchak, Asia's leading green innovative corporation, invests in SAF production plant from used oil which would implement local waste and reduce carbon emission in the aviation industry. This partnership of THAI and Bangchak enables domestic and international
SAF consumption as well as achievement on net zero emission in 2050. Currently, the aviation sector contributes to two per cent of greenhouse gas emissions, which is expected to unavoidably increase as the sector grows. Furthermore, it is the opportunity to share their knowledge, experiences and expertise in researching and developing SAF, which would contribute to net zero emission goal and to conform to the compliances of the International Civil Aviation Organization (ICAO) and the International Air Transport Association (IATA) as well as forthcoming collaborations in business and environmental benefits for the sustainable growth of THAI and Bangchak. 
Thamarat Paryoonsuk, Senior Executive Vice President, Refinery Business Group, Bangchak Corporation stated that as one of the leaders in energy transition, Bangchak is committed to pursuing its vision of "Crafting a Sustainable World with Evolving Greenovation" by balancing the Energy Trilemma to sufficiently procure, produce, and distribute petroleum and biofuels for the business sector, and the public. Furthermore, Bangchak is committed to developing and expanding its core businesses, as well as accelerating investments in green and sustainable businesses to prepare for future technological advancement and progress, and the challenges of climate change.
 In 2022, Bangchak established Thailand's first and only company to produce Sustainable Aviation Fuel (SAF) from used cooking oil. This initiative is part of the BCP 316 NET plan, a clear and tangible roadmap aiming at achieving Net Zero GHG Emissions by 2050. Planning is also underway to convert Bangchak refinery into a biorefinery to produce biofuels, the energy source of the future, which would help reduce greenhouse gas emissions from the transportation sector.SAF not only adds value to used cooking oil, but also helps reduce carbon dioxide emissions from the aviation industry. This aligns with the global aviation industry trend, which aims to achieve FlyNetZero by 2050.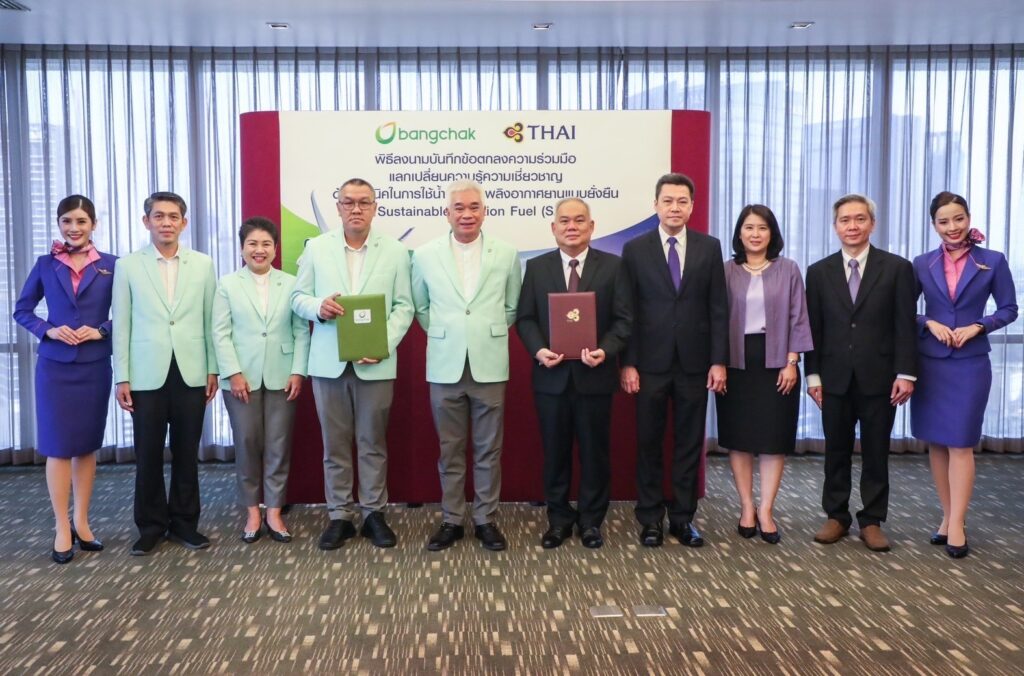 Additionally, Bangchak also has other initiatives in place in driving a low-carbon society. These include increasing the proportion of clean energy usage in selected service stations towards becoming net zero service stations, collaborating with business partners to install EV chargers that cover all regions in Thailand, expanding green power business, studying and investing in battery business, establishing "Winnonie", electric motorbike rental platform, and pioneering the establishment of Carbon Markets Club, the first of its kind in Thailand. This network promotes knowledge exchange on carbon credit management and serves as a platform for carbon credit trading within the country. The company also undertakes reforestation projects for nature-based
carbon sequestration through collaboration with various organizations. Bangchak firmly believes that the collaboration with Thai Airways in this instance will contribute to promoting the aviation industry both domestically and internationally. This partnership will enable access to sustainable aviation fuel, which plays a role in reducing greenhouse gas emissions from aircraft.