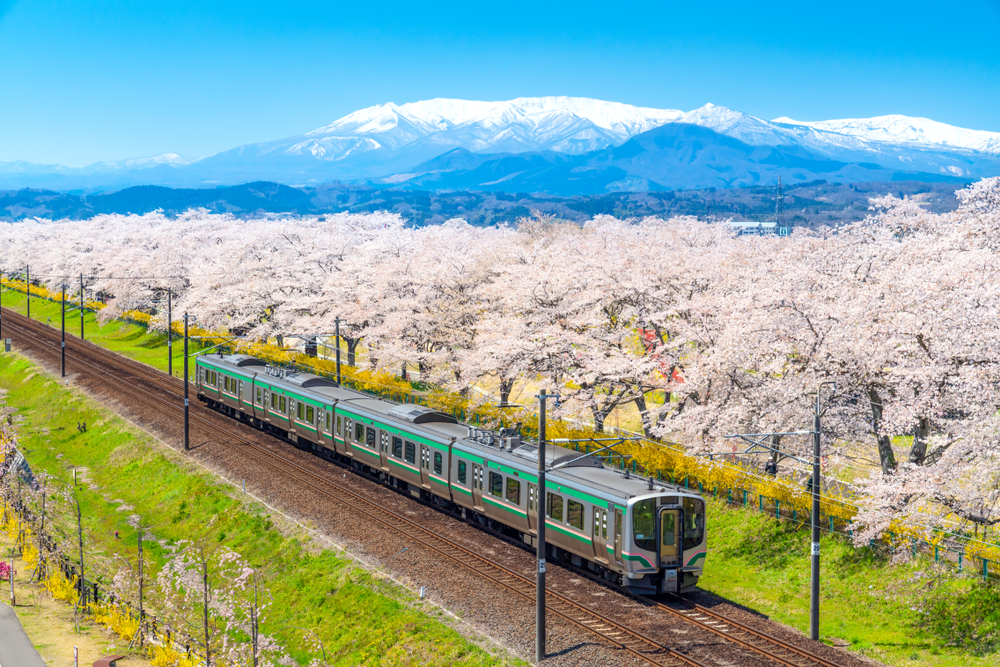 Spotless, efficient and on time – these words perfectly describe what makes trains in Japan so special. Known around the world as the gold standard, Japan's trains have a fascinating history and bright future, with hydrogen trains now starting to grace the rail lines. With the iconic Nozomi train celebrating its 30th anniversary this month, discover the history, etiquette and latest news on Japanese trains.
Trains mark the beginnings of the modernisation of Japan, which took place during the Meiji Era (1868-1912). The first trains were powered by British locomotives and built using British support, symbolic of Japan's move away from the isolationist policies of the Tokugawa Shogunate, the previous military government.
Japan's first railway line ran from Tokyo to Yokohama. Survey work for the line began 1870 with the official opening on 14 October 1872. The 14th of October is now known and celebrated in Japan as 'Railway Day' to commemorate the inauguration of that train. At the time, the journey took 53 minutes to cover 29km and now the same journey takes only 24 minutes. As the country started lessening its dependence on foreign innovation at the turn of the 20th century, Japan began manufacturing its own locomotives.
The first of Japan's iconic high-speed railways opened in 1964 and cut journeys between Tokyo and Osaka by two hours, down to four, making it as fast as air travel. Since its inception 5.6 billion people have ridden on the Tokaido between Tokyo and Osaka and to date, there hasn't been a single fatal accident involving passengers aboard a bullet train. Japan's bullet train safety record is impressive enough, but even more so is that the average delay of a bullet train trip along the entire Tokaido line is just 54 seconds, which includes disruptions due to natural disasters. In fact, when local trains are delayed over five minutes, commuters can request a 'delay certificate' to show employers when late for work. Today, Tokyo's Metro system has an annual ridership double that of New York City's subway, even though the latter runs on a 24-hour schedule.
Train Culture and Etiquette 
In Japan, hardly anyone eats or drinks on public transport or plays music from their phone, and nearly everyone uses contactless cards – making travel seamless.
Most city trains in Japan have carriages designated for women only, in an attempt to make packed trains more comfortable for female commuters. These cars are a different colour and designated on the platform.
What makes Japan's rail system so effective is vertical integration. The country's seven major railway companies own the land around their respective lines and rent it out. They also own the infrastructure, including stations, the tracks and the trains themselves, making them more efficient compared to countries where these parts are separately owned and operated.
Japan is currently testing its first hydrogen-fueled trains in an effort to meet the nation's goal of becoming carbon neutral by 2050. The two-car train can travel up to 140 kilometres (87 miles) at a top speed of 100 km/h on a single filling of hydrogen. East Japan Railway Co., which developed the train in partnership with Toyota Motor Corp. and Hitachi Ltd. plans to use them to replace its diesel fleet and look to export markets. Commercial services should begin in 2030.
In other news, Japan's newest bullet train route, to be named Nishi Kyushu Shinkansen, will open in autumn 2022. The new bullet train line between Nagasaki and Saga will be called "kamome" meaning "seagull". The train's exterior features its name, kamome, written in hiragana with bold brushstrokes by the company president, Toshihiko Aoyagi, and a red stripe in the corporate colour JR Kyushu. This comes in the wake of the wild popularity of the 2020 lockdown video game franchise, Ghost of Tsushima, set on the stunning archipelagos surrounding the city of Nagasaki.