The future of travel in 2040: Faster, easier and ecologically sustainable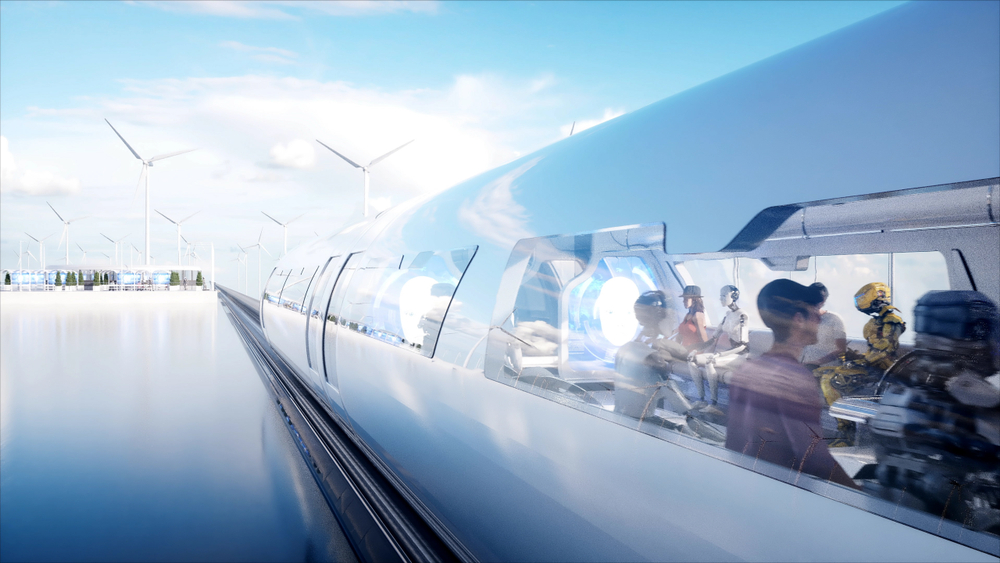 Authored by futurologist Ray Hammond, 'The World in 2040' futurology series has predicted developments and trends that will impact international travel and the traveller experience over the next 20 years.
According to the report by renowned futurologist Ray Hammond, commissioned by Allianz Partners, international travel will be a faster, easier and more ecologically sustainable than ever before. The report identifies key trends which will, collectively, revolutionise the travel landscape by 2040.
Allianz Partners is a B2B2C assistance and insurance solutions provider which offers dedicated travel insurance services through the Allianz Travel brand.
Virtual and augmented reality
Multi-sensory virtual reality technology will allow armchair travel planners to 'step into' virtual hotel rooms, visit street carnivals, explore museums or walk into restaurants, from the comfort of their own living room.
This trend is expected to fuel an appetite for more real-life travel, rather than hinder it.
Instant check-ins
Facial pattern recognition systems are already in experimental use at airports and within 20 years, computer systems that can reliably identify your face will be in widespread use to check-in seamlessly.
Hotel software assistants
While some luxury hotels will greet their guests with a human face, many business and budget hotels will use automated check-in and guidance to rooms provided by software assistants. Some hotels will even provide robotic baggage carriers to move luggage.
Super-fast trains
Cross-border train journeys will be smoother and much improved in many parts of the world. Computer networks and the 'Internet of Things' (IoT) will manage national and international rail networks, allowing trains to run faster and closer together. Train speed will also increase on most rail networks, with most high-speed trains running at speeds above 125 mph.
On-site 3D clothes printing
In 2040, it will be possible to send your measurements to your hotel in advance of your arrival and heavy or bulky clothes (eg raincoats or shoes) will have been printed out to await your arrival, reducing the amount of luggage the tourist of 2040 will have to transport. The low cost of 3D printed garments means travellers will be able to leave the clothes behind for local recycling.
Sustainable cruises
Cruise ships will be far more environmentally friendly than today's giant ocean liners. Vessels will be powered by Liquified Natural Gas (LNG), a light fossil fuel with almost no greenhouse gas emissions, transforming cruise vacations into one of the greenest ways to travel the world. The range of cruise destinations will also continue to grow, with Asia proving particularly fertile ground.
Space as a regular destination
For some travellers in 2040, the world may not be enough as it may not offer a sufficiently large choice of destinations. By that time, it's likely that tourists will be flying to and from the Moon on a regular basis as they seek the experience of seeing the Earth from space.
"The face of travel as we know it will change dramatically"
Commenting on the transformation expected for travellers by 2040, Ray Hammond said: "The face of travel as we know it will change dramatically over the next 20 years. Airline passenger numbers are forecast to double by that time and the travel industry is coming under increasing pressure from travellers for faster and more efficient travel experiences.
"By 2040, personal software assistants will be sufficiently intelligent to help travellers book their trips online and they will be able to cope with all the complexities of multi-destination travel planning in order to meet the needs of the traveller. Travel will also become more about rejuvenation, adventure, fulfilment and learning new skills rather than just ticking off places to see from a list."
Here at TD, we put our best efforts to provide the latest and most valuable content to our readers. It is a true labour of love - where we work hundreds of hours each month - to make sure we offer meaningful content. If you value what we do, please consider a donation of any amount.
This would mean the world to us! Thank you and click here to proceed!