The new faces of Brits' 'workations'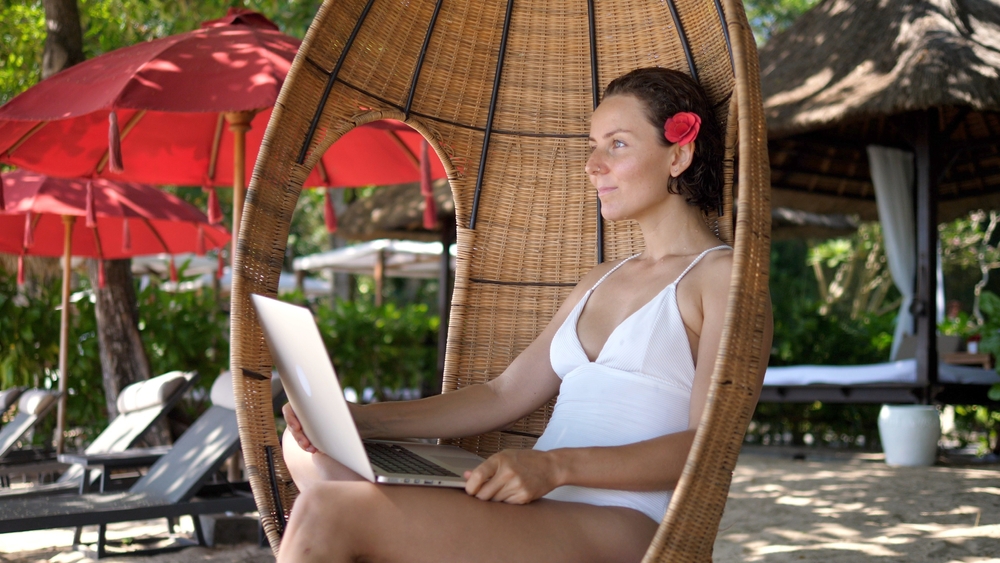 New research from hotel management system, Mews, suggests travel will make a comeback in 2022 as people become increasingly desperate to make up for lost time and adopt new attitudes to holidaying.
Compensating with 'bucket-list' moments
Surveying 1,000 UK adults currently planning a holiday within the next 6-12 months, Mews' research reveals that 27% of UK adults are planning to take more holidays than in 2021, with the average holiday lasting 8.3 days. Encouragingly, nearly one in five respondents plan to take more long-haul holidays as they look to create 'bucket-list' moments and travel across the globe, compensating for lost trips over the pandemic.
In addition, Brits are willing to splurge on a hotel, with the average person paying £1,066 for eight days – most likely due to saving money on lost trips. Millennials (25-34-year-olds) are the age group spending the most on travel this year, paying on average £1,364 for a hotel, whereas 55-year-olds and over are prepared to pay £902.
Staycations here to stay
After two years of pent-up wanderlust, international travel will rebound, with 27% planning to holiday abroad. However, Mews' research also demonstrates that domestic travel remains popular, with one-third of Brits planning to take more holidays in the UK than in previous years.
Richard Valtr, Founder of Mews, comments: "Staycations played an integral role in boosting Britain's tourism sector during the pandemic. If there is one positive that we can draw from the pandemic, it is people's re-appreciation of what's on offer closer to home – even as restrictions lift."
#WorkingFromHotel
As many people are wanting to take more holidays for longer, it is likely that this can only be achieved if remote working has been agreed with employers. Prior to the pandemic, only 5% of people worked from home. However, in 2022 people are now embracing the advantages of remote working and the Mews research reveals 16% of Brits plan to work whilst on holiday (a so-called 'workation') and 6% will look for a co-working facility in their hotel in order to stay for longer.
Data further suggests that a quarter (28%) of 25-34-year-olds are planning to work whilst on holiday and, aside from cost (40%), the biggest limitation stopping them from planning their dream trip is a capped holiday allowance (37%). As a result, hoteliers need to consider this age group's priorities, with one in ten requiring a co-working facility in their hotel.
Richard continues: "The pandemic has completely rejuvenated the way that travellers perceive their holidays and there is a real opportunity for hotels to adapt and transform the services they offer. This might mean re-imagining the space you currently have – for example, by changing the hotel lobby into a co-working space."
COVID safety measures
Travellers are still cautious: the research reveals that Covid safety measures put in place by hotels are now a major influence for two-thirds of Brits when they book a hotel. A further 42% say they would prioritise booking a hotel with a contactless check-in over one that doesn't.
Whilst COVID continues to have a major impact on the travel industry, it's clear hotels can reap the benefits now as Brits continue to plan for upcoming holidays.
Richard says: "The resilience of the travel industry is really something to admire and the success stories from the pandemic are those hotels that are listening to their customers, adapting to the trends and communicating their changes."