Championing harmony amid diversity: The Tokyo EDITION, Toranomon opening doors on October 20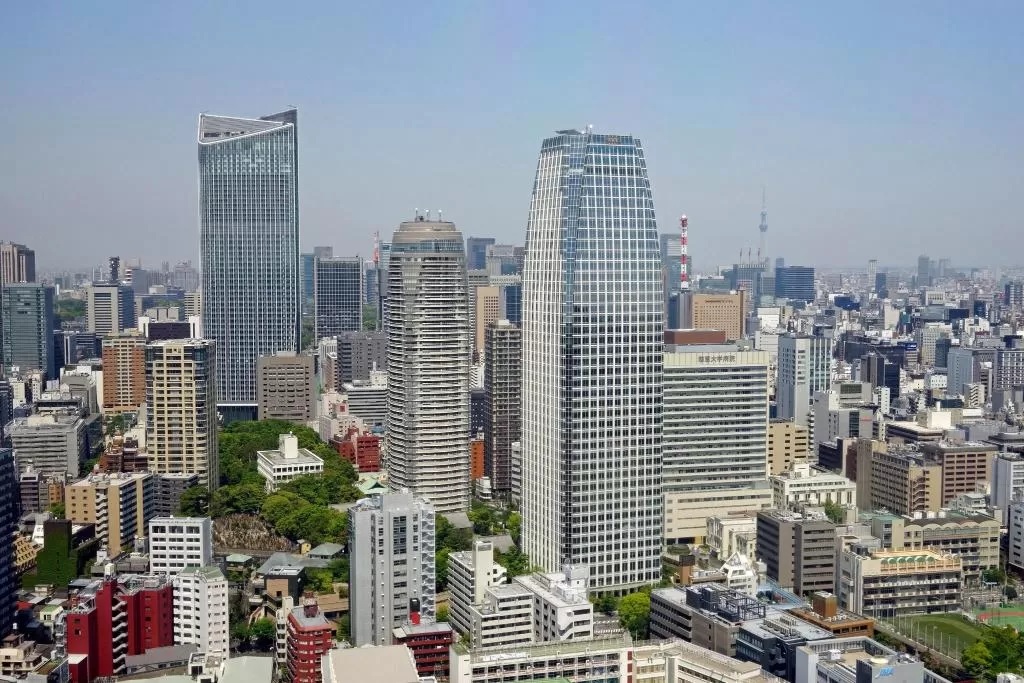 What do you get when you mix the lively and dynamic destination of Tokyo and the structure, purpose and organization of traditional Buddhist temples – The Tokyo EDITION, Toranomon.
Centrally located near the metro stations of Kamiyacho, Roppongi-Itchome and Toranomon and steps away from Tokyo's best neighbourhoods and attractions, the hotel is housed within Tokyo World Gate, a 38-story mixed-use skyscraper, where it occupies floors 31-36 and commands jaw-dropping unobstructed views of the Tokyo skyline and the absolute best view of the landmark Tokyo Tower from anywhere in the city. Guests feel as though they can reach out and touch the 1,000-foot tower!
Apart from the vibrant social and workspaces, the purity and simplicity of the guest rooms at all EDITION hotels feel especially suited to The Tokyo EDITION, Toranomon. All 206 rooms, including 22 suites and several rooms with private terraces, offer unobstructed views of Tokyo Tower and Tokyo Bay with a neutral, 'no colour' colour palette of specially treated white oak and light grey, ivory and silver textiles that evoke quiet zen-like luxury and relaxation.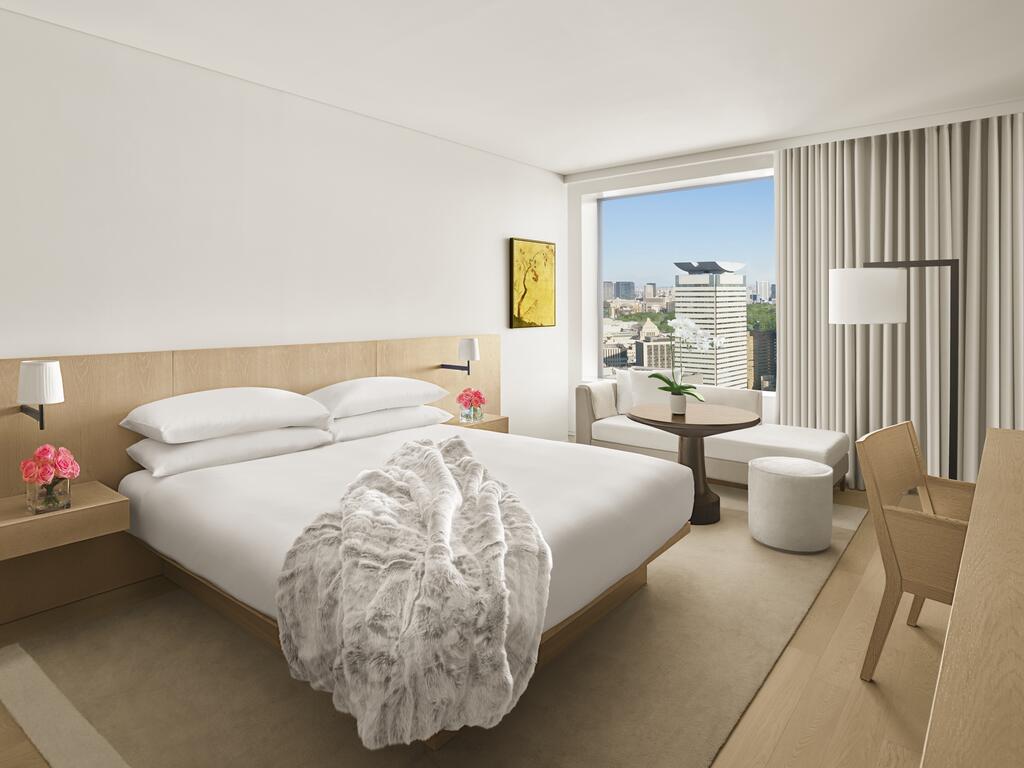 Adding to the urban resort atmosphere is the tranquil SPA offering healing and beauty treatments using products sourced and made in Japan; a 24-hour GYM powered by Technogym; and a white-tiled lap swimming pool and Jacuzzi, both bathed in natural light from an edge to edge clearstory skylight window above. For those who wish to mix pleasure with business, The Tokyo EDITION, Toranomon has four meeting studios with state-of-the-art technology and projection screens, natural light and urban views, divided by acoustically treated sliding partition walls which can be combined to create a large ballroom accommodating up to 250 guests.
Designed in partnership with renowned architect Kengo Kuma–the architect of the Olympic Stadium in Tokyo and many other iconic buildings–the hotel allows you to experience the essence and spirit of Tokyo without ever having to leave the premises.
"We wanted to do something that embodies the traditions of Japan, but also looks forward with design and visuals and brings a sense of the cutting edge and avant-garde, which Tokyo always does as well. We've created this energized resort in the middle of Tokyo, a beehive of activity where you can get away without ever leaving," says EDITION brand creator Ian Schrager.
Bringing people together
The hotel's soaring public space was inspired by Buddhist temples. They consisted of a central courtyard surrounded by various other structures, each with its own specific purpose. This central courtyard was used for ceremonies, gatherings, communal prayer and, in general, for people to come together and interact, congregate and create a community.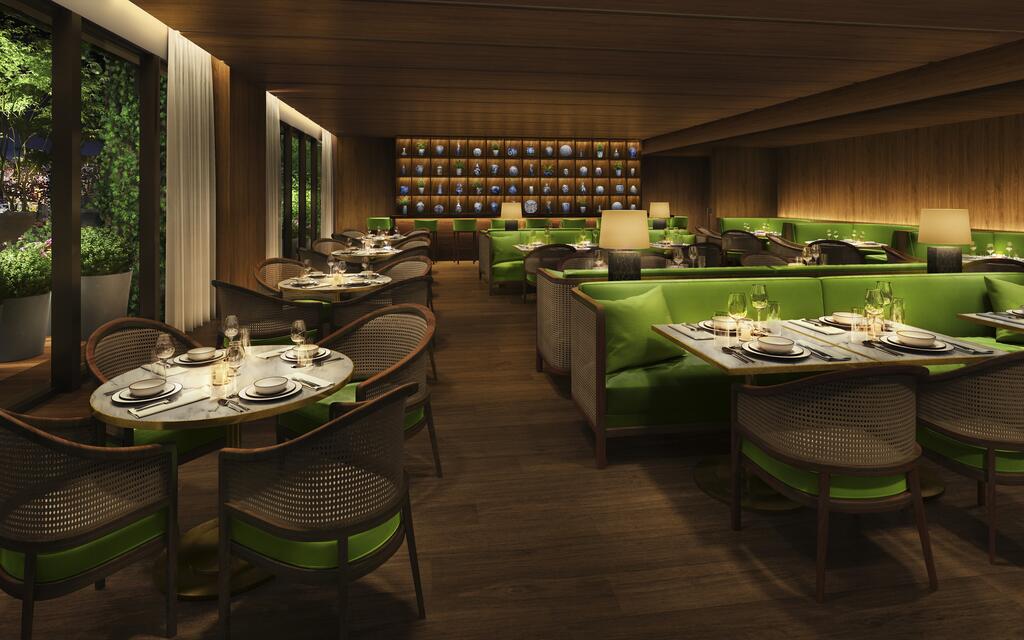 In much the same way and to achieve the same goal, The Tokyo EDITION, Toranomon's two-story lobby, over 450ft (140m)  in the sky, is a centralized space that operates and functions not only as a new and modern gathering place, but is also meant to facilitate and encourage communal and social interaction in all of its forms.
It is where the hotel comes to life with a palpable, high energy created by bringing a diverse group of people together from all over the world. Several eating, drinking, entertainment and other experiences, each distinctly different in both look and feel, radiate from the Lobby in the same manner as the peripheral buildings do in a Buddhist temple. Each of these eating, drinking and entertainment areas has its own individual reality, yet still feels like part of the whole, and each can be enjoyed separately or together all in one night. As with all EDITION hotels, lines blur between work and play, eating and drinking, talking and thinking, solitude and socializing.
Dream team
The Tokyo EDITION, Toranomon brings together a dream-team collaboration between Marriott International, Ian Schrager and Mori Trust, led by its brilliant visionary president and CEO, Miwako Date. It also marks a very special "homecoming" of sorts for Marriott International CEO Arne Sorenson and EDITION brand creator Ian Schrager. The opening is especially poignant for Sorenson, who was born in Tokyo and feels a special connection to the city, and Schrager, who has been profoundly influenced by and long revered the purity, simplicity, elegance and refinement of Japanese culture and aesthetics. This has become the foundation of his career, evident throughout his work and many projects dating back to Studio 54 in 1977.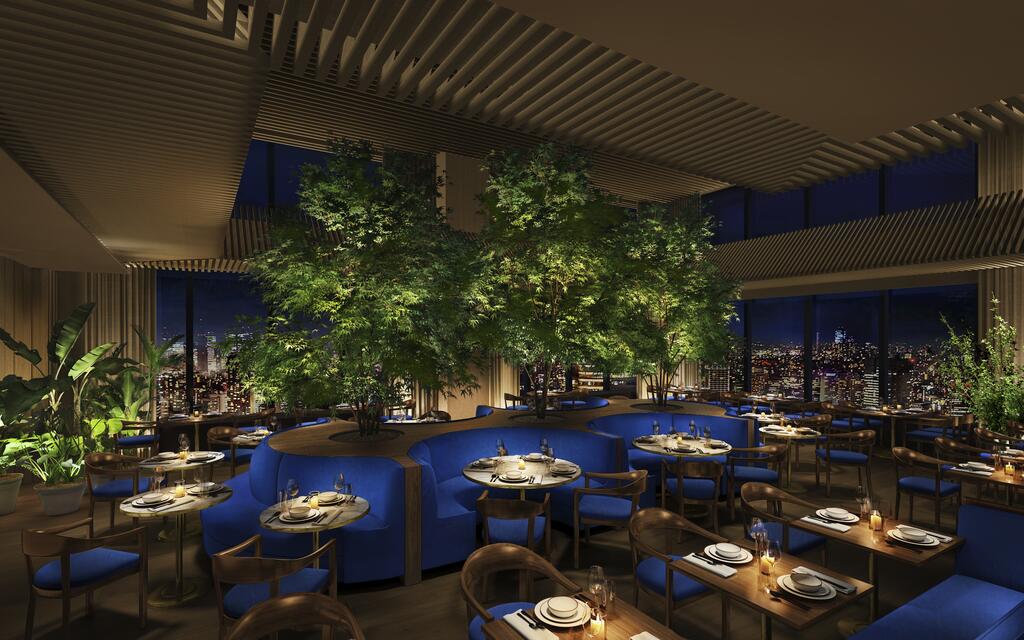 "Nothing makes me more excited than seeing the EDITION Hotel open in Tokyo, a favourite destination of mine and the place I was born. In partnership with Mori Trust and my friend Ian Schrager, The Tokyo EDITION, Toranomon is a beacon of hope and optimism for the future, a place where thousands of travellers and local customers will be welcomed in the years ahead. Particularly in this time of complexity, the opening of The Tokyo EDITION, Toranomon stands as proof that we will return – to travel, to togetherness and to joy," says Arne Sorenson.
Schrager became devoted to the Japanese way of life, architecture, design, visual arts and culture early on in his career in a very deep and profound way. It established a thread that continues to run through all of his work, even today. "I have always had a spiritual connection with the approach and aesthetics of Japan. Their rationality, their simplicity, and their restraint have been the foundation of everything I've done," says Schrager.
The Tokyo EDITION, Toranomon officially opens on 20 October. The hotel offers an exclusive Opening Preview Rate of 20% off Flexible Rates, available for a limited time only. Room rates start from JPY 48,000++ (USD480) per room, per night. Terms and conditions apply.