This resort is your ideal getaway in Pattaya, Thailand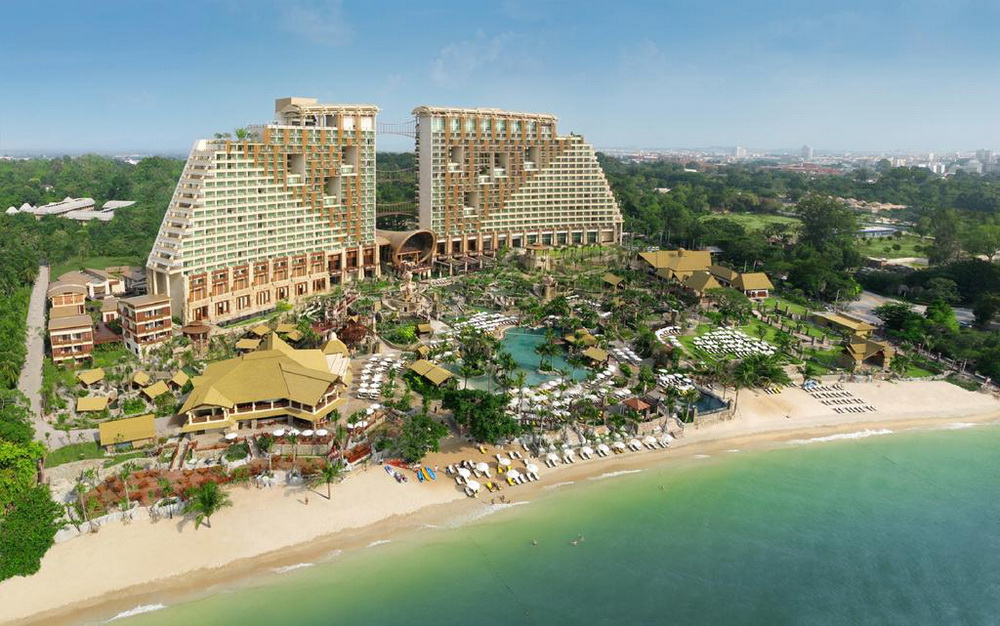 Looking for an ideal getaway in Pattaya? Centara Grand Mirage Beach Resort is Thailand's best beachfront family hotel.
With the addition of its latest attraction, The Lost World Adventure Land, it is truly a destination on its own. The resort is a beloved retreat for multi-generational families.
It opens a world of excitement and new experiences for the whole gang with its ocean-view rooms and suites, eight dining venues, waterpark, a kids' club and a myriad of water sports and activities offered.
Here are some of the reasons why Centara Grand Mirage Beach Resort is the ideal getaway in Pattaya:
Quick escape
Located on Thailand's Eastern Gulf, Pattaya is dubbed the "Miami of the East" for its abundant sunshine, charming beaches, and delectable seafood. Being a prime weekend getaway destination for Thais, especially those from the capital, countless families and couples visit Pattaya everyday.
Pattaya is a mere 90-minute drive from Bangkok, making it a favourite destination for short trips or spontaneous holidays. Although the town's pulsating nightlife has made it popular in the past, tourism and local authorities have reinvented Pattaya's image to be a family-friendly destination.
Centara Grand Mirage Beach Resort is one of the resorts in Pattaya framed by 230 metres of private sandy beaches. Every room has sweeping ocean views and spectacular sunset vistas, making it an ideal getaway in Pattaya. With suites that feature multi-bedroom layouts, there is plenty of space for families and friends travelling together.
New attraction: The Lost World Adventure Land
Centara Grand Mirage Beach Resort Pattaya gives you another reason to visit the property with the addition of The Lost World Adventure Land attraction, offering guests an enhanced experience to share happy, memorable moments with their families.
The latest attraction is designed for all old and young explorers and features several indoor and outdoor play areas and thrilling aerial rides. Soar up in the sky with SkyRider that is zipping and swooping the air above the lush greenery below. Test your courage at SkyTrail and navigate your way across a choice of two obstacle courses in the sky.
The outdoor play area features an expansive three-level playground complete with slides, trampolines, a raft game with a moving raft, and a playground tower. The digging pit where young archaeologists can excavate dinosaur bones is one of the highlights of the new attraction.
In the indoor zone, there is a range of activities that inspires kids to use their imagination while providing fun learning experiences. Children are invited to unleash their creativity in the indoor zone, which features a sprawling arts and crafts area. Kids can become a junior chef for the day and learn the basics of baking and decorating in lively cooking classes led by the resort's chef team at the cooking studio.
The Cave provides a safe environment to enjoy family-friendly entertainment, including wooden toys, a soft-play kids' cinema screening age-appropriate films, and a giant, soft Lego set.
To fuel up for the next adventure, a Kids' Café serves refreshing drinks, ice cream, sweets and other indulgent treats.
The fun doesn't stop there. Centara Grand Mirage Beach Resort Pattaya is famous for its Lost World theme which consists of a lazy river waterpark, waterfall, waterslides, free-form swimming pool and water play area-monsoon plus ZULU family club lounge, which is a space for families featuring different activity zones including an extensive play area with games and an exciting Lost World slide.
The whole family can enjoy continental breakfast and midday soup in the morning and early afternoon at ZULU. Also, parents can have afternoon tea or pre-dinner cocktails while kids play safely and have the best time of their lives.
Grown-ups can have fun, too
While Centara Grand Mirage Beach Resort has little ones in mind, it is also an ideal getaway in Pattaya for adults to have a fun and relaxing time. Adults can take a quiet swim while enjoying a poolside cocktail or simply escape to SPA Cenvaree. Those seeking adventure can venture beyond the shores for a variety of watersports.
While the kids are having the time of their lives in the play areas under the watchful eye of the dedicated playground supervisors, parents can enjoy a view of the action zones in the relaxation area.
Centara Grand Mirage Beach Resort Pattaya houses several restaurants serving a wide variety of cuisine. Enjoy succulent seafood and ice-cold drinks by the shore at the COAST Beach Club & Bistro. Oasis, on the other hand, is an all-day dining restaurant that features a hearty buffet selection of international, Asian and European cuisines. Vistas offers a delicious selection of light fare, dessert cakes and cocktails best enjoyed with the panoramic views of the waterpark. Meanwhile, a poolside and swim-up bar, Waves offers a delicious array of tropical shakes and signature cocktails to help you quench your thirst.
Whether you are looking for endless family fun, a romantic getaway or a restorative retreat, Centara Grand Mirage Beach Resort offers the experience you desire for your dream vacation and ideal getaway in Pattaya. Take advantage of The Place To Be special rates with an additional 15% for Centara The1 members.