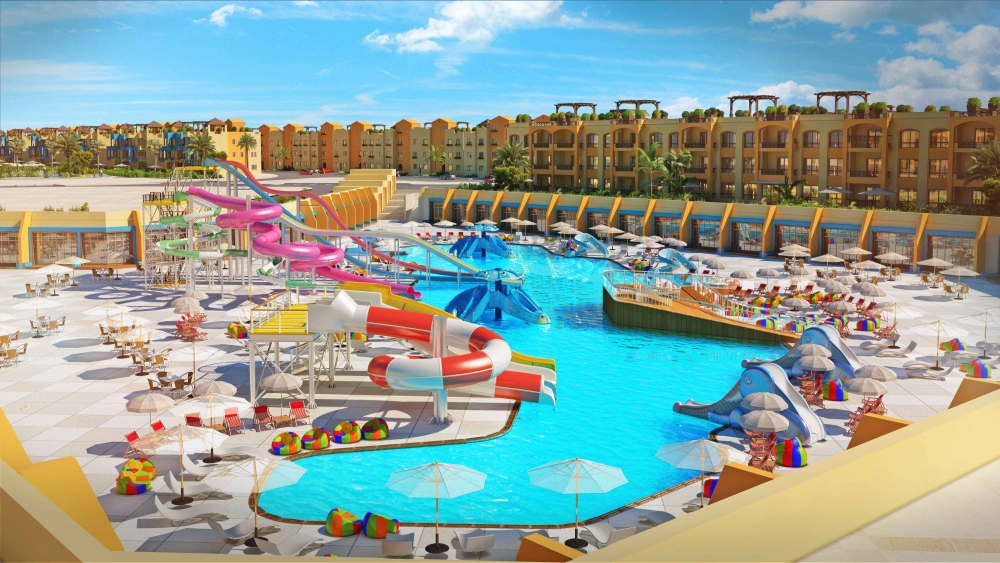 TIME Hotels has announced the launch of its first beach resort hotel in Egypt, TIME Nozha Aqua Park Hotel & Resort.
The four-star property located in Ras Sudr, on Egypt's Red Sea coast, is already scheduled to open its doors in December 2018. It will feature 52 rooms, four suites and 14 chalets – with an additional 33 units to be added to the resort in 2019.
Located along a 945 metre stretch of white sand beach, the resort will feature the largest aqua entertainment complex in Ras Sudr, complete with various water slides, wave pools and water sports activities.
TIME Nozha Aqua Park Hotel & Resort is located 12 miles from the new airport planned for Ras Sudr; 53 miles from Abu Rudeis Airport; and 102 miles from Cairo International Airport.
"The perfect family getaway"
TIME Hotels' CEO, Mohamed Awadalla, said: "This is a very exciting chapter in TIME Hotels' history as we open TIME Nozha Aqua Park & Resort, our first beach resort and first property in Egypt. Built with leisure and adventure visitors in mind, this resort is fully-equipped with everything the modern traveller requires for the perfect family getaway."
TIME Nozha Aqua Park Hotel & Resort will feature four F&B outlets and a 24-hour fitness and leisure centre as well as a separate private pool for ladies and children with sauna, steam room, jacuzzi and gym. Additionally, the hotel will also offer two large and well-equipped conference rooms suitable for a range of different events.
The opening of the resort is part of an extensive expansion programme, with the company set to open six new properties across the Middle East, including another hotel in Eygpt, by the end of 2020.
"Expansion is the main driver of our business plan"
Awadalla added: "With a resurgence in tourists in recent years, Egypt presents new opportunities for TIME Hotels to expand its presence. Expansion is the main driver of our business plan over the next few years, with new openings taking place in Dubai, Sharjah, Saudi Arabia and Egypt, taking our total portfolio to 20 properties by the end of 2020."