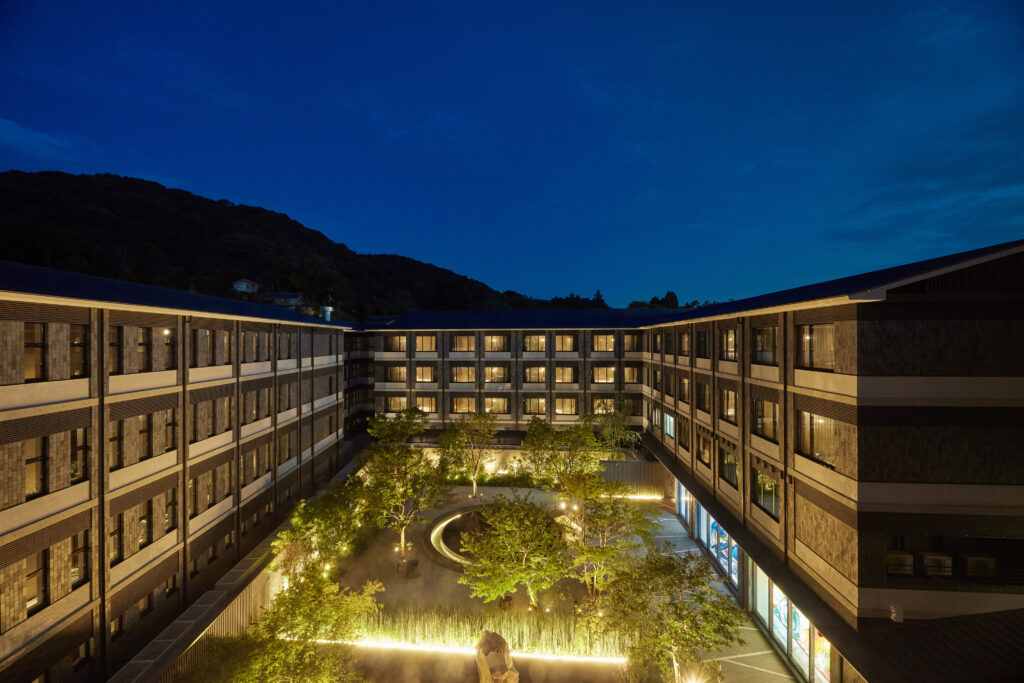 Earlier this Summer, Tokyu Hotels Group unveiled its latest hotel in the historic Japanese city, Kyoto. THE HOTEL HIGASHIYAMA by Kyoto Tokyu Hotel is their second luxury property in the city. Located in the Higashiyama area of Kyoto, the hotel embodies traditional Japan and truly embraces the culture of Kyoto.
The new hotel was built at the site of the former Kyoto city Shirakawa Elementary School which had been there for over 100 years, and the hotel was designed based on the concept of 'The Best of the City in the East of Kyoto'. Higashiyama is an area with many cultural and artistic facilities. Close to the hotel, there is also a lot of Western-inspired architecture, which was built in the early Meiji era. This is why, when visiting Higashiyama, visitors can truly feel the diversity of cultures in Kyoto during their stay. For those staying at the hotel, experiencing the beauty in how Japanese culture has been passed down from generation to generation will help to shape the view of modern Japan that so many love today.
Craft Editions, the hotel gift shop, has been curated by the Kyoto Museum of Craft and Design. Items have been sourced from local craftspeople in Higashiyama, an area known for its long history of quality craftsmanship. There are many iconic crafts bringing the traditional and modern vibes of Kyoto together, such as traditional Kyo-yaki and Kiyomizu-yaki poetries, beautiful hand-painted fabrics Kyo-Yuzen and Kyo folding fans, which are all created by the local artists in Kyoto. The Kyoto Museum of Craft and Design has also curated the crafts for the guest rooms and within the restaurant.
Experience and Learn the Beauty of Iroha
Kyoto was once the capital of Japan for an entire millenia, and has been celebrated as a place steeped in traditional Japanese history and culture. With longstanding respect for tradition, the city has continued to evolve and build upon its cultural heritage. This is most evident in the craftsmanship of the locals, who use Iroha, meaning 'the beauty of fundamental skills', in day-to-day life. For example, the ancient Japanese cuisine practice of Washoku is registered as a UNESCO Intangible Cultural Heritage, and there are countless craftspeople evolving cultural heritage using traditional techniques to create new and beautiful crafts, such as tools for tea ceremonies and for dying dazzling colours.
The hotel hosts a Kyo Iroha (Iroha of Kyoto) workshop, where guests can learn more about Kyoto city and its fundamental place in Japanese culture from the perspective of the five senses. Experiencing Kyoto through sight, taste, touch, sound, and smell, this activity programme will be exclusive to the hotel guests.
THE HOTEL HIGASHIYAMA by Kyoto Tokyu Hotel will be the place where guests can dive into a traditional and authentic area which intertwines with the history of Kyoto. The hotel carefully inherits the tradition and culture that have been passed down in the Higashiyama area.