Travel tech this week: One thing humans are better than robots and more
Travel technology is all about the use and contribution of digitisation to the improvement of the travel industry, but there is one thing that any robot cannot do – that is being human! In other news, India's tourism is aided by technology to reach new heights.
One thing machines can't do better than us
News of the potential of artificial intelligence (AI) to take over jobs and replace humans in the workplace has dominated the headlines in recent years. The World Economic Forum predicts that five million jobs will be lost by 2020 as the Fourth Industrial Revolution continues to transform labour markets, while the McKinsey Global Institute expects automation to impact up to 160 million women globally, who may need to transition between occupations by 2030.
Most of the 'casualties' will be repetitive manufacturing tasks and those considered dangerous for humans to perform. Robots can do these jobs faster and with greater precision than humans could ever hope to achieve, leading to higher productivity and lower costs.
Ironically, as we move towards the near digital future, we're being forced to become more human, to embrace the skills and attributes that robots are not yet able to replicate or do better than us. As more robots enter the workplace, people will crave face-to-face interaction, authenticity and human connection more than ever.
While we leave the repetitive, time-consuming back-office jobs to the machines, human employees will be able to focus on core tasks, such as customer experience and social interaction.
Managers will have more time to interact productively with team members. Colleagues will have more time to speak to customers and comprehend their needs. HR will have more time to upskill team members rather than spending hours on tedious but essential onboarding and payroll processes. Moreover, when we understand and can relate to each other better, we come up with new solutions, new products and better ways of doing things. We create and innovate.
This means that skills like communication, emotional intelligence, strategy, people management, stakeholder interactions, leadership, creativity, entrepreneurship, analysis and decision-making will be more in demand across all industries.
The reality is that automation is going to impact every job in some way. Impact, not replace. That impact will be the ability to do our jobs better and faster, taking away the rising epidemic of 'busyness', and giving us more time to grow and to find that elusive work-life balance. More time to be more human.
EaseMyTrip to boost medical tourism
EaseMyTrip has tied-up with hospital Medanta to provide travel-related services to the patients and their families. With this, Medanta's patients will be able to get services like accommodation, local transfers and flight tickets post their treatment without any hassles.
Through this association, EaseMyTrip envisions to facilitate the patients and their families who are seeking treatment in India. India is progressively observed to be an ideal destination for "medical tourists" who cross boundaries to pursue treatment that is less expensive in comparison to their home countries and Medanta is one of the biggest service providers to such tourists. Majority of the clients of this hospital are foreigners owing to its reputation among international patients from all over the world. Medanta solely treats more than 20,000 patients from around the world annually.
Medical tourism in India is a multi-billion dollar industry, which is continually being promoted by the government along with the medical and travel industry.
The perfect combination of affordable advanced facilities, competent and English-speaking medical professionals and the world-class facilities are the main selling points of the Indian medical tourism industry. Patients from various countries like UK, Canada, Gulf and Bangladesh travel to India for their treatments and EaseMyTrip is helping them in providing services like accommodation, transportation within the city, airport/railway station transfers, flight tickets post-treatment etc.
As per The National Institute of Transforming India, Medical Value Travel has been the key source of foreign exchange earnings in India. A report shared by FICCI and IMS Health states that India contributes to 18% of the total medical tourism market globally. It has been projected that by 2020, the medical tourism industry in India could be worth $9 billion accounting for 20% of the global market share.
Talking about this initiative, Rikant Pitti, COO & co-founder, EaseMyTrip said, "We are happy with this association as India is an important base for medical tourism and Medanta provides medical aid to a good number of patients from different parts of the world. By joining hands with Medanta hospital, we will be able to provide travel services to people in need and value-added packages to its staff."
With this corporate tie-up, EaseMyTrip is also catering to all internal corporate travel and effectively conducting MICE events for the hospital. The travel aggregator is empowering the hospital to manage and fulfil their tour requirements efficiently with the help of its travel experts at reduced expenses.
Snapchat brings Landmarkers to India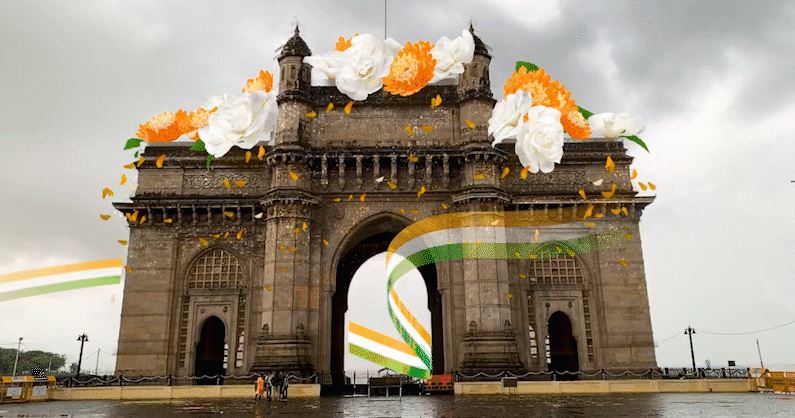 Snap Inc. today introduced two new Landmarker Lens experiences in India enabling Snapchat users to use augmented reality to bring to life two iconic monuments – Gateway of India in Mumbai and Taj Mahal in Agra. To enable the feature, users have to simply point the Snapchat camera to the monument on location. Through the Landmarker Lens, users can play with beautiful floral embellishment on the monuments.
In addition, these locations will be available as Landmarker Templates alongside a further twelve locations spread around the across the globe as part of an update to Lens Studio – Snap's free desktop app that allows anyone to build AR for Snapchat. The new features also include six new templates and additional tools that support an even wider range of creators – from new 2D illustrators to sophisticated developers. It has never been easier to create your AR and share it with the world.
To date, over 500,000 lenses have been created by the Snapchat community using Lens Studio, and they have been played with over 15 billion times. The number of Snapchatters submitting new Lenses through Lens Studio every month grew by more than 20% this quarter from the prior quarter.