Travel tech this week: The 'Everyday Essential' app and more
This week in the travel tech sector, Meliá Hotels took its commitment to combat climate change a bit further by allowing Meliá Rewards members to redeem points in exchange for internationally certified carbon credits and use them to support a choice of sustainable projects which help develop, protect and conserve natural ecosystems.
Meanwhile, Omio is awarded by Google as 'Everyday Essential' app. An ex-Googler created a car subscription start-up, Carasti.
Environmental blockchain
Meliá Hotels International has partnered with Climatetrade, a leading Spanish start-up in carbon-credit management, to allow customers to get directly involved in combatting climate change.
Climatetrade has become an international leader in environmental blockchain, allowing companies to offset GHG emissions online in a very simple and direct way. Starting in 2020, MeliáRewards members will be able to redeem points in exchange for internationally certified carbon credits and use them to support a choice of sustainable projects which help develop, protect and conserve natural ecosystems. Both the carbon credits and projects are certified under the highest standards of the UN CDM Registry and Verified Carbon Standard (VCS).
Meliá Hotels International thus becomes the first hotel company in the world to offer loyalty programme members the chance to become directly involved by acquiring carbon credits to assign to certified projects.
The project reinforces the company's commitment to combatting climate change, along with other initiatives such as the use of science-based targets (SBTi) to calculate its carbon footprint, the optimisation of resource management and energy use, the monitoring of hotel facilities and the acquisition of renewable energy with a guarantee of origin since 2014, among others. All of these initiatives aim to encourage more ambitious emission reduction targets in the business world and hasten the transition to a low-carbon economy.
The 'Everyday Essential' app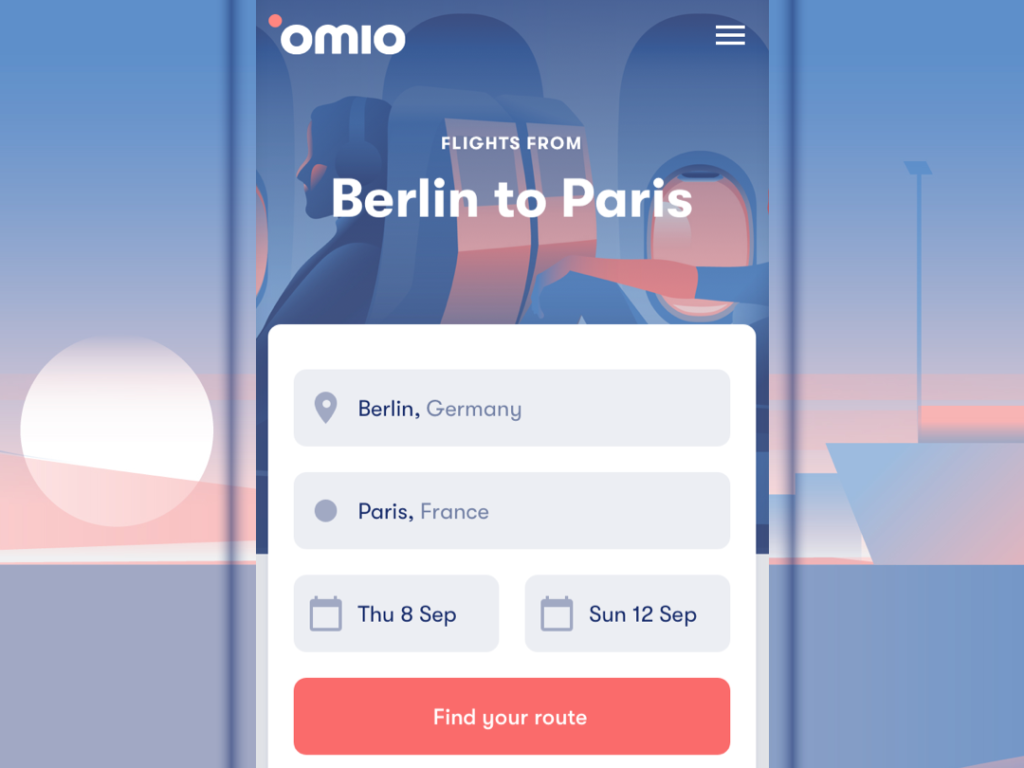 In Google's annual ranking of the best apps, Omio was highlighted as an award-winner "designed to make your life a little easier each and every day".
Providing paperless ticketing across Europe and the UK, Omio is the only platform to offer one-call troubleshooting with live e-chat and 24/7 English-language phone customer support with direct access to major supplier systems.
The Omio app exists to ensure an uncomplicated travel experience for explorers, eager to focus wholly on the journey rather than the jargon. The calm colour palette and uncluttered interface encourage a simple search process filtered by starting point and destination; travel mode; departure time; and price that leads to a summary and comparison of the possible routes.
For each option, the app notes whether print-free mobile ticketing is available and then enables secure payment via PayPal or credit card. Users can save payment method and currency options in their app profile for ease, and the app collates mobile tickets for upcoming travel connections in one place.
Bertrand Etienne said: "When searching, Omio suggests routes between destinations by different modes of transport so the user can see the best value options, based on cost versus duration, for example, to ensure they're getting the best deal on the best route. Over 18 million active users have downloaded the Omio app so far and ever-increasing levels of European cover means there are always more destinations on offer."
Own, rent, or lease a car

A new player in the market has stepped up in Dubai to take away the hassle from UAE residents of owning, renting or leasing their car. Founded by Ex-Googler, Claudio Esposito-Aiardo, the car subscription start-up, Carasti, makes getting your next car as easy as 1-2-3.
Through Carasti, there are no more long-term commitments, large down payments or onerous paperwork. Users can subscribe to a car suited to their needs from an ever-growing fleet of cars just for a monthly fee.
"A Carasti subscription ultimately gives subscribers freedom, flexibility & peace of mind in one monthly fee covering your Car, Insurance, Maintenance and Roadside Assistance. All you have to do is add fuel and drive! The process is simple. Select the car you want, upload your documents, select your delivery time-slot and location, and you're done. No need to worry about deposits or paperwork – it really is as easy as ordering your favourite pizza on Deliveroo!" Esposito-Aiardo said.
Car ownership is on the global decline. In fact, McKinsey predicts that by 2030 almost 30% of the automotive industry's revenue will come from subscriptions and other shared mobility recurring revenue models. The truth is that the modern-day consumer does not view car ownership as a symbol of success or necessity anymore, but rather as a costly, depreciating burden.
Claudio explained the conception of Carasti, "I have always struggled with the concept of owning a car: I love driving and am passionate about cars, however, is limited to one car for a long period of time and realising the real cost of ownership, I knew there had to be a better way to have the car you want, when you want it, with no strings attached. From there, Carasti was born!"