I tried out Marriott's new home-sharing platform, Tribute Portfolio Homes, and here's what I thought
Contributors are not employed, compensated or governed by TD, opinions and statements are from the contributor directly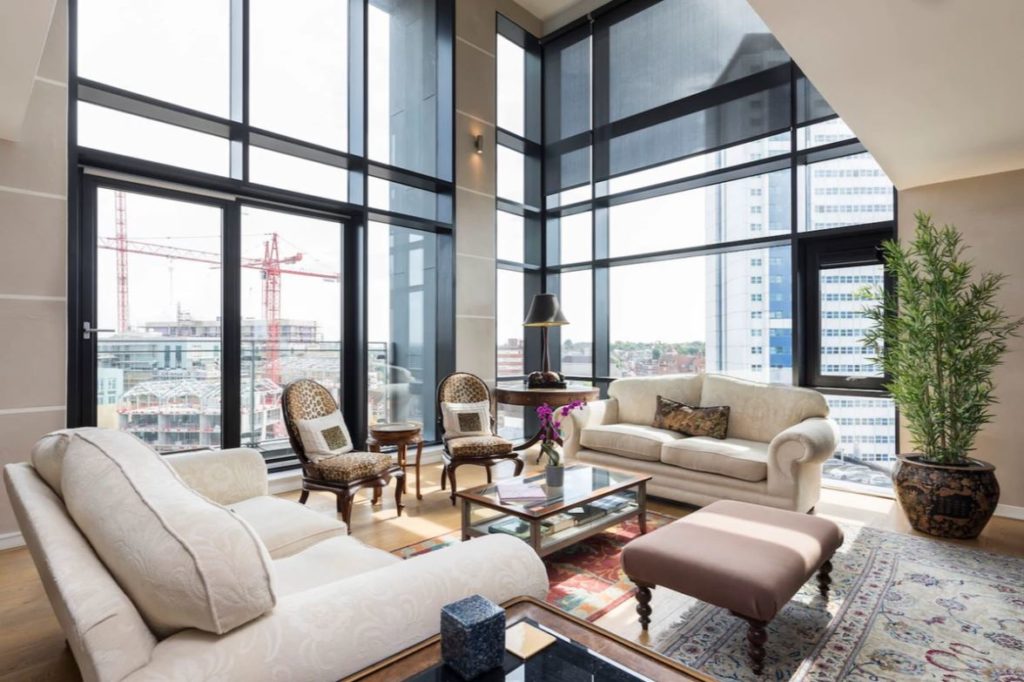 Marriott International and Hostmaker debuted the home-sharing platform Tribute Portfolio Homes earlier this week and we just had to see what it's all about.
On Monday, Marriott launched the Tribute Portfolio Homes beta version (which will run on a six-month trial period) and added some 200 home offerings across the London area. When one of the world's largest hotel groups announced its intention to enter the home-sharing market, of course, we became curious.
These days, Airbnb surely isn't alone on the plateau of home-sharing services. There's Hyatt's Oasis, Accor's onefinestay, Stay One Degree, Homestay, Homestayin and Love Home Swap, to name a few.
So, I scrolled, I clicked, and I searched on the latest home-sharing service to join the bandwagon and here's what I thought: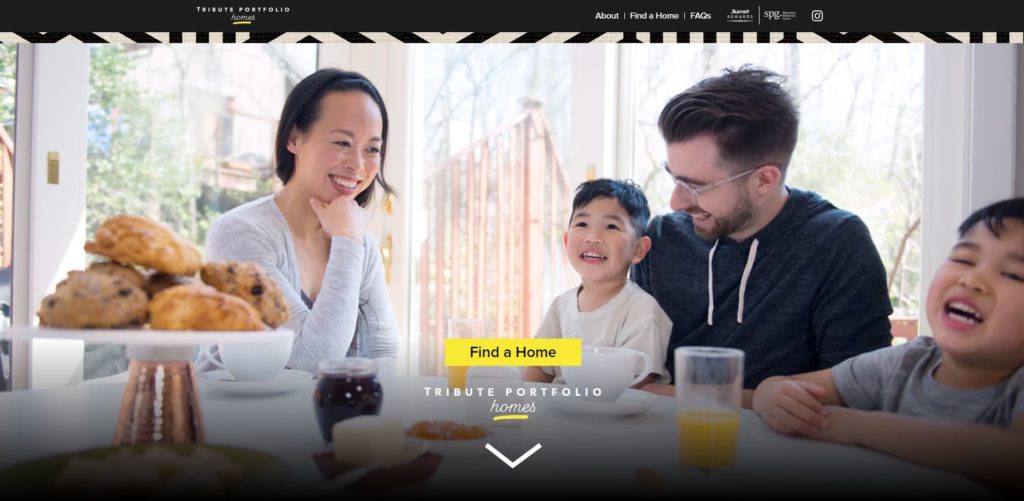 The interface
Tribute Portfolio Homes' home page has large images, simple to understand text, and the page flows easily while scrolling. However, I've got to say, I like Airbnb's in-your-face search bar better, as it greets you as soon as you enter the website.
Perhaps Tribute's home page could be compressed into a simpler, leaner page for an easier experience; you can scroll through the page and find a number of large photos, and why you might want to try the platform. It says that it will give you peace of mind, make travelling easy, and make you feel the comfort of home. In my opinion, that could've been said without all the scrolling I just did.
Finding a home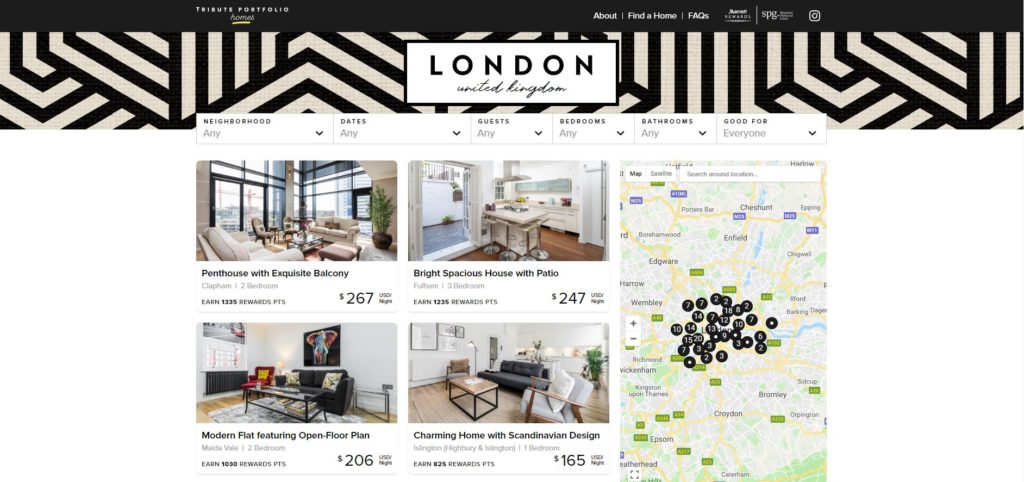 Now, when looking for a home, the user interface gets much better. There are drop-down menus on top, an informational map on the side (with numbers matching the homes' location), and photos of homes with details about prices and how many points you'll earn for booking the place.
Once you click on the home of your choosing, the site doesn't lack when it comes to giving details. Aside from the home's features, it will also give you information about the neighbourhood, and what you can expect while staying in the area.
Neighbourhood options will give you locations from Barbican to Westminster. In addition, It will give you options for dates, number of guests, bedrooms, bathrooms and if you're looking to stay with a group or family.
You won't be able to book with your Marriott or SPG points yet. But if the platform takes off, you might soon enough, so better save up on those points.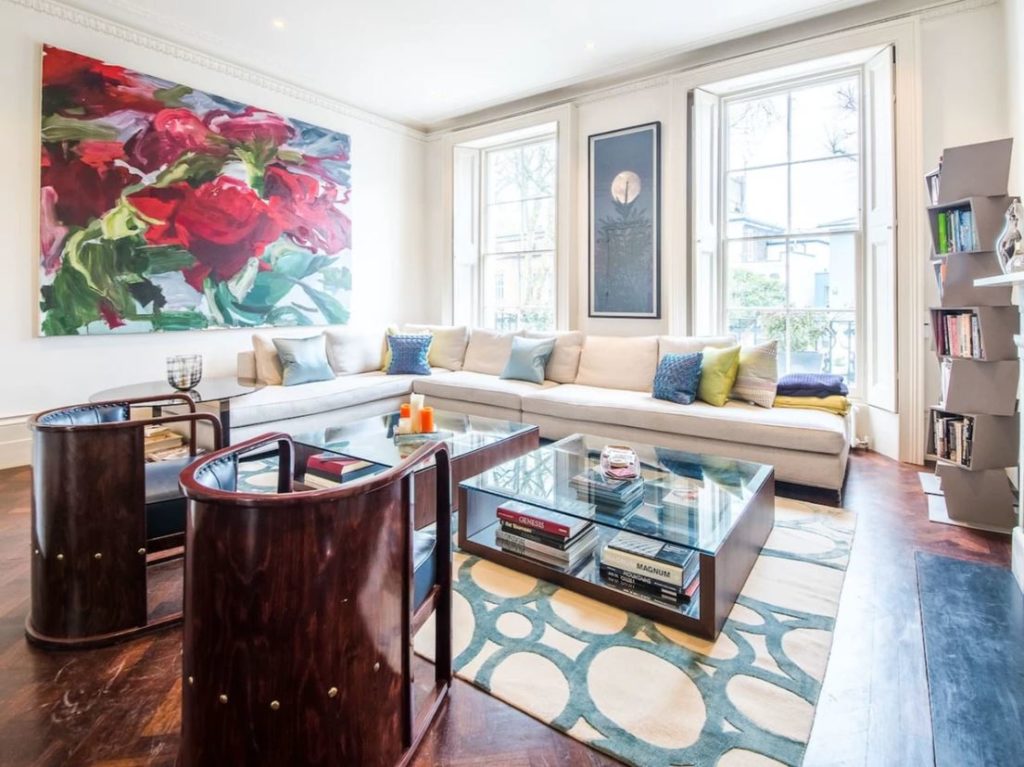 Price range
Once I entered the 'find a home' page, I immediately wanted to find out which property is the cheapest and which one is the most expensive. So, I looked for a price filter of some sort – but unfortunately, there is none.
Without the filter, I had to go through all 11 pages of the property choices, which took some time. I found that the cheapest options (or let's call it least expensive) were US$144-flats with living rooms or balconies.
On the other end of the spectrum, there's a "local gem", a modern "oasis of style with garden" that's up for $923 per night. It has five bedrooms, living spaces, a balcony and it comes with Wi-Fi, a dishwasher, dryer – and more notably, it's in an exclusive address in London, located in the heart of three plus neighbourhoods: Notting Hill, Bayswater and Paddington.
The verdict
Marriott's foray into the home-sharing sector looks very promising as there's something comforting about a home-sharing platform that's backed by one of the biggest hotel brands in the world. It doesn't have as many choices as Airbnb can offer, but given its array of nicely curated selections, and easy-to-use website – it's definitely worth a look when booking in London.
However, if I were to book an apartment stay right now, I'd still go for a bigger platform such as Airbnb because a more established brand offers more choices. It's really impressive what Marriott International and Hostmaker have achieved – especially given the Tribute website is still in beta version  – but for me to pick their service over a pioneer, it will require a greater depth of accommodation options. These things take time.