USA, Australia and India remain the UK's top tourism markets
A study for World Travel Market, undertaken by ForwardKeys, the travel analytics firm, has produced rankings of the top long-haul inbound tourism markets for the UK and how they have evolved over the past year and the past five years.
The first ranking identifies the top 30 countries and the second, the top 50 cities. The rankings are based on flight bookings to the UK for the moving year, 1 October 2018 – 30 September 2019, benchmarked against the same dates one year before and five years before. This time period has been chosen in order to be as up to date as possible.
The top three positions in both lists have remained unchanged over the past five years; for countries, the order is USA, Australia, India and for cities, it is New York, Hong Kong, Sydney. However, as one looks down both lists, there have been some very significant risers and fallers.
During the past year, Nigeria has made it back into the top 10 countries, kicking out the UAE, and Bangladesh has made it into the top 30, replacing Chile. Impressive growth has been recorded from several markets, most notably Bangladesh, up 32.5%, China, up 19.8% and Taiwan, up 16.0%.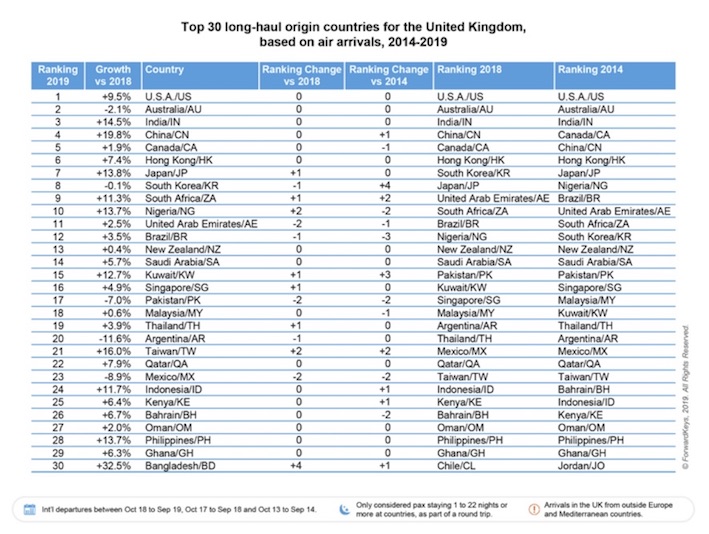 Behind these changes are some strong trends, including the continued growth of China and other Asian economies, the strength of the US dollar, improvements in connectivity, recovery of commodity prices, particularly, oil, the Argentine debt crisis and the attractiveness of cricket world cup.
"The rise of second-tier cities"
Olivier Ponti, VP Insights, ForwardKeys, said: "There are some general principles that explain why origin markets become stronger or weaker, including the performance of the local economy, currency fluctuations, airline competition and major events.
"However, if there is one trend in the data that I find particularly interesting; it is the rise of second-tier cities and it is most marked in the two leading outbound travel markets, the USA, where sixteen cities feature in the top 50 list and China, where growth for the country exceeds the growth of its two biggest cities."
Here at TD, we put our best efforts to provide the latest and most valuable content to our readers. It is a true labour of love - where we work hundreds of hours each month - to make sure we offer meaningful content. If you value what we do, please consider a donation of any amount.
This would mean the world to us! Thank you and click here to proceed!