Unpacking traveller needs made easy with Unified Inbox
Contributors are not employed, compensated or governed by TD, opinions and statements are from the contributor directly
One of the innovations leading development in the travel business sector is the Internet of Things (IoT), the foremost application of which is best known for powering the hotel rooms of the future. The other is Artificial Intelligence (AI), which is popular for real-time instant messaging with customers.
Both come together through Unified Inbox (UIB), which enables people to talk with all of their smart devices through a single integrated API. The tech startup behind it, formally called Unified Inbox GmbH, earned its name by combining tasks, contact details and conversations across multiple communication channels — including voicemail, email, texts, social media, messaging and chat apps, and push notifications — into a single inbox as a means to minimise information overload.
Soon the startup's interests covered solving the problems of app and tech overload, interoperability, security and convenience in powering electronics by adding AI and IoT to the unified inbox with no further need of a voice-activated speaker or other external hardware.
UIB's proprietary UnificationEngine™ (UE) platform guarantees secure Unified Communications both on-premise and as a Service (UCaaS) in the cloud, as well as ease of contact with the assurance that reaching out to chatbots and smart appliances is as easy as talking to friends.
To better understand how UIB and UE work, I tried the demo hosted on http://demo.unifiedinbox.com. It's very straightforward: after keying in your email address (and in some cases activating the capability with a QR code or SMS), your smartphone's messaging app (in my case, Telegram) connects to the airport camera to see when the next airport train is arriving or count how many people are lined up at customs clearance. The "home" simulation also allowed me to switch the TV on and off, heat up water for tea (but it seems the Unified Inbox folks are coffee lovers, given their live demo videos), and even call emergency services when the "person" inside was sick.
In real life, UIB and UE have enabled travellers to WeChat the airport taxi queue to see which line is shortest, and to WhatsApp their room service order even when they are actually not in their rooms yet due to traffic jams.
Boasting at least 14 patent families, Unified Inbox has caught the attention of accelerator programmes, business leaders and award-giving bodies. One of them is the Dubai leg of the 2017 Marriott TestBED programme (an honour it shares with fellow IoT-AI player Twistar), where Marriott International has been keen to use UIB's travel tech to own their guests' data in anticipating and meeting guests' needs.
"We are enhancing guests' in-room experience by allowing them to control the Philips Hue lights in their rooms with WhatsApp text and voice messages," shared CEO and founder Toby Ruckert about the team's work in the TestBED programme.
"There are other projects still in alpha testing mode which allow guests to operate heating, air conditioning, blinds, television, coffee machine, printer and many more facilities as a fully integrated solution using text and voice messaging from their preferred chat app."
The young company is scaling up, keenly meeting with more clients in the travel, tourism, and hospitality space across its Asia Pacific headquarters into the Middle East and Europe. Ruckert added, "UIB is always open for possible investments from the right strategic investors who can help us be better, bigger and faster."
In order to reach more travellers, it has not only expanded its scope from WhatsApp, Telegram, Facebook Messenger and Google+ to include popular Asian apps like Xing, Weibo, WeChat, KakaoTalk and LINE, but it is now offered in more languages as well.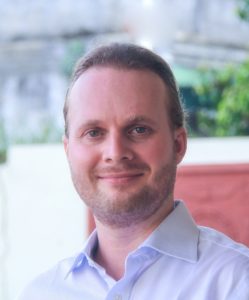 It was also recently invited to join the Internet of Things Consortium (IoTC), which aims to ignite global IoT marketplace growth by promoting adoption of IoT products and services, strategic partnerships, and marketplace knowledge sharing.
While partnering with Europe-based global manufacturing brands, it recently managed to transform its Winterbach, Germany workspace into a connected office and smart technologies executive briefing centre.
Germany-born Ruckert shared that the new centre features integrated showcases of IoT-AI technology, product displays of smart home and smart city applications, and Industry 4.0 strategies for digital transformation of enterprises, bringing http://demo.unifiedinbox.com to tangible life. Unified Inbox will soon open the centre through an Innovation Day event, befitting its location in Germany's equivalent to Silicon Valley.
This is part of a new series featuring IoT in travel tech. Look out for an interview with Unified Inbox founder and CEO Toby Ruckert as well as for more IoT travel tech players in this space.