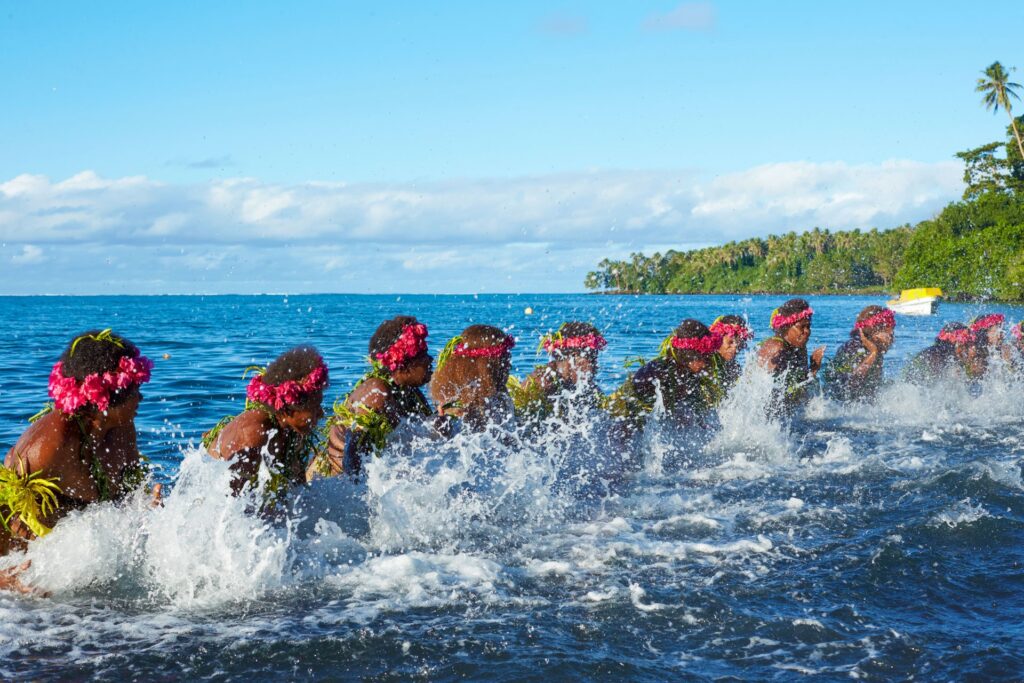 The first flight since Vanuatu reopened its borders to international travellers landed in Port Vila today, with visitors now able to travel freely throughout the country's islands and provinces without any quarantine. The people of Vanuatu gave the first Australians to make the trip the warmest of welcomes, with official events and activities organised at Sydney and Port Vila airports to mark the occasion.
The sold-out Air Vanuatu flight from Sydney to Port Vila landed today, carrying Aussie guests eager to soak up the country's sunshine and enjoy its beautiful island chain. Visitors boarding the flight in Sydney enjoyed festivities at the gate and were invited to take pictures within a Vanuatu-themed pop-up installation to mark the beginning of their trip. Guests were also accompanied on the voyage by a VIP delegation including Vanuatu's Prime Minister, the Honourable Bob Loughman Weibur.
Upon arrival in Vanuatu, guests were welcomed with a water salute, enjoyed a meet and greet with local cultural dancers and were surprised with goodie bags packed with Vanuatu Made gifts.
Vanuatu's border has remained closed since March 2020, due to the COVID-19 pandemic. The reopening signifies the restarting of the country's tourism industry, which is one of its biggest economic drivers.
A new marketing campaign showcasing the best of Vanuatu's tourism offering has been launched ahead of the reopening to urge Australians to visit the archipelago. The new Welkam Back! campaign encourages Aussies to "Answer the Call of Vanuatu" and visit the country to experience its array of incredible moments.
"We are so happy this day has finally come," said Vanuatu Tourism Office CEO, Adela Issachar Aru. "Pre-COVID, Australia was Vanuatu's largest inbound tourism market and we have always shared a strong bond with our Aussie neighbours. Vanuatu is just a short flight from Australia's east coast, yet it feels like a world away. It's the perfect getaway close to home.
"Vanuatu's tourism industry has been busy preparing for the reopening, taking the time to upgrade or even introduce new products to ensure guests have the best possible experience upon arrival. Visitors will be greeted with a Vanuatu smile and feel welcomed from the moment they touch down."
Vanuatu's High Commissioner to Australia, Samson Vilvil Fare, said, "A visit to Vanuatu is full of life-changing moments, and we're encouraging Australians to come explore our stunning landscapes, connect with our rich kastom and culture and experience the warmth of the Vanuatu people.  
"Vanuatu lives and breathes tourism, so we hope this first flight heralds a new beginning for this all-important industry. We are excited to welkam back our Aussie friends and show them a more exciting way to relax on our shores."
Moorings Hotel Vanuatu Assistant Manager, Anita Tahi said, "We've had two challenging years, but the team has kept operations open and is ready and excited to welcome back international visitors. Vanuatu has remained beautiful without losing its happiness and authentic welcoming smiles and today is an exciting day for everyone in the Vanuatu tourism industry."  
Travellers can now enter Vanuatu with just a certified negative RAT from within 24 hours of departure, or a certificate of infection and recovery from within 28 days of travel.
Flights are available to book now, with Air Vanuatu resuming its services with five non-stop flights from Sydney, one direct service a week from Melbourne, and three non-stop flights a week from Brisbane to Port Vila, with onward connections within Vanuatu. Virgin Australia will also resume flights from Brisbane to Port Vila, up to five times a week from March 2023.