Vietjet secures USD 1.2 billion for fleet expansion
Following a signing ceremony for three new routes into Japan yesterday, Vietnam's Vietjet also announced it had secured funding for the fleet expansion worth a whopping USD 1.2 billion by signing a financing agreement with Mitsubishi UFJ Lease & Finance Company Limited (MUL), a member of Japan's leading finance group Mitsubishi UFJ Financial Group (MUFG), and French banking group BNP Paribas.
With the agreement in place, Vietjet will be able to upgrade its fleet with the acquisition of up to five brand new aircraft, worth USD 614 million. On top of which the carrier also put its stamp on a memorandum of understanding (MOU) with another France-based banking group Natixis – alongside a group of Japanese equity underwriters – to provide funding for five more aircraft, valued at USD 625 million.
The aircraft described will come as part of a contract signed between Vietjet and Airbus, and includes A321neo aircraft (main picture), which uses the latest engine tech and advanced aerodynamics to reduce fuel consumption by at least 16% from day one and up to 20% by 2020.
"These deals will greatly contribute to Vietjet's plan for fleet expansion"
Speaking at the signing ceremony, Vietjet's vice president, Dinh Viet Phuong, said: "The critical financing agreements signed today once again confirms the confidence of leading Japanese financiers in Vietjet as the airline prepares to launch new routes to Japan soon. Also, these deals will greatly contribute to Vietjet's plan for fleet expansion and network growth in the coming time, thus helping to better connect Japan and Vietnam. We are proud to have leading and renowned financing partners accompany us on the airline's growth path. Together we are all fully committed to bringing more added values to the community."
Under the terms of the agreement, Vietjet and all financing partners will also work together to share best practices for the operation and management of the airline, boosting effectiveness and encouraging sustainable growth.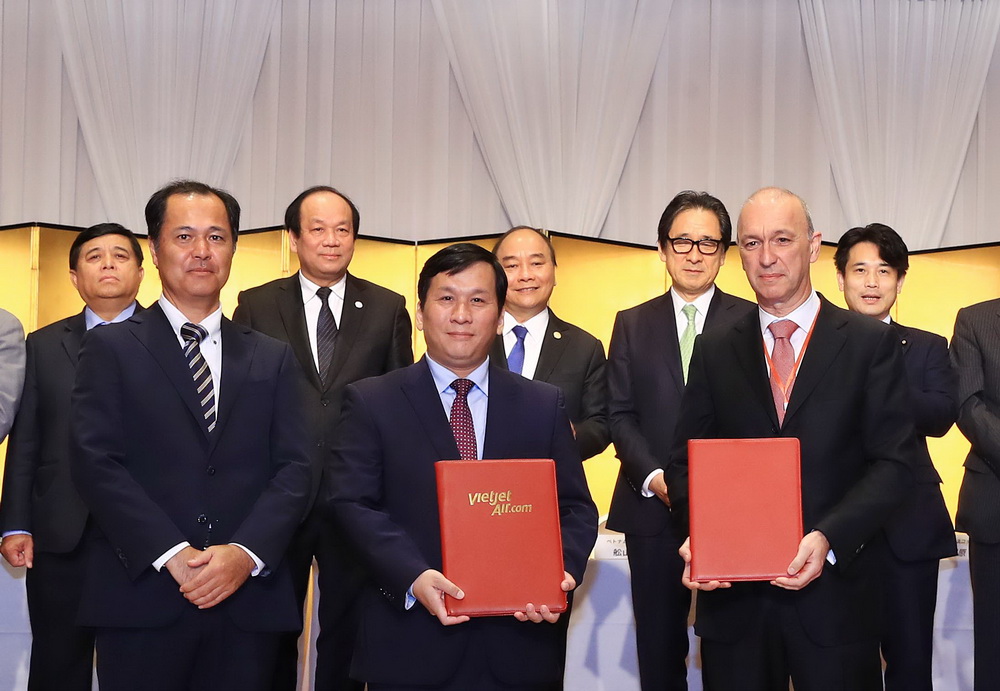 The three new daily services announced yesterday include the Osaka-Hanoi route, which will begin on 8 November; the Osaka-Ho Chi Minh City connection, on 14 December and the Tokyo-Hanoi route on 11 January 2019.  All routes are operated with a daily return flight each.
Discussing the new schedules, Vietnam's prime minister, Nguyen Xuan Phuc, said: "The launch of Vietjet's routes from Vietnam to the Kansai region of Japan on this occasion has great significance in sharing the cause to rebuild Kansai's economy and tourism after being devastated by the storm in early September, and contributes to the tourism, trade and integration development between the two countries and in the region."
"A huge boost for tourism in the Kansai area"
Hiroshi Tabata, commissioner of Japan Tourism Agency, said: "It is our great pleasure to welcome and give full support to the successful launch and operation of Vietjet's flights to Kansai International Airport in Osaka. These newly launched flights to Kansai International Airport will be a huge boost for tourism in the Kansai area and thereby contribute to the recovery of the local economy which has been left reeling from the damage caused by typhoon Jebi. I believe that these new routes will also contribute to an increase in the number of Vietnamese visitors coming to Japan."