Virgin Group founder Sir Richard Branson and Virgin Voyages president and CEO Tom McAlpin hosted a 'Ship Tease', where details were revealed about the first of three ships debuting in 2020.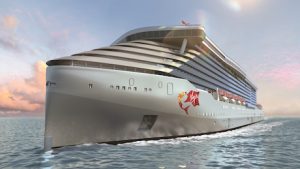 The laying of the keel for the first ship, marking the commencement of construction, was celebrated at the Fincantieri's shipyard in Genoa, Italy.
Branson and Tom McAlpin were joined on stage by Bain Capital Chairman Stephen Pagliuca and Fincantieri's Alberto Maestrini to weld ceremonial coins into the keel for good luck and smooth sailing.
Branson said: "This is a very big day for Virgin Voyages, as an exciting new holiday option for travelers starts to get ship shape. She will be the most recognizable ship sailing the seven seas, delivering an irresistible sailor experience. We're also committed to making sure our crew are the happiest at sea and will be proud to sail with us."
Tom McAlpin shared specifics on the Virgin Voyages design philosophy and experience.
"The entire ship will be built with an attention to detail, reflecting the craftsmanship and materiality inspired by super yachts. Designed to feel more intimate and connected to the sea, 86% of all cabins will feature a sea terrace and 93% an ocean view. Virgin Voyages is creating a sophisticated ship and a transformational experience that offers our sailors a place where rejuvenating day-life meets exciting nightlife and everything in between."
McAlpin then gave details that the first ship's experience will be "Adult By Design" – meaning that guests must be at least 18 or older. The decision was driven by feedback from future guests and travel professionals.
The livery will feature a silvery-grey hull, with smoked glass, and touches of red.
Virgin Voyages' first fleet will be known as the "Lady Ships", a play on the term 'your ladyship'. The ship will be represented by a mermaid design on the bow. The mermaid is inspired by figureheads on historic vessels and was designed by London-based artist Toby Tinsley, who also designed the feminine motif on Virgin Galactic.
Virgin Voyages has signed an agreement with Scanship, providers of advanced waste management systems. Together, they say they will explore the development of potentially game-changing technology that could one day significantly reduce ocean discharge by turning waste into energy.
The final announcement from Virgin Voyages is that it is now "open for business" at virginvoyages.com. Future guests and travel partners can place a $500 refundable deposit for access to an exclusive pre-sale before Virgin Voyages goes on general sale.