Vivid Sydney 2023 program unveiled
Vivid Sydney will deliver the biggest and most culturally relevant program in its event history when it  returns in 2023 from Friday 26 May to Saturday 17 June.  Australia's largest event and the pioneer of light-based art and culture festivals in the Asia-Pacific region has assembled some of the world's most innovative artists, talented music makers and thought  leaders as part of its 2023 line-up, which also recognises the significant contribution of First Nations  peoples and cultures to the creative industries. Inspired by the master of all creators, Mother Nature, this year's theme, 'Vivid Sydney, Naturally', is  reflected across all of the 300+ activations and events that make up the 23-day program.
Vivid Sydney Light Walk's signature Sydney Opera House Lighting of the Sails will see the vibrant  works of one of Australia's most famed artists, John Olsen, brought to life as a spectacular tribute to  his illustrious artistic career of more than 60 years. Life Enlivened (2023) will include Olsen's  evocative Salute to Five bells (1971–73) mural commissioned especially for the Northern Foyer of Sydney Opera House's Concert Hall, as well as other artworks spotlighting Olsen's fascination with  Australian landscapes and nature.
The Vivid LIVE at Sydney Opera House line-up will feature more than 40 Australian and international  artists. José González, Yaeji, Ella Mai, Cat Power, Devonté Hynes and many more will take to the  stages of the world-famous building in a program curated by Sydney Opera House's Head of  Contemporary Music Ben Marshall.  The Vivid Music program will spotlight First Nations and Australian voices this year. The late Archie  Roach AC will be celebrated with an incredible night of performances with the late artist's long-time friends and collaborators and special appearances by members of Archie's family. There will also be 12 nights of free music at Tumbalong Park, Darling Harbour featuring Yothu Yindi, Dan Sultan, cult Japanese artist Cornelius and many more.
British author and "master of her material" Jeanette Winterson features at Vivid Ideas and will reflect  on questions of identity, sexuality, religion and more to unpack the idea of nature in LIFE AND  MARS: The Future of Human.
And for the first time, Vivid Sydney's brand-new pillar – Vivid Food – will broaden the creative spotlight  from Light, Music and Ideas to include culinary favourites and innovative food events. Work up an  appetite for a fusion of street food; a barbecue of epic proportions with legendary pitmasters for Vivid  Fire Kitchen at the Cutaway at Barangaroo; fine-dining experiences; and the return of 2022's sell-out  Vivid Sydney Dinner at the Ivy Ballroom, a special feast by esteemed Sydney chefs Ben Greeno and Danielle Alvarez.
Vivid Sydney Festival Director Gill Minervini said Vivid Sydney has come of age and has evolved into  a progressive and inclusive event that celebrates the best of an expanded definition of the creative  industries in 2023. "Vivid Sydney is the original festival of light, art and culture. 2023 is the 13th time it has been staged and so it has naturally evolved over time to ensure that it stays relevant to the creative industries and  what that means to people today,"  Minervini said.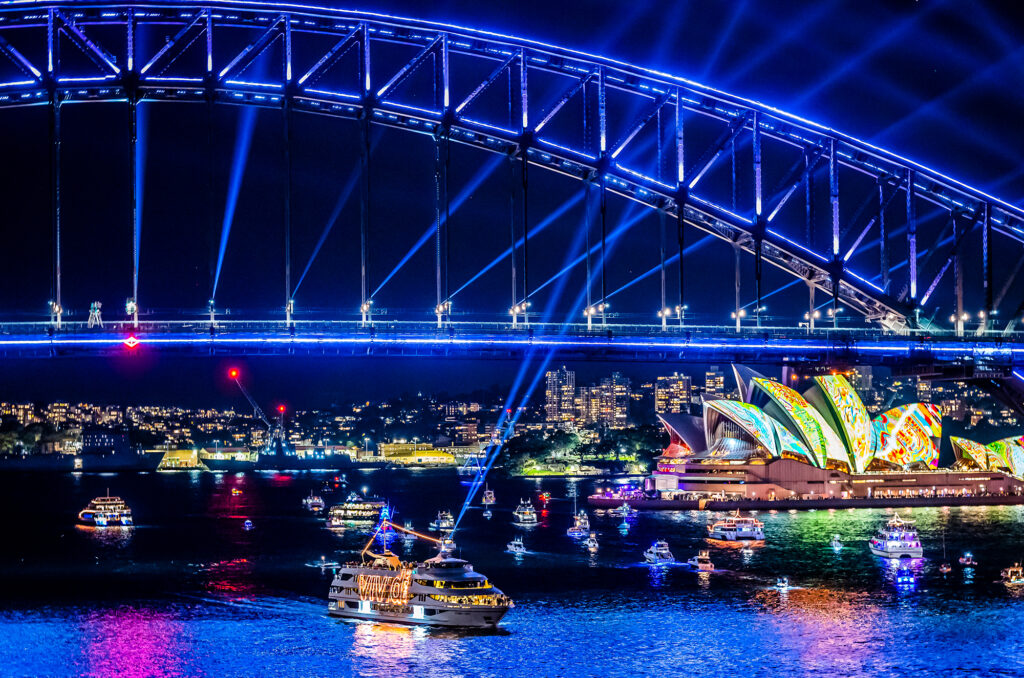 "We are truly proud of this year's program. We have raised the bar on the size and scale of the events  and activated new parts of the city. Our line-up features more diverse talent across more industries.  "There are world-firsts and festival-firsts, and both free and ticketed events to make the festival  accessible to everyone. Audiences should be prepared to be blown away by the calibre of talent and  a program that has been inspired by the beauty and diversity of nature. "Vivid Sydney's 2023 program is a celebration of authenticity, an invitation to connect, and a chance  to create. You do not want to miss Vivid Sydney 2023."
Destination NSW CEO Steve Cox said Vivid Sydney was the biggest and most loved annual event in  the NSW calendar, that in 2023 would once again support the entire ecosystem of the state's visitor  economy. "Each year visitors and Sydneysiders immerse themselves in the program and enjoy the activations of  the talented creatives who make the festival so special. Last year we welcomed a record 2.58 million  attendees across the festival footprint," Cox said.
Vivid Sydney 2022 injected $119 million into the NSW visitor economy. It is our expectation that with  its expanded program and more international travellers returning to our shores, Vivid Sydney 2023 will  drive even greater visitor expenditure into the NSW economy."
Staged across Sydney's city centre, Vivid Sydney festival locations include Circular Quay, the Sydney  Opera House, The Rocks, Walsh Bay, Barangaroo, King Street Wharf, Darling Harbour, Darling  Quarter, Darling Square, The Goods Line, Central Station, the Royal Botanic Garden Sydney,  Carriageworks, Taronga Zoo and more.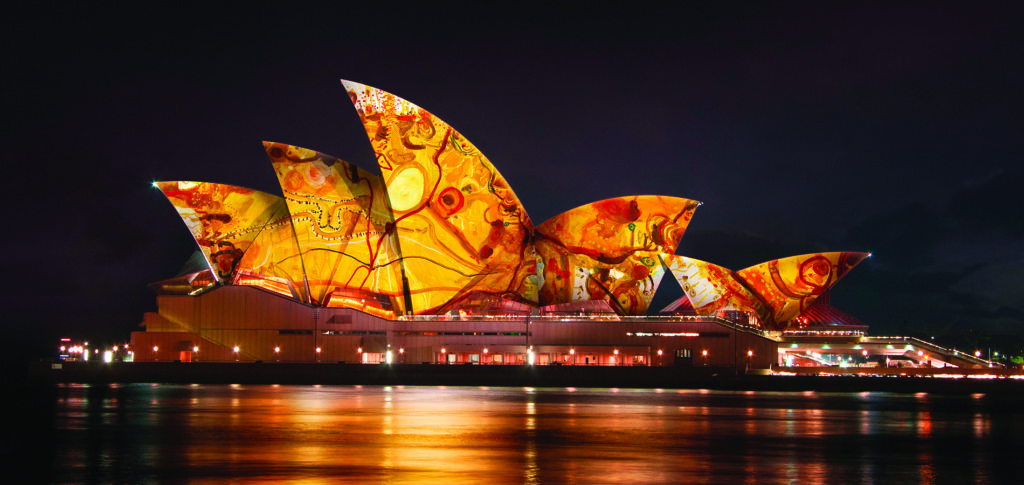 VIVID FOOD
Vivid Sydney will premiere its first-ever Food program in 2023 with entry points for everyone, from  wholesome street food to luxurious high-end dining experiences. Vivid Food is all about celebrating those who make the Sydney food scene so special, with a line-up  of events all nodding to the natural world.
House of Naturalia will take over all floors of Barangaroo House and feature a custom menu by head  chef Tara Chua, while day-to-night party HERE NOW will take over basement bar Mary's  Underground and Macquarie Place, mixing masterclasses in food and wine with music and art.
VIVID LIGHT
When the sun sets, Sydney will transform with more than 50 lustrous light installations, 3D projection  artworks and ticketed events for visitors to lose themselves in the hypnotising wonderland of light and  colour.
VIVID IDEAS
The Vivid Ideas program gathers some of the world's brightest minds and fearless storytellers, with 60  intriguing talks and workshops, exploring community, authenticity, respect, love and lessons learnt  from the natural world.
VIVID MUSIC
All of Sydney will become a stage for Vivid Sydney's 2023 live music line-up, with a spotlight on First  Nations artists.
VIVID LIVE AT SYDNEY OPERA HOUSE
As part of Vivid Music, the Vivid LIVE at Sydney Opera House line-up will feature more than 40  Australian and international artists. José González, Yaeji, Ella Mai, Cat Power, Devonté Hynes and  many more will defy expectations and break new ground on the stages of the world-famous building in  a program curated by Sydney Opera House's Head of Contemporary Music Ben Marshall.