Wyndham announces Thailand expansion with Fulcrum Ventures Asia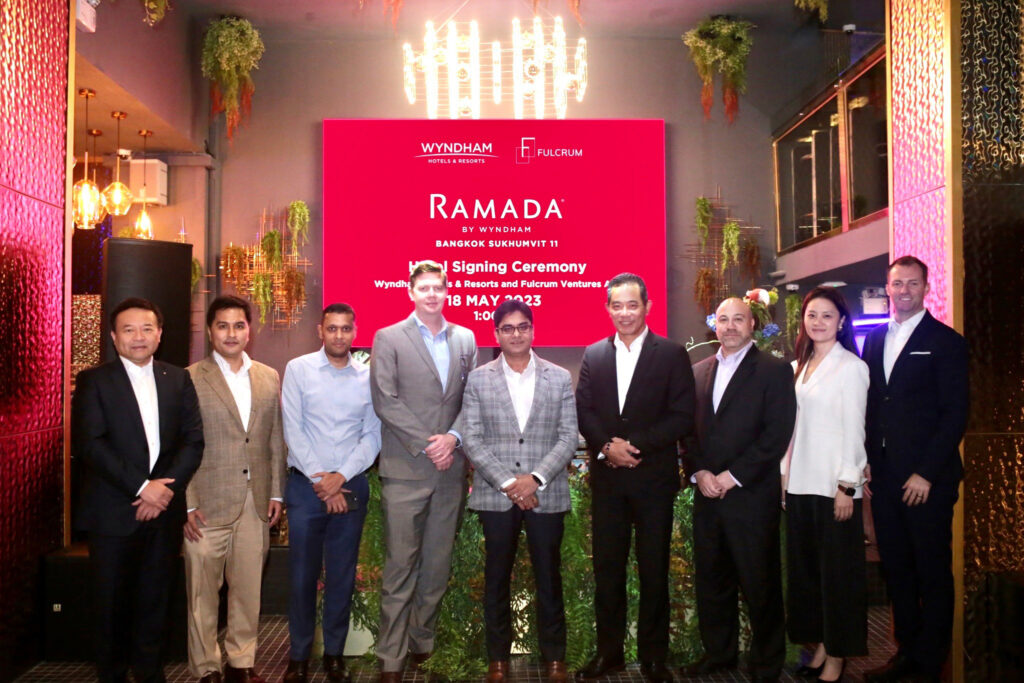 Wyndham Hotels & Resorts, the world's largest hotel franchising company and leading provider of management services with over 1,600 hotels in approximately 20 markets and territories in Asia Pacific, inked 2 license agreements with investment firm Fulcrum Ventures Asia for the 183-room Ramada by Wyndham Bangkok Sukhumvit 11 and 91-room Ramada by Wyndham Bangkok Ten Ekamai Residences.  
These agreements mark the first deals between Wyndham and Fulcrum Ventures Asia, underscoring the trust and confidence the Company continues to receive from new owners and partners as they seek proven operational support and commercial expertise to help maximise revenue and growth opportunities. The signings come just ahead of the peak tourism season, which will benefit from
reopened borders across the country. The Tourism Authority of Thailand (TAT) expects over 30 million foreign arrivals into the country this year, contributing to occupancy rates double that of 2022 and signalling the continued need for industry investment.
The signing welcomed other leaders from Wyndham including Bill Wang, Chief Development Officer,  Greater China; Matt Holmes, Vice President of Development, South East Asia & Pacific Rim; Anthony  Emanuelo, Group Vice President of International Operations; Eyvonne Lin, Head of Marketing, Loyalty  & Communications; and Michael Hofstetter, Franchise Operations, South East Asia & Pacific Rim.  Alongside them were Suphachai Limsuwan, General Manager and Aditya Jain, Vice President,  Finance from Fulcrum Ventures Asia.
Mr. Joon Aun Ooi, President, Asia Pacific, Wyndham Hotels & Resorts said, "We are encouraged  by the strong demand for Wyndham Hotels & Resorts' brands in Thailand. As travel increases across  corporate and leisure more frequently this year, we are well-positioned to meet guest needs with our  diverse and growing portfolio of brands. We look forward to growing our partnership with Fulcrum  Ventures Asia, sharing with them our 'OwnerFirst' approach to franchising while delivering our industry leading 'Count on Me' service to guests."
Mr. Deepak Mishra, Founder & Board Member, Fulcrum Ventures Asia commented, "We are  excited to partner with Wyndham Hotels & Resorts on what we believe to be the beginning of a strong  partnership between our two companies. As a real estate development company with predominant  interests in hospitality, we can leverage Wyndham's commercial and operational expertise as the world's leading hospitality franchising company to deliver exemplary standout experiences to our valued  business and leisure guests."
Both Ramada by Wyndham Bangkok Sukhumvit 11 and Ramada by Wyndham Bangkok Ten  Ekamai Residences are anticipated to open in June 2023. They will be Wyndham's 21st and 22nd hotels in Thailand, and 8th and 9th respectively within Bangkok itself. Both hotels will seek to tap into the strong travel recovery in Thailand and provide business and leisure guests with a premium experience while featuring regionally inspired designs, and décor.
The 183-key Ramada by Wyndham Bangkok Sukhumvit 11 is strategically located in central  Bangkok along Sukhumvit 11. The 18-storey tall hotel is also located next to Nana BTS station. It is additionally just a stone's throw away from the district's popular nightlight destinations and shopping havens like Terminal 21 (Asok) Shopping Centre.
Being in such a prime location, the hotel is also just a short 40-minute drive away from Thailand's main airport, Suvarnabhumi International Airport. Guests can enjoy a wide range of facilities including a  fitness centre, outdoor pool, all-day dining and enjoy an array of modern cuisine at a specialty restaurant.
The 8-storey Ramada by Wyndham Bangkok Ten Ekamai Residences with 91-rooms is well equipped to provide guests with tranquil surroundings and modern comfort. Nestled in the residential area of Soi Ekamai 10, foodies will rejoice as it is situated nearby to a cluster of famed restaurants. In addition, the hotel is just within walking proximity to Ekamai BTS station and, similarly to Wyndham  Bangkok Sukhumvit 11, a 45-minute drive from Suvarnabhumi International Airport. Guests will also have full access to its best-in-class recreational facilities such as its fitness centre, outdoor lap pool and take a leisurely stroll at the rooftop garden.