5 ways how Wyndham's Count on Us initiative keeps you safe when you can travel again
Wyndham Hotels & Resorts has launched its Count on Us initiative in every property worldwide to build confidence among guests and to support Wyndham hotel partners as they prepare to welcome back travellers in the wake of COVID-19.
From the introduction of robust new training and guidelines to ongoing access to critical health essentials, such as PPE, the initiative aims to place health and wellbeing first. Below are the five ways how Wyndham Hotels & Resorts' Count on Us initiative puts the health and safety of guests front and centre.
Hygiene Hero
Under this global safety initiative, Wyndham's hotel team members in the Asia Pacific will be encouraged to be a Hygiene Hero by championing the new protocols and staying up to date on the latest guidance concerning the health and safety of their guests.
The safety of guests is paramount to instil confidence to domestic and international travellers. Thus, inspection and monitoring of all areas in the resort are carried out daily to ensure that the new health and safety protocols prescribed by the tourism authorities are being followed.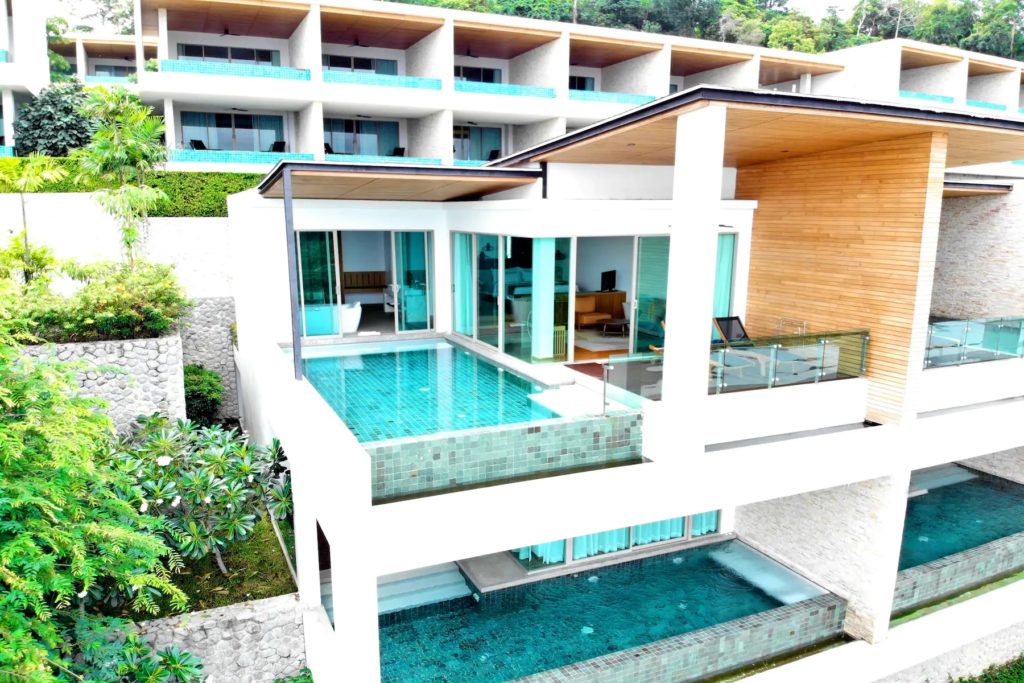 Wyndham Grand Phuket Kalim Bay, nestled in the paradise island in the southwest of Thailand, offers 152 villas each with its own infinity pool with panoramic sea views so guests can unwind and relax all from the privacy and comforts of their own room. The large acreage and the privacy of each villa make it perfect for social distancing and isolating oneself.
Enhanced cleaning and disinfection measures
Since the onset of COVID-19 pandemic, Wyndham has experts when it comes to health and safety protocols. Stringent cleaning and disinfection practices are part of the "new normal" in all Wyndham Hotels & Resorts properties as detailed in its Count on Us initiative.
Wyndham imposes frequent cleaning and disinfecting of high-touch areas requiring consistent use of EPA-approved disinfectants which are designed to disinfect emerging pathogens, in all hotel guestrooms and public spaces. This move builds on the already high operational standards at their hotels and will deliver an elevated and more consistent cleaning experience across the region.
The hotel giant has expanded its global partnership with Ecolab, a leading company in water, hygiene and infection prevention technologies and services, with an extensive suite of training resources on hygiene and sanitation best practices, as well as a list of preferred pricing, product availability, and supplier contacts across various countries.
STAY SAFE with our dedicated Clean Team!Specially trained by industry-leading cleaning experts from Ecolab on proper disinfection procedures, the Clean Team are performing enhanced deep cleaning and sanitiszing protocols continually in all areas to ensure a clean and safe environment at all times.

Gepostet von Days Hotel & Suites by Wyndham Fraser Business Park Kuala Lumpur am Mittwoch, 8. Juli 2020
Days Hotel & Suites by Wyndham Fraser Business Park in Kuala Lumpur, Malaysia has a dedicated Clean Team that thoroughly sweeps, mops and sanitises every nook and cranny of the hotel for your safety. The team has been specially trained by industry-leading cleaning experts from Ecolab on proper disinfection procedures, and the Clean Team are performing enhanced deep cleaning and sanitising protocols continually in all areas to ensure a clean and safe environment at all times.
The hotel has also launched day-use rooms for guests who need a clean, quiet space for work now that co-working spaces are discouraged and when your home is not conducive for working.
We are in this together
While every property under Wyndham does its part in keeping you safe, the Count on Us initiative also reminds everyone to do their part. Recognising the importance of building trust and instilling confidence, Wyndham is also taking steps to ensure guests and hotel team members can physically see the above efforts and trust in their impact.
On property, guests will have access to hand sanitisers, notice social distancing enhancing measures in public spaces, observe increased frequency of cleaning and disinfecting of high-touch areas, while hotel team members will make use of personal protective equipment as needed.
To effectively communicate these efforts, Wyndham will provide hotels with a collection of branded collaterals emphasising key safety measures, to be placed on-property in areas like the front desk, public areas, and guest rooms.
In Ramada by Wyndham Singapore at Zhongshan Park, strategically-placed stuffed pandas will sit with you in the lounge to encourage safe social distancing. The hotel also adopted the guidelines set by the Singapore Ministry of Health including a mandatory completion of Travel Declaration Form for all staying guest upon registration, and temperature checks for both guests and hotel personnel.
if you want to obtain that sense of normalcy yet still be cautious, Ramada by Wyndham Singapore is also an ideal place for a staycation. Whether you are up for a date-cation or a fun-mily staycation, Ramada is more than ready to welcome you. Apart from a relaxing time, get to enjoy perks such as 10% off from your food & beverage bill and SGD 20 dining credit at New Ubin Zhongshan Park.
Honouring our heroes
Wyndham Hotels & Resorts recognise the hardships and efforts of frontliners and curated the new #EverydayHeroes program. All essential employees carrying out duties associated with the treatment, prevention, care and support of all other ordinary citizens will be able to make use of the rewards – either as a new member of Wyndham Rewards or by having their existing membership upgraded.
The initiative extends not just to doctors, nurses, paramedics and direct healthcare industry workers but also to those in support roles including delivery drivers, supermarket workers, grocery handlers, hotel staff, warehouse workers and many other professions which have seen an increase in normal workloads brought on by the onset of the global COVID-19 outbreak. Membership upgrade must be requested by 30 September 2020 and will remain active until 31 December 2021 when regular status qualification review criteria are met or exceeded.
Thank You To Our #EverydayHeroes

We're offering instant GOLD membership upgrades to our #EverydayHeroes fighting on the front lines of COVID-19. It's our way of saying thank you to essential workers like truck drivers, warehouse workers, healthcare workers, and many more. Learn more at wyndhamrewards.com/heroes.

Gepostet von Wyndham Rewards am Dienstag, 14. April 2020
Being updated
Scientists learn something new about the new strain of coronavirus everyday and Wyndham Hotels & Resorts will continue to tweak its protocols under the Count on Us initiative based on the developments of the current health crisis. Wyndham also implements a series of mandatory live and recorded webinars for all hotels together with resources like housekeeping checklists, best practices, and guidelines, which hotels can use with team members to ensure consistency and accountability in execution.
Take Vietnam as an example for dealing fast with the pandemic and potential succeeding waves of the health crisis. Public health experts say Vietnam's success lies in a combination of factors, from the government's swift, early response to prevent its spread, to strict contact-tracing and quarantining and effective public communication.
As Vietnam's capital, Hanoi is your gateway to this marvellous yet exotic country in the far east. When travel has resumed fully, your best choice of hotel is Wyndham Garden Hanoi as it is smacked right at the centre of everything making it an ideal base location for seeing and experiencing Vietnam. If you are planning your next trip, why not visit Vietnam and stay in Wyndham Garden in Hanoi, which offers flexibility in your booking.
When you're ready to travel again, Wyndham Hotels & Resorts is ready to welcome you back with various deals and promos such as the Wyndham Rewards Rewarding Rate where members get 10% off the best available rate at all hotels worldwide or you can stay twice in any Wyndham hotel and get a free night.
There is no doubt that COVID-19 brought along multiple changes in the hospitality industry, but one thing remained the same, Wyndham Hotels & Resorts puts the welfare of its guests first and will constantly strive to provide you with a pleasant stay where you can fully rest and put your feet up!
Enjoy peace of mind. Stay in Wyndham