7 head-turning travel tech startups at Techsauce Global Summit 2018
Southeast Asia is a treasure trove of some of the most innovative travel tech start-ups today. Media company Techsauce hosted its annual tech convention to showcase the upcoming trends among geeks. The third Techsauce Global Summit was held in Bangkok on 22 to 23 June.
Hundreds of startups are regularly showcased in the Techsauce Global Summit 2018 proving that SEA is the next Silicon Valley. Below are the seven eye-catching travel tech start-ups I spotted at the recently concluded Techsauce Global Summit 2018 that are definitely worth a second look.
UChangeTo
Travellers often have the dilemma of not knowing what to do with their leftover cash from the places they went to. Some banks only accept notes and, sometimes, have high transaction fees.
This Taiwan-based start-up allows travellers to get rid of their leftover cash by exchanging it to digital currency for e-wallets like Paypal, Alipay, and Wechat pay; converting it into points or mileage; or donating it to charities they want to support.
The process is so simple and there is no need to download an app so anyone can avail of their service. Just go to their kiosk in the airport and scan the QR code that will redirect to UChangeTo's webpage. Show your passport and give your leftover travel money to the staff. You will be asked to key in your email address. The users can then conveniently choose what to do with their leftover money.
Founders Jasmine and Vita Tsai confirmed to me that the company is currently operating in Taiwan's airports but will expand in airports in Thailand, Malaysia, and Singapore. The company is looking for partners for rewards and mileage points.
TravelSkope
Taipei-based startup TravelSkope provides a plug-and-play, all-in-one online travel agency (OTA) solution for airlines, hotels and travel agencies. The company claims to offer a turnkey solution allows its partners and clients to launch an OTA overnight and in a few simple steps.
It also enables companies to set up a new revenue stream without much effort. It offers a portfolio of modules, such as car rental, hotel booking, airline ticketing, to allow its partners to choose the services they want to offer.
HandiGo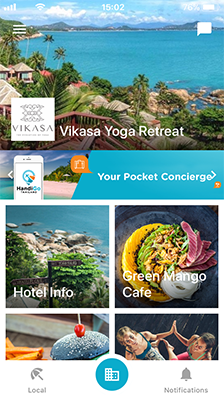 HandiGo is an app that aims to enhance travel experience of foreigners in Thailand. The app is an all-in-one solution to help tourists to access commodities and services. HandiGo has partnered with hotels, restaurants, travel agents, and public transport to make it easier for tourists to go around Thailand.
Think of a remote control for your hotel using your smartphone and then accessing the hotel services – no need to use the old-school telephones inside the room to ask for room service.
You can request anything from the front desk, from anywhere. HandiGo eliminates language barriers, which is often a problem for tourists visiting Thailand.
While making it easier for travellers to explore Thailand, hotels will benefit by improving their service to accommodate more foreign travellers. Better service will be translated into higher hotel revenues and better score review.
HandiGo also has NaviGo for the mobility sector, which is partnering with Thai taxi companies. The company has so much in store in the next quarters aside from expanding in other countries in Southeast Asia. The company will launch PhotiGo and GuidiGo this year that will connect travellers with photographers and travel guides, respectively.
Screea
Owner of Screea William Chiang loves to eat out and travel, and he got tired of bringing all of his loyalty cards every time. Screea is an app that allows users to accrue and redeem loyalty points from any of its partners. Hotels and airlines usually have their in-house loyalty programs, but members can only redeem their accumulated points from establishments under the company's umbrella.
This is how the app works: you gain points from company A and redeem it at company B or pool all of your points in one app. Screea also has a multi-level marketing aspect wherein one gain points from referring a friend and receive additional points every time they earn.
The app also offers targeted advertising using data analysis. Products and services are shown to people who are more likely to purchase them, based on data patterns. Screea is popular in China and that could be beneficial to businesses targeting Chinese travellers.
Screea is looking for more partners where its users can earn and redeem points to expand its reach in Asia.
Rubik Trips
Just like a Rubik's cube, travel has many faces. Rubik Trips is not your ordinary booking platform as it includes medical services in Thailand. Thailand is known for its medical tourism; it is one of the go-to destinations for 'surgery tourism' in Asia.
The company partners with hospitals and people can book doctors based on their needs and budget. Through its website, people can also select how they want to travel based on location, attractions, activities, or the purpose of their trip.
Toast Ticket
Toast Ticket is a tourist's booking platform for attractions and activities in Thailand. Having worked in the tourism industry for years, CEO and co-founder Natwalai Niankhaw, or fondly known as Fonny, knows how to make a Thailand trip memorable.
The company will hook you up to some of the best attractions in different places in the country. The platform accepts different currencies, too, making life easier for tourists.
Nornn
After a Thai court ruled that short-term rentals are illegal endangering Airbnb's position in the country, Nornn came in to fill the void with a similar platform but for long-term accommodations – you can rent, but for a minimum of 12 months.
Although the platform looks similar to how Airbnb works, the company boasts secured system with online ID verification of renters and owners. The company also claims that it knows the Thai market better.
These start-ups are only some of the travel tech companies in attendance at the Techsauce Global Summit 2018. The convention also featured start-ups from other categories such as fintech, deep tech, ventures capital, and blockchain.