A masterclass events experience at the best convention hotel in Thailand
Contributors are not employed, compensated or governed by TD, opinions and statements are from the contributor directly
There are many perks to working in the media wing of the travel industry, including  the opportunity to meet fascinating, interesting people, travelling the world, getting to stay in some incredible hotels as well as the chance to speak to whole ballroom stuffed with hospitality and tourism leaders and influencers as a speaker or panel host at industry events.
On occasion, if I am very lucky, all of the above manifest into one beautiful experience where I combine hosting duties with a few nights in upmarket accommodations, close to the venue, in a sun-drenched glamourous location – preferably, overlooking some sort of water. This kind of experience, and an obsession with wordplay, is what drew me to work in the travel media industry, but it does not happen as much as I would like.
So, you can imagine my smug, smiling face when I was asked to speak at an event at the Royal Cliff Hotels Group's super sexy dedicated conference space PEACH, a few weeks ago.
"While we conduct meetings across the world, Royal Cliff and PEACH established the standard we will strive for in the future. Its attention to detail and the little nuances have set a standard that will be hard to follow"  Paul Odom, Procurement and Planning Analyst, Jeunesse Expo – Annual World Conference
As a travel writer in Bangkok, I am well aware of the Royal Cliff Hotels Group's pristine reputation and have even had the pleasure of reviewing Pattaya's preeminent property.
What excited me most this time was that I would get to sample the hotel with complete objectivity as a guest and speaker, not as a member of the media, where it's possible that you are receiving preferential treatment. If it wasn't for the fact that many of the attentive Royal Cliff staff recognised me from a visit last summer, I would have been completely incognito. Hurrah!
And, I am pleased to report, my experience as a punter was equal to, if not greater than, my previous experience as a reviewer, but is it really the best convention hotel in Thailand? Let's break it down.
The stay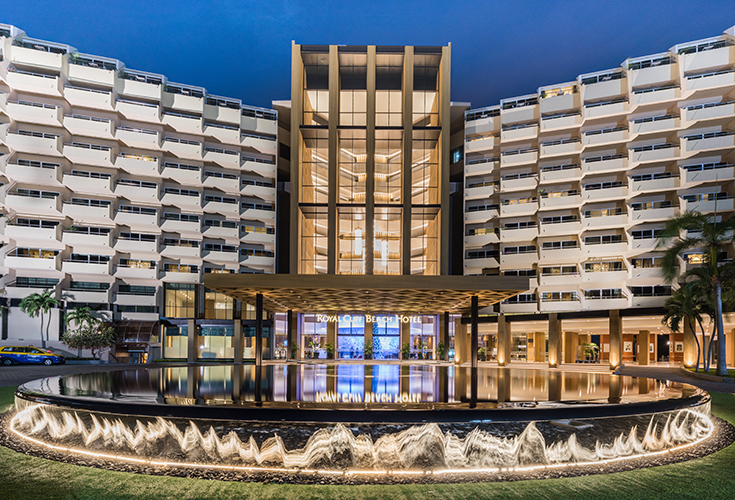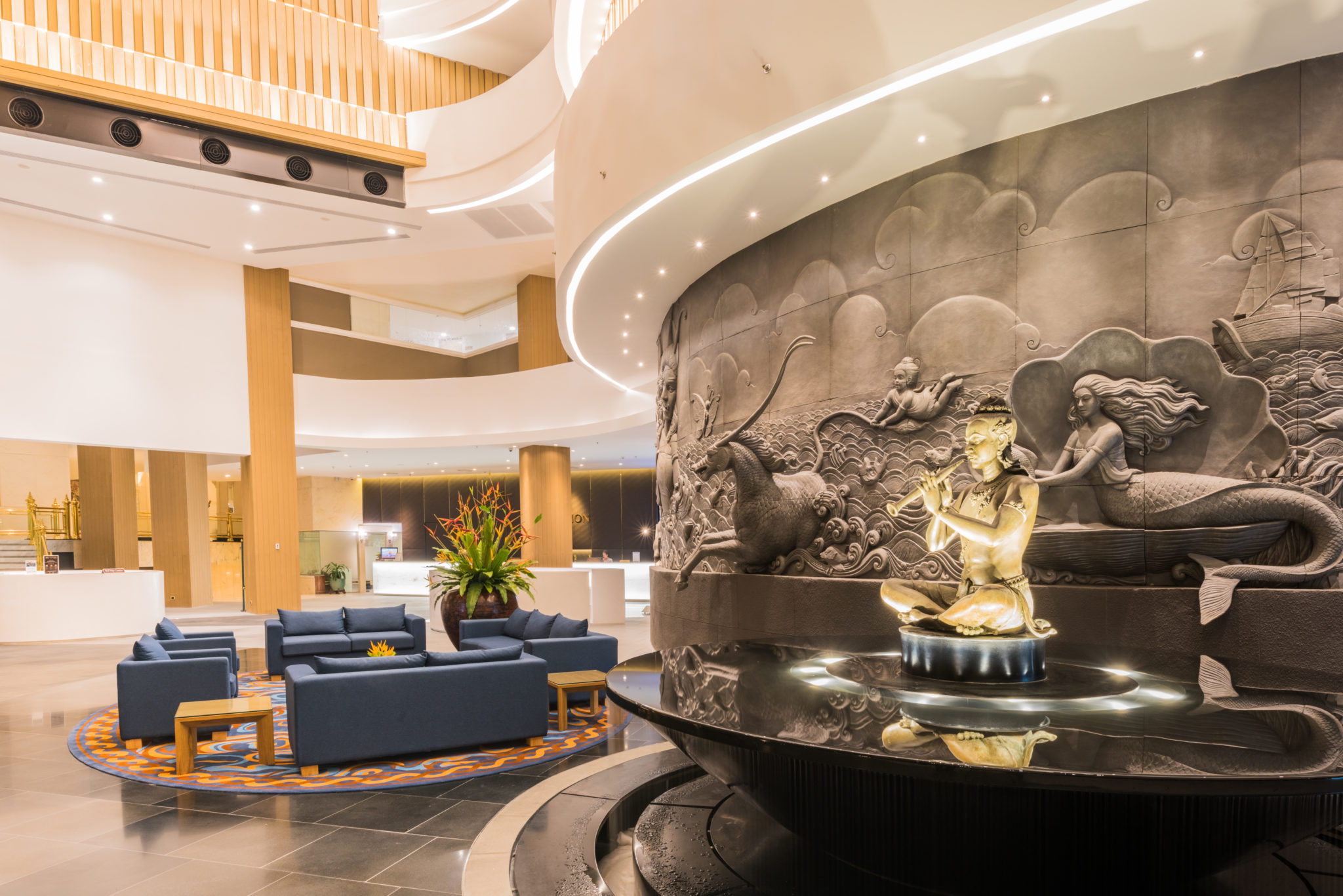 When booking an event at the Royal Cliff Hotels Group, the well-seasoned events team factor in every little detail of your function and what it will need to go-off with a bang, and that runs from what type of event it is, number of attendees, speakers and VIPs, along with all their individual culinary needs and how many different ballrooms/meeting areas/breakout areas are needed.
Putting all this information together, along with other more esoteric, data privy only to event organisers and MICE professionals, the team are able to help you build a sensible and pragmatic itinerary for the duration of the event, as well as suggesting which of the four luxury Royal Cliff Group hotels is most appropriate to your requirements.
"This unique venue can offer organizers and MICE planners a totally integrated solution where everything is taken care of. If you are looking for luxury and variety, this is the ideal place" IAGTO president Peter Walton, Asia Golf Tourism Convention
For the conference I was attending, which could be filed under "massive", there were so many of us that we took over all of the Royal Cliff Beach Hotel, the elegant and stylish flagship property — and much of the Royal Cliff Beach Terrace, well-known and loved for its exotic and dramatic interiors.
My room, in the Royal Cliff Beach Hotel, was an Ocean Deluxe – Sea View. Remember what I said earlier about "upmarket accommodations, close to the venue, in a sun-drenched glamourous location – preferably, overlooking some sort of water"?  Well, this room is my simple, yet exacting, formula for 'bleisure' perfection made manifest.
The 37sqm is an ideal space for eventers of all denominations; as a speaker, it's simple and uncluttered interiors, flooded with natural light,  is exactly what I need to keep me relaxed but focused ahead of my oratorical obligations. This is only enhanced by the colourway of white, soft bronze and sandstone, echoing the natural tones and textures from the beach below.
On top of this, the room's subtle and artful interiors are enhanced further, and quite dramatically, I might add, by the sheer magnificence of its position overlooking the Gulf of Thailand, coupled with the opportunity to take in sunsets so perfect, so quintessentially Thai, that they will be etched permanently into your memory.
Think I am prone to hyperbole? I challenge you to prove me wrong.
After a restful night's sleep, I took a simple breakfast of fruit and coffee on the balcony, where the ozone tang of the sea breeze whipped in across the Gulf, waking me up like a cold shower and filling me with clean oxygen, energy and the confidence to absolutely nail my speech and leave an impactful impression on the conference.
Experiencing the best convention hotel in Thailand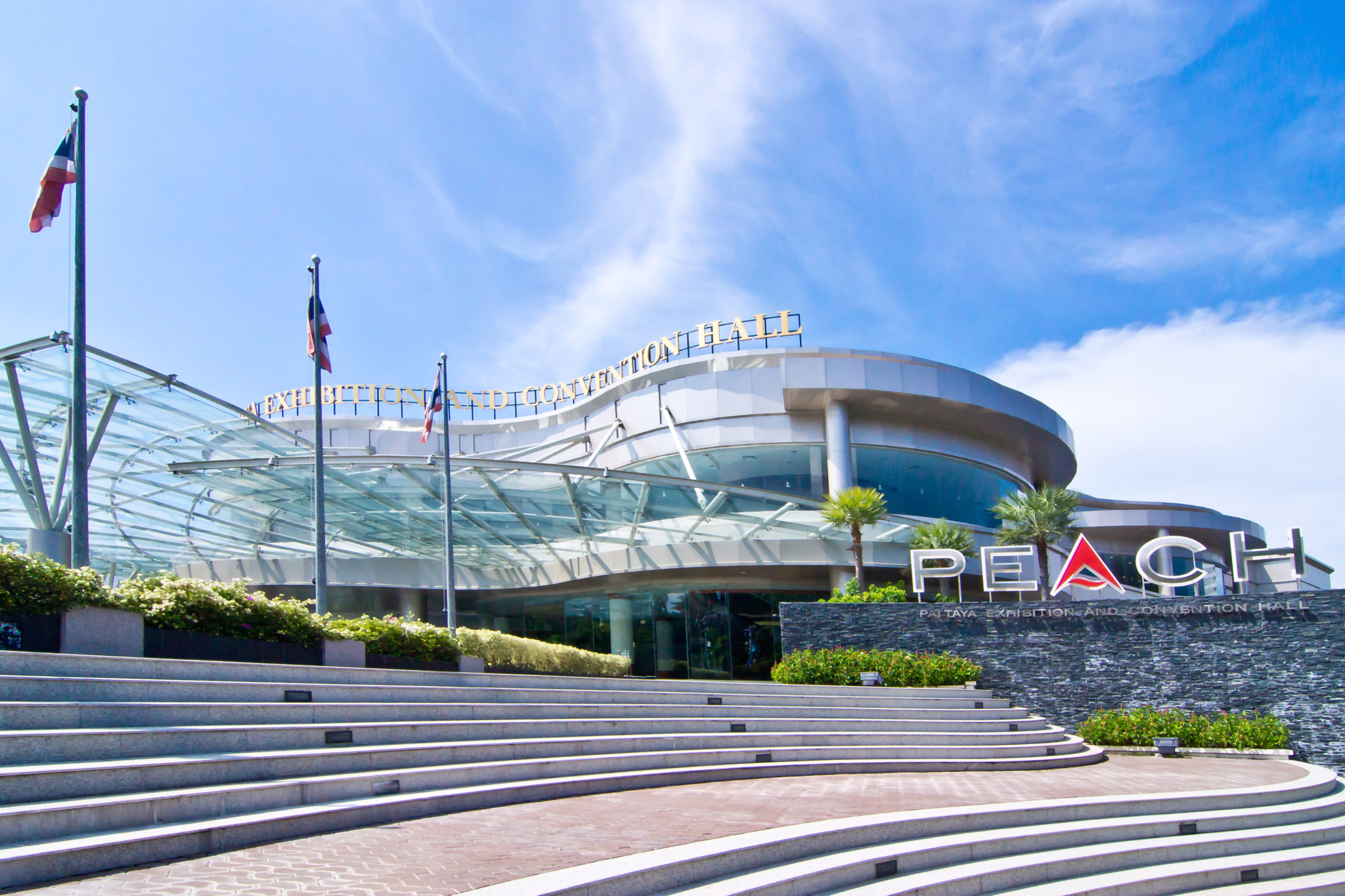 Now, usually, if you leave your hotel room with only 15 minutes to spare before any engagement, it is more than likely you are planning on being late. However, with the close proximity of PEACH to all four Royal Cliff Hotels, leaving a quarter of an hour before you are due to take the stage means you are going to be early.
Not that I am that advocating you rock up for your slot with only seconds left on the clock, but having checked out the size and acoustics of the main ballroom, where I would be presenting, the night before, I was able to practice up until the last moment before jumping on the handy shuttle buggies to take the 90-second journey to PEACH.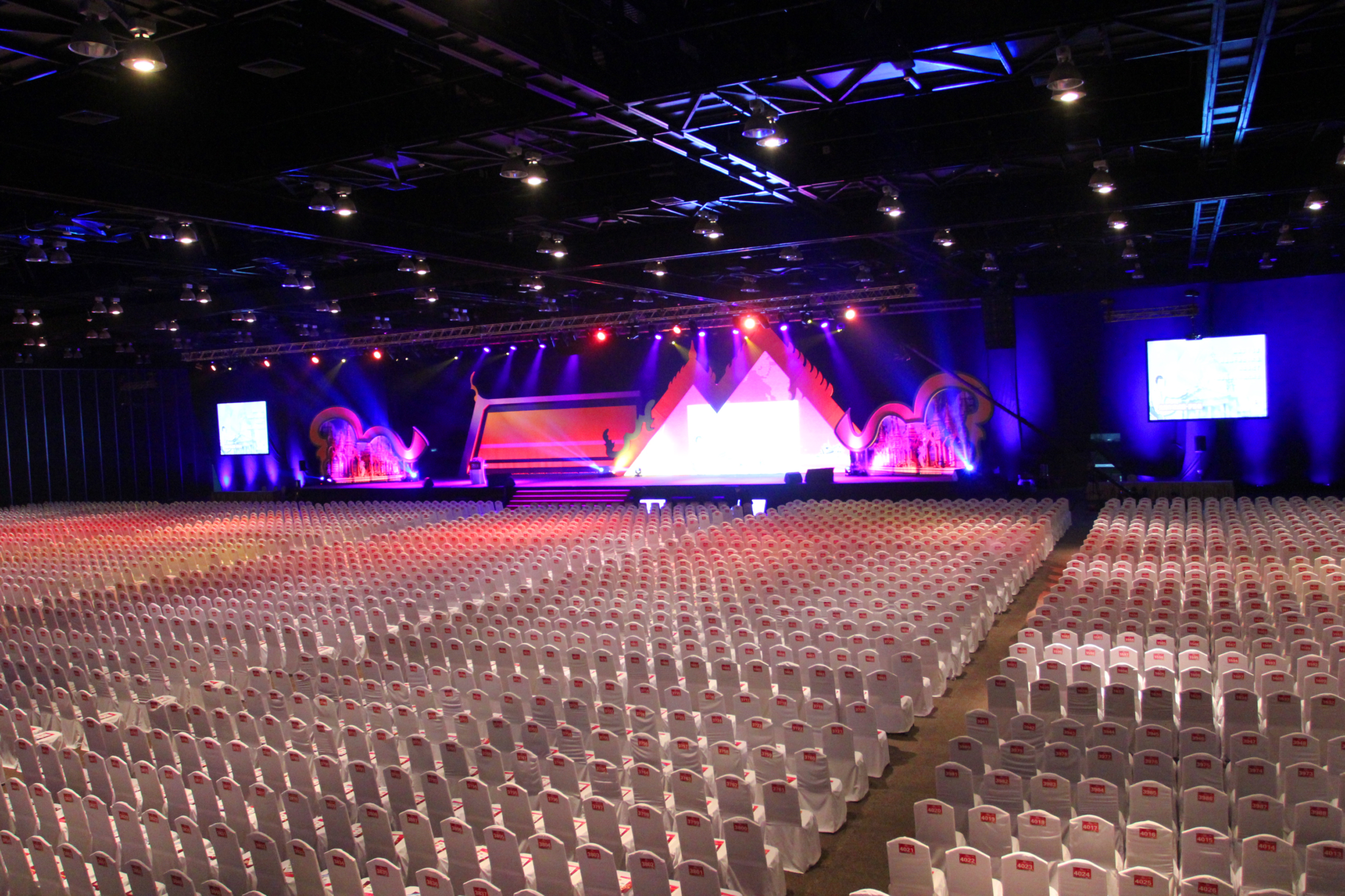 I am not an especially nervous character, in fact, there are some who would say the exact opposite, but I prefer to get my any public speaking engagements done and dusted before lunch. As the longer I wait, the more nervous I become.
Fortunately, I was one of the first on and my energy levels were high, but still, the sight of 1000 delegates slowly filing in and filling the room to max capacity, prompted a lump in my throat, as I walked out to the dais for a final soundcheck.
"The most impressive aspect about Royal Cliff is its organization. The team knows exactly what's going on and facilitates everything efficiently" Narun Tamavaranukup MD of PMT The Hour Glass, Young President Organisation
As my voice bounced warmly back at me through the PA system, any nerves I had vanished; it's a remarkable quality of the design at PEACH that all of its venues, such as Hall A (max capacity 1452), where I was speaking, manage to create the seemingly impossible — large majestic spaces that somehow remain welcoming, convivial and intimate.
This even extends to PEACH's prime MICE space, when organisers combine Halls A, B, C and D to create one vast function area with a maximum capacity of 10,062. Frankly, a luxury hotel with an onsite convention centre of that size is absolutely staggering.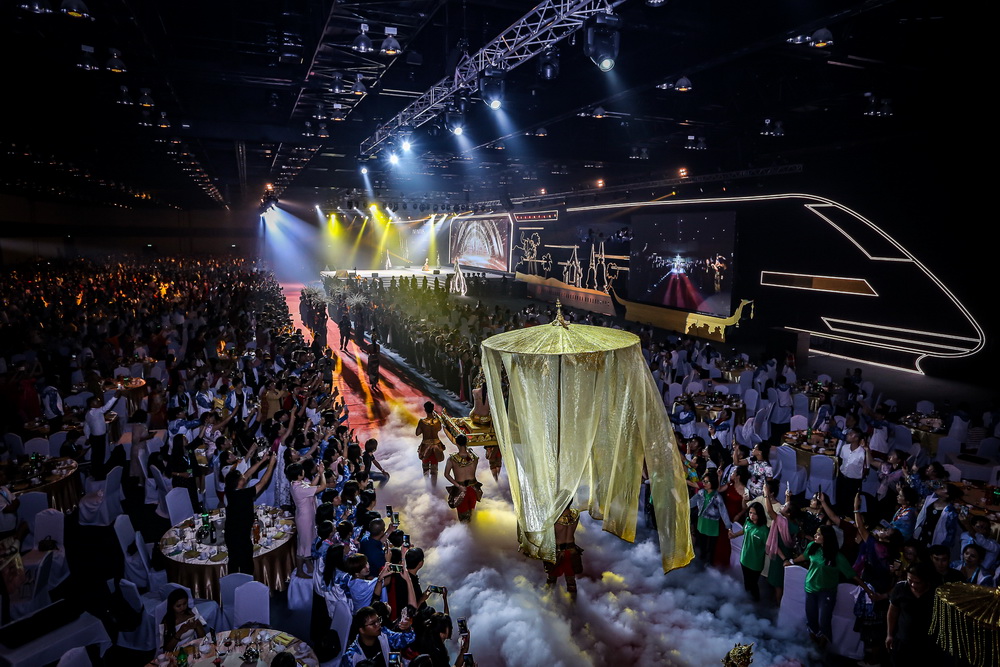 Not only is it staggering, but it is also very successful, with swathes of high profile events and conferences taking place within the grounds of Royal Cliff Hotels Group throughout the year. Such as the Jeunesse Expo – Annual World Conference, the Asia Golf Tourism Convention, the Annual Meeting of Royal College of Orthopedic Surgeons of Thailand (RCOST), as well as the Infinitus Gala Dinners, where 11,000 of the top-selling performers from personal health care company Infinitus,  held an incredible four-day celebration, dubbed a Journey of Hope, filled with pomp and drama (above).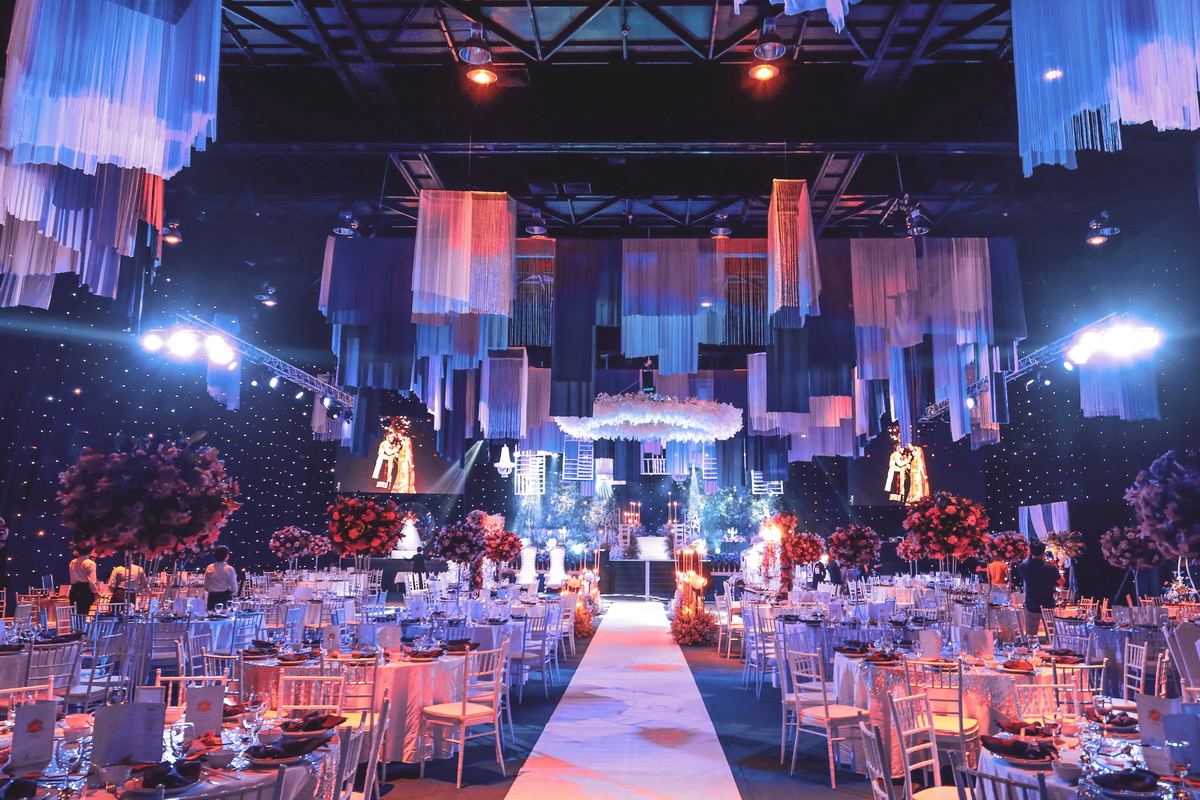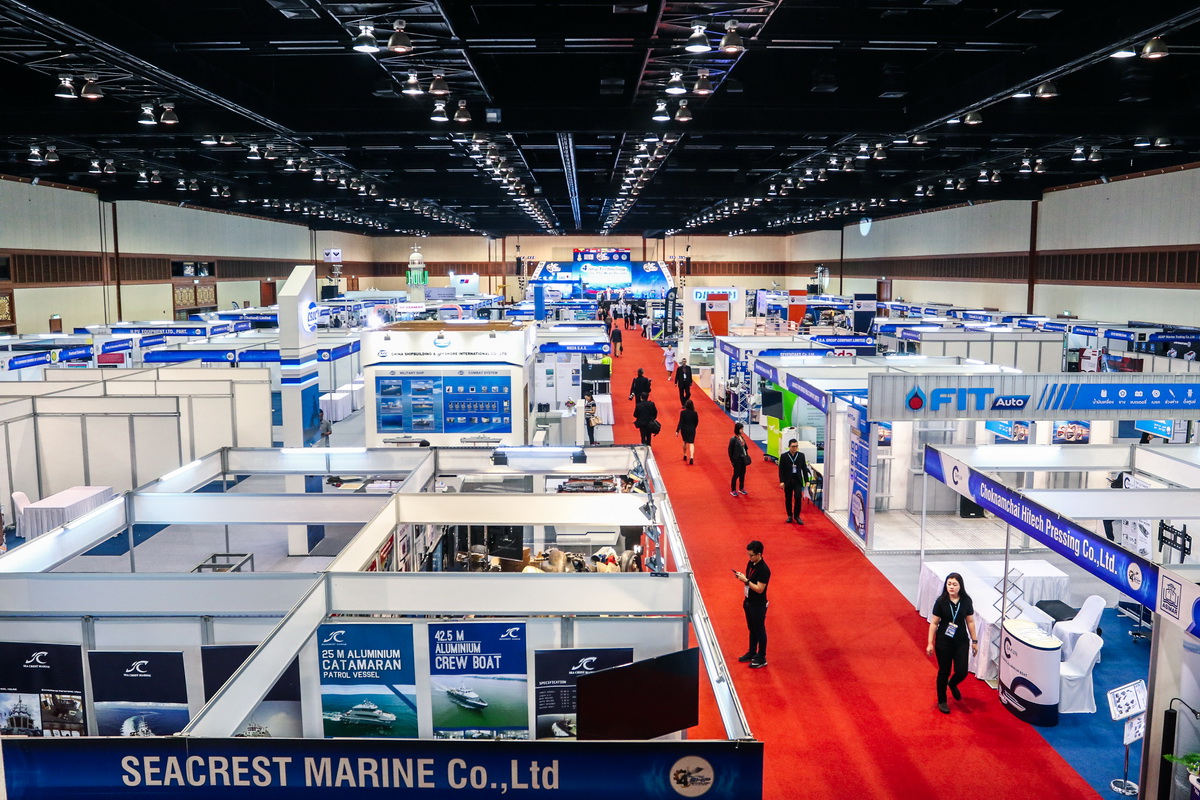 That the Royal Cliff Hotels Group pulls all this off while still being at the forefront of conservation– the property was the first hotel in Thailand to receive ISO 14001 certification — in the region since it first opened in 1973 is all the more impressive.
The Royal Cliff Hotels Group/PEACH combination works so well that its success has been a key factor in the evolution of Pattaya, from a one-note seaside resort town into one of the most desirable destinations for meetings and events in Thailand. Indeed, anyone who has been will confirm that the Royal Cliff Hotels Group is easily the best convention hotel in Thailand.
For those looking for a magical holiday or family getaway at the Royal Cliff Hotels Group, please get in touch via an email to creative@royalcliff.com. The Royal Cliff team will be delighted to bestow you with special offers and exclusive perks. Those who have experienced events here have greatly enjoyed the exceptional services, world-class facilities and the unmatched convenience of staying at any of the four 5-star hotels located within walking distance from all the meeting venues. 
Experience a Royal Cliff Hotels Group and PEACH for your next event yourself!  For enquiries or to request a proposal, please email:success@royalcliff.com. Also, don't forget to check out Royal Cliff's unique Meeting and Event packages at www.royalcliff.com/meetings and www.peachthailand.com/mice-deal.