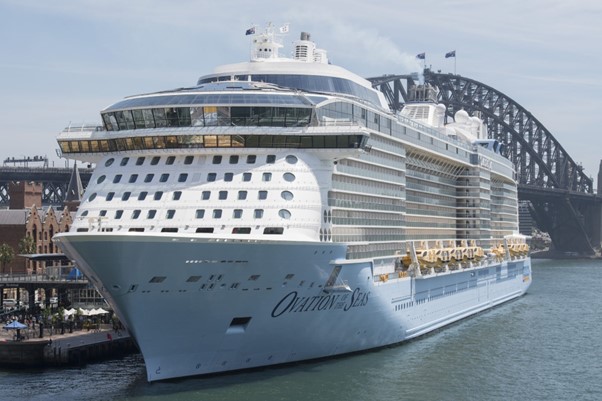 Since September of last year, when South Australia's former $145 million cruise industry returned, around 80 cruise ships have docked there, carrying with them over 150,000 passengers and staff.
The Royal Caribbean Ovation of the Seas, carrying 4,354 guests and 1,624 staff, docked in Outer Harbor yesterday, making it the largest cruise ship to ever visit the state.
It is one of five Royal Caribbean visits planned for this season and next, with an estimated $2 million in economic impact in 2022-23 and $3 million in 2023-24.
The global cruise company employs South Australians among its crew and serves South Australian goods onboard, including Penfolds wine and Virginia potatoes.
The 2022-23 cruise season in South Australia runs through early April and has witnessed a record-breaking total of 104 scheduled cruise visits, surpassing the previous high of 82 in 2018-19.
Here are some quick facts:
In 2022-23, up to 167,402 cruise passengers and 74,192 crew will visit South Australian ports and anchorages. A season-high 104 ship visits are planned, surpassing the 82 made in 2018-19, when the industry contributed $145 million to the state.
Each Australian season, guests on the two Royal Caribbean local ships enjoy 8,000 bottles of Penfolds wines. Nowadays, New South Wales accounts for 80% of visitors onboard the Ovation of the Seas, making it South Australia's second biggest domestic market.
Royal Caribbean visits are expected to inject $2 million into the South Australian economy during the 2022-23 season and $3 million during the 2023-24 season.
Minister for Tourism Zoe Bettison said having one of the world's largest cruise ships return to South Australia was exciting.
"Hundreds of passengers are departing to tour our city, the Hills, and the Barossa, investing in our local economy and experiencing festival season in Adelaide and our world-class wine regions," Minister Bettison said.
"The cruise line sector is critical for attracting people to our shores and supporting employment and companies, like our Virginia potato producers, who contribute a whopping 250,000 kg of vegetables to local Royal Caribbean ships each season."
Global cruise line operators, such as Royal Caribbean, are just what we need to continue growing this important sector of tourism, which is already surpassing prior seasons in our state, with an all-time high number of trips booked in 2022-23."
"Our visitors from all over the world love to visit South Australia, from the cultural sites at Adelaide's museums, art galleries, and food markets to wine tasting in the Adelaide Hills," said Royal Caribbean International, Australia & New Zealand Vice President Gavin Smith.
A cruise is an excellent opportunity for travellers to experience a destination; many will return for a longer stay."