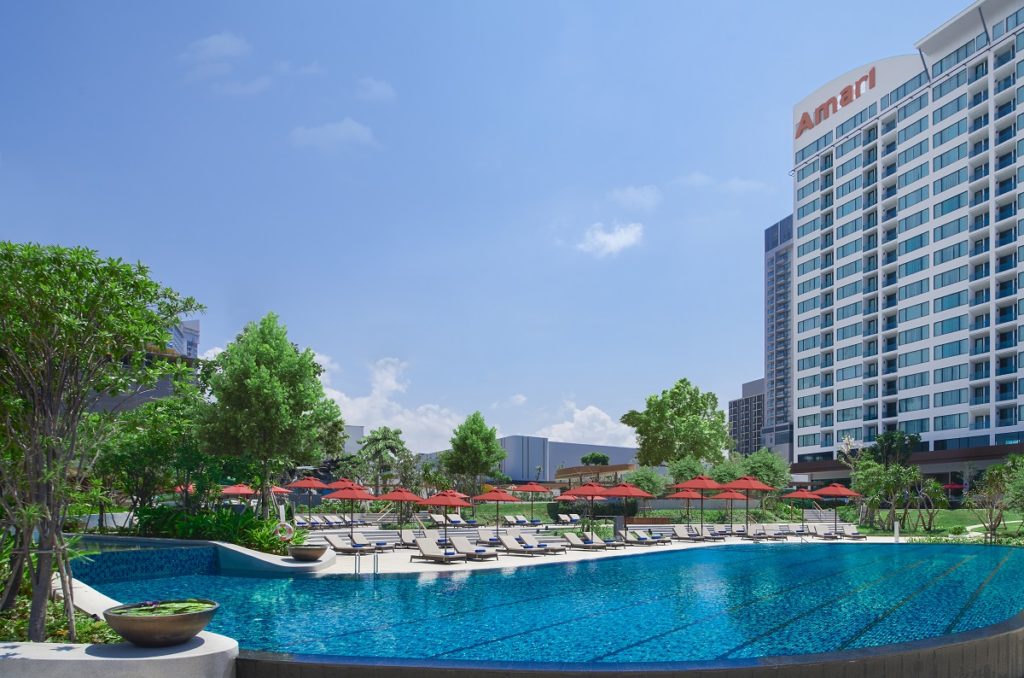 An urban beach getaway in Thailand's vibrant and picturesque district, Amari Pattaya sits well along the coastline on the north end of Pattaya Bay. It is a destination within a destination, located a few minutes from Pattaya's best malls, the Bali Hai Pier and street-side stalls.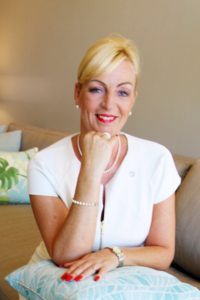 In this exclusive interview, we get personal with Deborah Haines, Amari's area general manager for Eastern Thailand, to know more about her favourite picks, the hotel's signature dining concept, and the best destinations around the area.
Rooms and Suites
Amari Pattaya has two distinctive wings. The Amari Tower has 297 rooms and suites, all fitted with an oversized bathroom with deep-soaking tubs and double vanities, as well as private balconies. Highlights of the tower include the Executive Suite, which offers the biggest space at 119 square metres.
Meanwhile, Amari Suites offers a different vibe with a collection of one- and two-bedroom suites — engulfed in lush landscaping. With the charm of traditional Thai homes, the wing features ocean views, dedicated living and dining space, and oversized balconies.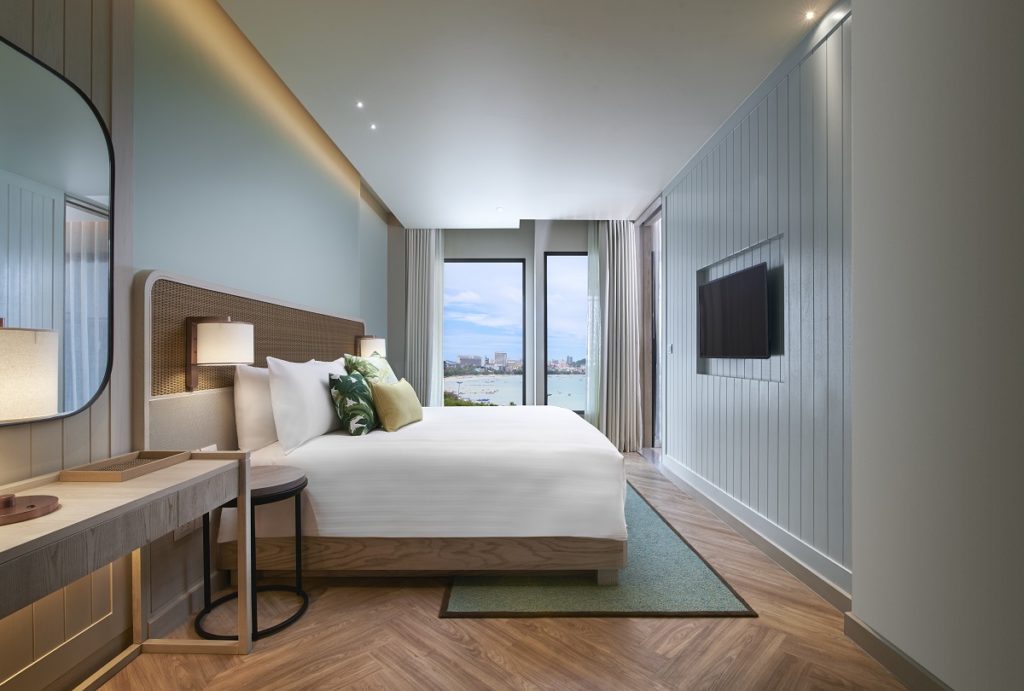 TD: If you were to live in any suite in Amari Pattaya, which would you choose and why?
DH: Our brand new Amari Suites on the ground floor level next to the two-bedroom suite!
"The feel of a landed house"
Why, you ask? It has the feel of a landed house, with an elevated terrace leading straight towards our amazing gardens and our all-new infinity pool. Kids will enjoy its location, being a short run to our water park, slides and the Tree House Kids' Club. For the adults, these suites offer the perfect spot to sit on the terrace, enjoy a glass of wine and watch the sunset over the beach.
Food and Beverages
Showcasing the best of Asia and international delights, Amari Pattaya is home to Amaya Food Gallery, a restaurant that features all-day market-style dining. From Thai's favourite street food dishes to new culinary discoveries, a dynamic menu is served throughout the day.
Guests can also dip their feet beside Aqua Eatery & Bar while enjoying cocktails, club sandwiches and wood-fired pizzas.
TD: What would be your top picks at the Amaya Food Gallery?
Amaya Food Gallery is a signature dining concept of Amari inspired by everything we love about street food and local markets. We are excited to soon be unveiling the newest Amaya in our growing collection of hotels across Asia.
"Five iconic signature Thai dishes"
Amari Pattaya is also proud to be one of two hotels piloting the regional introduction of five iconic signature Thai dishes, namely the pad thai, green chicken curry, miang kam, tom yum goong and candied banana.
Our culinary and dining teams are working closely with the corporate team to fine-tune the preparation and presentation of these dishes which will soon be featured on the menus of every Amari hotel in our network.
I highly recommend these five dishes, and invite you to talk to our team at Amaya, who are more than happy to share the stories and history behind these all-time favourites.
Amenities
Offering an urban escape, Amari Pattaya's facilities also include MICE venues such as the brand-new pillar-free ballroom, four new meeting rooms, a fitness centre, Kids Club, the Breeze Spa, and its very own water park.
"My dream has finally come true"
TD: Which is your favourite part of the hotel and why?
Having managed hotels across Europe and more recently Thailand, I've always been intrigued by the sheer amount of relaxation and fun that water brings to any vacation, and have always dreamt about having my own water park.
Well, it looks like my dream has finally come true, as the centrepiece of Amari Pattaya is our amazing pool and water park, with slides and cascades that offer hours of endless fun for kids and the young at heart.
We will soon have one of the best pools in this area, made even better by our expansive lawns, lush gardens and historic trees.
Around the area
With an ideal location on the northern crescent of Pattaya Bay, Amari Pattaya offers seaside experiences, from an idyllic Thai beach holiday to destination dining among the fashionable crowd, to a laidback barbecue party on the beach.
Pattaya is upbeat and relaxing, with endless entertainment and sporting opportunities.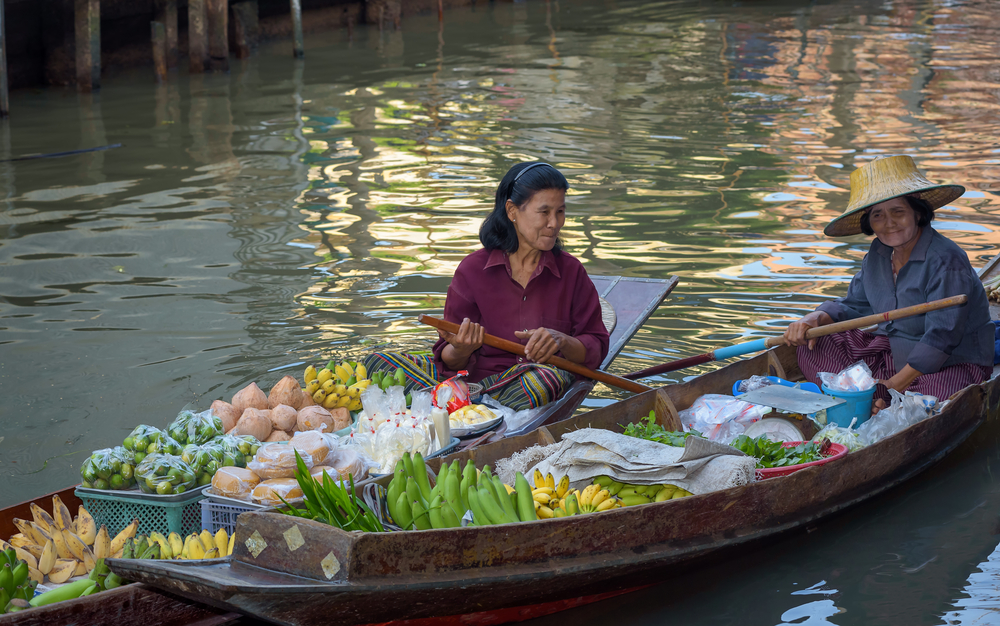 TD: What are the best destinations you recommend around Pattaya?
The area has so much to offer. Whether experiencing local culture or visiting nearby attractions, attending a festival or trying a local delicacy. Local must-see attractions in Pattaya include:
Pattaya Floating Market:  Covering over 100,000 sqm, a stroll through the four regions of the Kingdom – north, northeast, central and south.  For the complete floating market experience, hire a traditional long-tail boat to take you around, or, stroll through the maze of wooden Thai buildings that houses over 114 shops.
Terminal 21 Pattaya:  Located within walking distance, this brand new mega shopping complex is more than just a mall, but a transport hub that gathers the entire world into one place for an incredible shopping extravaganza.
Siriporn Orchid Farm:  It's a riot of colour from soft pinks and pale blues to bright yellows and dark reds and hues of purple too. A tour allows you a chance to observe how various orchids are cultivated as well as see some rare species. And if you have a green thumb, you can buy orchid cuttings and other plants to take back home.
Kaan Show: A spectacular cinematic live experience for the first time in Thailand. A new hybrid of live action and cinema, stage performance and world-class technology. Enjoy the world of imagination inspired by classic Thai literature, creatively adapted into 75 minutes of ceaseless wonder.
About Amari
Amari is the centrepiece of the ONYX portfolio of hospitality brands reflecting the warmth and energy of contemporary Thailand.
Amari's network of properties spans Thailand and beyond, from scenic seaside locations to vibrant urban settings including Doha, Dhaka, Bangkok, Buriram, Pattaya, Samui, Phuket, Krabi, Hua Hin, Yangshuo and the Maldives.